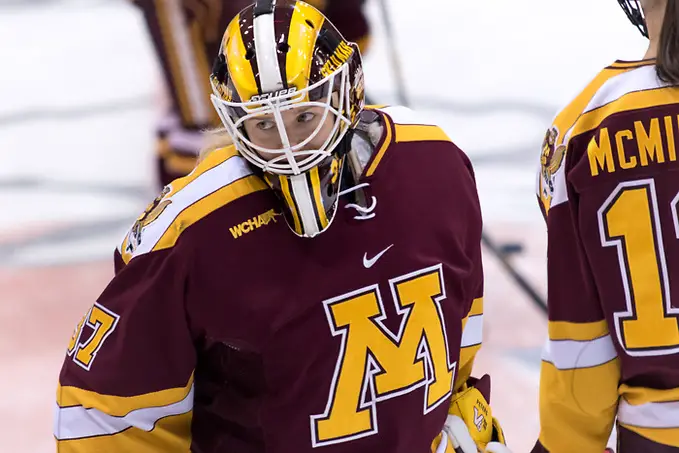 It has been an uncharacteristically down season for the Minnesota women's hockey team, but facing adversity — and coming out ahead — is something redshirt senior goalie Sidney Peters is well used to at this point.
Peters is one of five finalists for the 2017-18 Hockey Humanitarian Award, which is presented annually to college hockey's top citizen for his/her service contributions to their team, school and community. The winner will be announced at the 2018 NCAA Men's Frozen Four in St. Paul, Minn., in April.
She went to Minnesota with high hopes that were quickly muted when she redshirted her freshman year and spent the better part of the next two seasons as a backup. Young, maybe a little naive and 400 miles from home, Peters spent most of that first year rewiring the way she thought of herself. When she no longer had hockey to consume her 24/7, she found that she didn't feel like she had anything else.
Unsure who she really was when she wasn't in the crease, she started looking for ways to connect with teammates and classmates — she wanted to find a community. Difficult and painful to go through at the time, the experiences her first three years at Minnesota have undeniably shaped the person that Peters is today. And they are what led her to become such a passionate volunteer.
Read the rest on the Hockey Humanitarian Award website.