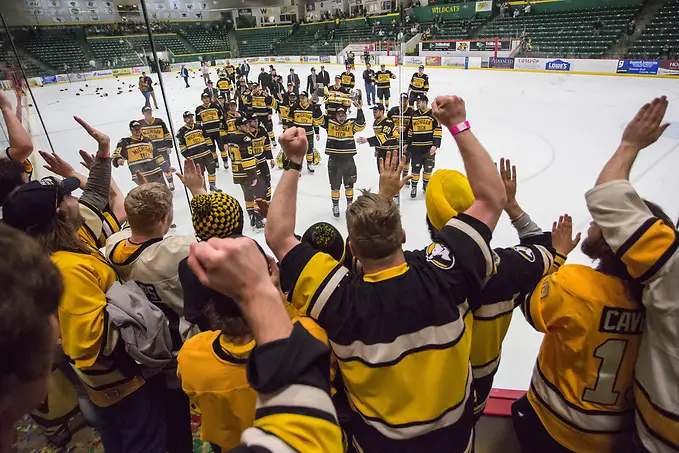 Each week during the season, we look at the big events and big games around Division I men's college hockey in Tuesday Morning Quarterback.
NOTE: This is our last TMQ of the 2017-18 season.
Paula: Where to begin, Jimmy?
Maybe a congratulations to all the conference playoff champions and a thanks to those among them who made this NCAA field of 16 far more diverse and interesting than most of us anticipated?
Princeton, Michigan Tech, Air Force, Boston University — what a great bunch of lower-seeded teams that prevailed to capture their conference titles. The Tigers are making their first NCAA tournament appearance since 2009, and they limited both Cornell and Clarkson to a goal apiece in the ECAC tournament. Honestly, Princeton wasn't even on my radar for the postseason. Goalie Ryan Ferland has been amazing through the ECAC playoffs, giving up more than two goals just once in an eight-game winning streak, the longest in the nation.
After the Huskies finished fifth in the WCHA, I didn't expect them to win either, but this is a Michigan Tech team that advanced to the NCAA Tournament in 2015 and 2017 and that experience undoubtedly helped them prepare for the WCHA championship game against Northern Michigan.
Air Force really shouldn't have surprised anyone, given how close the Atlantic Hockey race was this season. Capturing back-to-back conference titles is an impressive feat.
The Terriers, though, didn't seem like a "low" seed to me going into the Hockey East tournament, given how BU improved through the second half of the season. Boston University is such a tenacious team, and that overtime win Friday against Boston College — a game in which they ever led until they won — seems to exemplify the entire Terriers' season. And then BU shut out Providence after the Friars put 18 shots on goal alone in the first period!
And all of that contributed to the end of Minnesota's season — although it can certainly be argued that the Golden Gophers did a good enough job of that themselves. Any bubble team that doesn't control its own fate didn't do what it should have during the regular season to secure a bid. It's that simple, really. This time, though, there was a lot more conspiring against the Gophers at the end. The odds of Minnesota making the tournament prior to Saturday night's conference championship games were as close to 100 percent as a bubble team can get.
The conference tournament weekend was quite a ride.
Jim: I had a chance to speak with Penn State coach Guy Gadowsky a few weeks back when his team was a 99.7 percent chance of making the tournament.
The Nittany Lions made the field, but at the time, Minnesota was 99.9 percent. The fact that the Gophers missed the field is unfathomable, but it reminds me what Gadowsky said: "I'll be excited when my team's chances are 100 percent."
Minnesota never got to that point. On Saturday night, after Minnesota Duluth lost to North Dakota in the NCHC consolation game, exactly one out of the final 64 scenarios would have knocked the Gophers out. So even late into Saturday, Minnesota was a 98.4375 percent favorite to qualify for the tournament.
My point: When someone looks at a team's 98 percent-plus chances of getting in and say, "Well, they're practically in," let's remember the words of Guy Gadowsky.
It certainly was the wildest finish we've seen to a championship weekend in recent memory and could set up the potential for a great NCAA tournament.
Speaking of which, it seems reading comment sections on stories and the message board that the masses in Minnesota are unhappy that the committee chose to place all three Minnesota teams into one region. That leaves a 75 percent chance that a team from Minnesota will reach this year's Frozen Four in St. Paul. But we know these days in college hockey, a 75 percent chance is not strong enough.
Part of the reason was to make sure fans show up in Sioux Falls, S.D. Without North Dakota in the field, the need to sell the nearly 2,000 tickets that were unsold and create desire on the resale market meant needing to have teams playing in Sioux Falls that were somewhat realistic driving distances away.
Paula: I can say without hesitation that Minnesotans are not the only ones unhappy with the committee's decision to place all three teams from their fair state in that one regional.
I do understand that it'll be good for the gate, but it seems unfair to me on levels I cannot even begin to define. I also understand that it's completely justifiable from a numbers/finishes point of view. It just seems really harsh to me that a state with three teams in the tournament has, as you said, a 75 percent chance of going to a Frozen Four hosted by the state in question.
So what do you think of the brackets and matches? It's almost too easy to say that anyone can emerge from any one of these four regionals, but I do think that this year more than most, there are interesting possibilities for longshot teams, and some lower seeds – like Boston University and Penn State – certainly don't feel like longshots.
I'm a little peeved about the location of the Midwest Regional, as Allentown, Pa., is 300 miles closer to New York City as it is to, say, Cleveland, Ohio.
I am guessing again that it's about attendance and maybe there is no good way to solve that problem in the real Midwest unless the NCAA moves the regional to a campus site out this way. Geography aside, that bracket is the only one with two Big Ten teams when four made the tournament. There are three teams from the ECAC, Hockey East and the NCHC. Each of the three teams from the ECAC plays in a different bracket. Boston University and Northeastern are both playing in the Northeast Regional, while Minnesota Duluth and St. Cloud State are in the West Regional. I'm not sure what to make of any of that.
The competition itself – in every bracket – will be fierce. No one has an easy ride. And it's still weird that Boston College and North Dakota are sitting this out in addition to Minnesota.
Jim: I took a quick look at how ticket sales are going on the TicketMaster website today and Allentown undoubtedly had the best percentage of capacity sold as of early Monday afternoon.
That probably didn't hurt when deciding to place a regional there, but Penn State and Ohio State will drive those sales.
All of that said, a major region that Allentown, Pa., has a regional has a lot to do with the lack of bids. Particularly in the two Western regions, the NCAA's regional options seemed very limited. I know that we have this same discussion every single year at this time, but it feels like there has to be a better system to create great atmosphere and sell lots of tickets while still making things fair for the top seeds.
Personally, an idea that I heard more recently that I like included playing the opening round on campus sites and then going to a final eight rather than a Frozen Four. Play three days of games on Wednesday, Friday and Sunday and create an incredible atmosphere of college hockey fans over a span of five days.
Maybe that feels like too much. But I haven't really heard many other great ideas on changing the tournament. And without change, we'll always have some of the issues in seeding regionals that we currently have.
A Tip of the Cap…
Paula: … to our dedicated, loyal readers. Jim and I really enjoy this weekly discussion about the sport that we love, and it would be nothing if not for the ongoing support of USCHO readers.
College hockey is a small community and a big family, and I know I feel very lucky to be a part of it and I'm grateful for everyone who's contributed to our conversation during the 2017-2018 season.
My thanks to you, Jim, for the fun we've had this season and my thanks to everyone who follows us here.
Jim: I'll echo my thanks to all the readers who make this such a successful column every week.
I'll add that I've enjoyed being able to interact with a few loyal readers who have loyally commented each week. It makes it fun to get to know those who share the same passion that both Paula and I do for college hockey.
There are still 15 great games ahead and I'm sure most, if not all of you, are as excited for this tournament as we are!