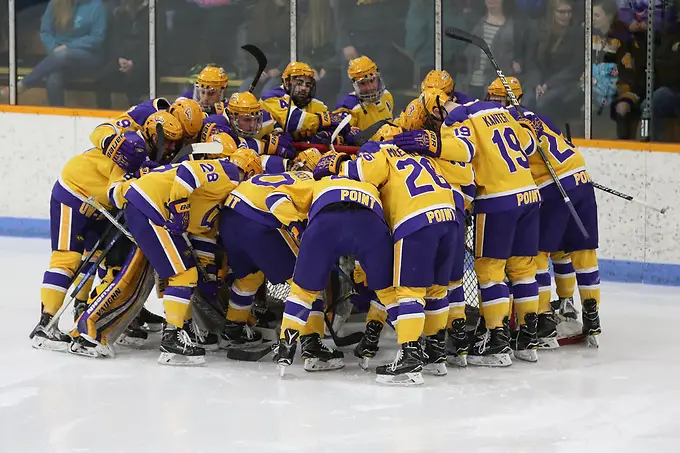 Wisconsin-Stevens Point looks to return to the top
Wisconsin-Stevens Point is one of the powerhouses of NCAA Division III hockey, and this tournament is their 14th in program history. Though the Pointers are in familiar territory, getting to this point in the postseason is something they know doesn't come easy. They come in sporting a 21-5-3 record.
"Having the opportunity to play in the Frozen Four is something we never take for granted," Pointers coach Tyler Krueger said. "My message to them is to enjoy every moment of the experience this week and make the most of it, because you are not guaranteed to get back here every year."
Still, expectations are always high for the Pointers, and they go into this weekend aiming to win another championship, their first since 2016.
How they got here
The Pointers failed to win the WIAC tournament championship, but that hasn't slowed them down in their quest to win a national championship.
After a bye in the first round, Wis.-Stevens Point went on the road and knocked off Adrian, 5-2. The Bulldogs had won 16 of 17 and were the second-ranked team in the country. Zach Zech scored twice in the win. Now, the Pointers are back in the Frozen Four for the fourth time in five seasons and are gearing up for a battle with Salve Regina.
Key performers
Tanner Karty is the go-to guy for the Pointers. The WIAC player of the year has tallied 22 goals to go along with 26 assists. Willem Nong-Lambert (11-23), Colin Raver (9-16), Luke McElhenie (14-10), and Logan Fredericks (6-17) have all put up 20 or more points on the season as well.
In goal, Max Milosek has been sensational, starting 25 games and fashioning a 1.86 goals-against average. He's made 573 saves and sports a 17-5-3 record.
Wis.-Stevens Point has the one of the top offenses in the nation, averaging 3.76 goals per game. The Pointers are allowing just under two goals per game.
Outlook
The Pointers have guys who have been here before, and that experience bodes well for them. They have fared well away from home this season, winning 10 times and losing only once, so playing away from home won't bother this team. Wis.-Stevens Point has also been hot since the calendar flipped to 2018, losing just twice. Couple that success with a big playoff road win over Adrian and you have a team with the potential to come home with a trophy.
Coach speak
"The keys to success for us will be the same they have been for the past two months. We need to play and do things a certain way in order to put ourselves in a position to be successful," Krueger said. "There are things within the result of a game that we do not have complete control over. Our goal is to focus on the things we do control and do them to the best of our abilities. My main goal is to get our guys minds right by the time the puck drops Friday. We do not want any doubt or fear of failure to enter our minds. We want our guys to play free and with confidence, knowing that they are fully prepared for success."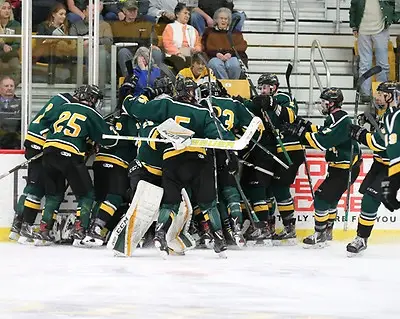 St. Norbert looks to finish at the top
The Green Knights are 25-4-1 and are red hot heading into the Frozen Four. Winners of 10 in a row, the No. 1 team in the country has dominated the competition and looks every bit like a team capable of ending the weekend with a trophy in their hands. During their win streak, the Green Knights have outscored the competition 44-8 and look to continue that dominance on the road to a national title.
How they got here
St. Norbert won the NCHA title with a thrilling 2-1 win over rival Adrian and then squared off with Augsburg in the quarterfinal round of the NCAA tournament for the third consecutive year. In a battle pitting two conference champs against each other, the Green Knights prevailed, 5-2, over the No. 11 Auggies at home.
Key performers
Tanner Froese leads the high-powered attack of the Green Knights, scoring 12 goals and dishing out 17 assists. Keegan Milligan has come through with 12 goals and 13 assists, while Dominick Sacco (10-16) and Peter Bates (11-14) have been steady contributors as well for a balanced team that has scored 119 goals off 210 assists.
It's hard to find a better goalie than T.J. Black, who owns a 25-3-1 record and a 1.39 GAA. He has racked up 609 saves on the season.
Outlook
When you are the best team in the land, you are expected to win it all, and the Green Knights have that potential. They suffered through a tough stretch earlier this season, dropping three in a row in late January, but haven't lost since a 3-2 loss to Adrian Jan. 26.
A balanced attack on offense and a defense that gives up very little makes for a recipe for a success for the Green Knights, who have a knack for thriving in big games. If this team is on top of its game, it will be tough for anyone to beat it. St. Norbert is aiming for its fifth national title this weekend.
Coach speak
"Momentum has an impact, but really, the first five minutes of the game really solidifies what happens next," Tim Coghlin told local media earlier this week. "I think getting out early, being the first team to score in that game, might be important. I know if you look statistically, it has meant a lot to us."