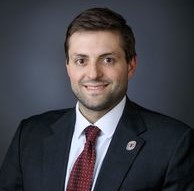 Omaha announced Thursday that assistant coach Peter Mannino will be leaving the staff to take an associate head coach position with another school.
A school-issued release did not specify where Mannino was going to coach next.
"We will be searching for a coach with superior recruitment skills and a passion to assist in our player development program," said Omaha head coach Mike Gabinet in a statement. "I expect there to be significant interest in the position by individuals who can help us continue the positive momentum we have built in the last year, and I'm looking forward to meeting some great candidates.
"We thank Peter for his contributions to Maverick hockey. This move will allow him and his family to be closer to their parents."
Mannino was hired by Omaha in the summer of 2017.