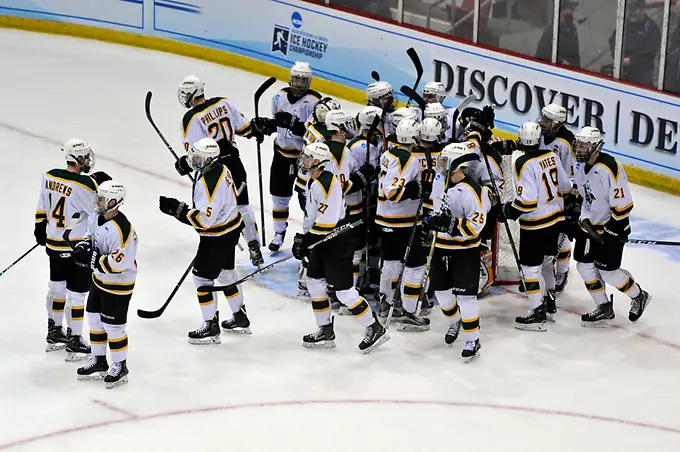 LAKE PLACID, NEW YORK — No team may ever match the Division III hockey dynasty of Middlebury. The Panthers won five national championships in a row. Then, after a four-year break, took another three in a row (and lost in the final for a possible four in a row).
In recent times, St. Norbert has been the most consistent contender. They won in 2008, 2011, 2012, and 2014. They also lost four times in the final, twice to those Middlebury teams, and then in 2010 and 2016, thus making the finals in six out of nine years since 2008. Now, it's seven in the last 11 years.
Interestingly, it was a piece of advice from the coach of those Middlebury teams that St. Norbert coach, Tim Coghlin, cited in the semifinal press conference after his Green Knights defeated Colby, 4-3.
"I learned a long time ago from a local man from this area [Lake Placid] named Bill Beaney," Coghlin said. "He imparted some wisdom many, many years ago, and that was when you get to this time of the year, if you've done your job as a coach, your team is on autopilot.
"Believe it or not, we get too much credit for everything that transpires. These guys already know the starting lineups. They know who is going to jump in what situations."
Interestingly, Wisconsin-Stevens Point has also had great success on the national stage, interesting because Coghlin helped the Pointers' cause as a player — he was captain of the 1989 championship team that defeated RIT in a two-game series.
After his playing days, Coghlin was an assistant coach at his alma mater for two years before taking the reigns at St. Norbert in 1993.
Now, Coghlin and St. Norbert tied Beaney and Middlebury with the most appearances in the title game at nine.
However, Coghlin still heads Beaney's advice.
"These guys win and lose," he said of his players. "They win and lose puck battles. And they win and lose games.
"At the end of the day, we are not on the ice. We are guidance off the backside."