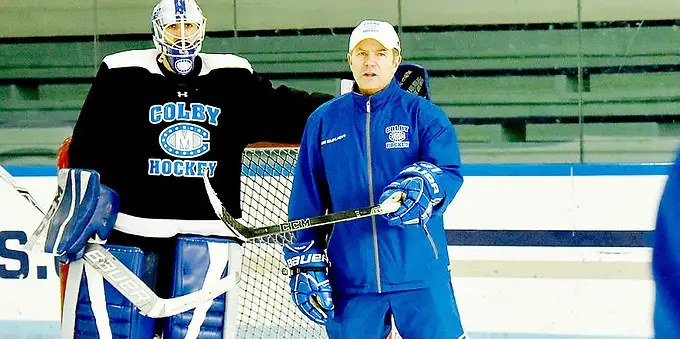 Colby head coach Blaise MacDonald has been named winner of the Edward Jeremiah Award as the CCM/AHCA Division III Men's Coach of the Year.
The Mules will meet St. Norbert in the NCAA semifinals at Herb Brooks Arena in Lake Placid, N.Y., on Friday night at 6:30 p.m.
The Edward Jeremiah Award is named in honor of the great Dartmouth coach and was first presented in 1970.
Colby enters Friday's contest on a nine-game unbeaten streak (7-0-2) and brings a 17-10-2 overall record to the event. That streak followed a 10-10-0 start that accounted for Colby's fifth-place regular-season finish in the NESCAC. But the post-season has been anything but average. The Mules swept through the NESCAC tournament, outscoring three opponents 14-3 in leading Colby to its first NESCAC championship.
To reach the NCAA semifinals, Colby defeated the University of New England 4-2 and Geneseo 2-1. Since the unbeaten streak began on Feb. 10, Colby has only allowed 11 goals in those nine games.
A former head coach at Niagara and UMass Lowell, MacDonald was a four-year letter-winner at RIT, graduating in 1985. He helped lead RIT to NCAA Division III championships in 1983 and 1985.
MacDonald's assistant coaches this season are Chris Hall and Mike Latendresse.
The runner-up for the award was Zech Klann of Salve Regina.
MacDonald and his staff will receive their awards at the annual AHCA banquet on April 25 in Naples, Fla.