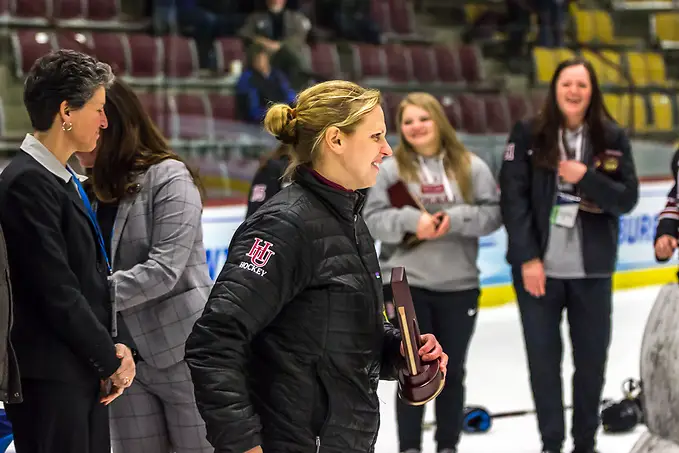 For an incredible turnaround from last season to this one, for setting numerous program records and taking the team further into the postseason than they'd ever been, and for setting a new standard, Hamline's Natalie Darwitz is our USCHO D-III women's coach of the year.
The Hamline Pipers capped an incredible season with a thrilling 5-4 overtime win over Plattsburgh State to win the third-place game at this year's national championship.
When Darwitz took over at Hamline, the Pipers had just finished with a 6-17-2 record. It's been just three years for the new staff, who took over just before the 2015-16 season started, and it's just her second year with players that they recruited. In that short time, Darwitz and staff have engineered an amazing renaissance at Hamline.
The Pipers' 23 wins were eight more than any other Hamline squad had ever accomplished. It was a remarkable turnaround for a team that won nine games in Darwitz's first season and went 12-13-1 last year. Their 13-3-2 MIAC regular season record put them in third place for the first time in the 18-year history of the program.
Darwitz led the Pipers to a number of school records and firsts this season. Their win in the national third-place game made them the highest-ranked squad in program history. No Hamline team had ever earned a berth to the NCAA tournament. They won their first MIAC postseason championship and essentially rewrote what it means to be Hamline women's hockey.
Though the underclassmen are the only players Darwitz had recruited to the program thus far in her tenure, she also brought in two senior transfers this season that had an incredibly impact. Sarah Bobrowski and Darby Dodd, both of whom had been playing at Division I Lindenwood, finished third and fourth in scoring in the nation, respectively. Bobrowski and sophomore Bre Simon (who was the number two scorer in the nation) were the first-ever Hamline players to be named All-Americans.
Early in the season, Darwitz said the coaching staff was putting almost all the emphasis on the players and their experience and very little emphasis on the final results. That proved to be a rather successful strategy. The Pipers were under most teams' radar the entire season, and Darwitz had the feeling that the old perceptions of the program were overshadowing what the team was actually accomplishing. The Pipers were never ranked higher than eighth in the national polls before winning the third-place game.
The new coaching staff brought changes across the board for the Pipers. They're playing in a brand new facility under a fully revamped coaching staff, and the whole culture has shifted. All of that combined to create a change on the ice as well.