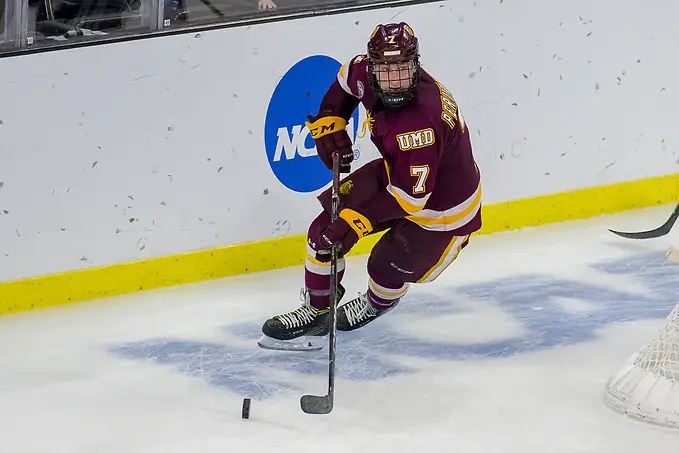 On a team without a bona fide offensive superstar, rookie defenseman Scott Perunovich emerged as the go-to guy for eventual national champion Minnesota Duluth.
Perunovich led the team in scoring with 36 points, quarterbacked the power play and scored 11 goals, with two being game winners.
For his outstanding rookie season, Perunovich, who already won the Tim Taylor Award as the country's top first-year player, has been named the USCHO rookie of the year.
In the ever-competitive NCHC, Perunovich was the top scoring defenseman with 28 points, edging out Christian Wolanin of North Dakota. He was the top scorer among freshman defensemen nationally and fourth in scoring among all defensemen nationally, and third among rookies in scoring overall. He averaged .857 points per game on 11 goals and 25 assists in 42 games.
"He had a great year for us," said Bulldogs coach Scott Sandelin. "We knew when we recruited him that he was going to bring some offensive ability because I think that's one of his major strengths. He's got a really good hockey sense and vision, poise with the puck, and is kind of like a fourth forward out there. But again, I said this a couple of times, what I think I was most impressed with is how well he played defensively. I think that year in the USHL really helped him prior to coming here, and I think he played just as well defensively.
"I guess that I never thought he was going to lead our team in scoring, but we knew he was going to be a contributor offensively from the back end."
Also the NCHC rookie of the month for March, Perunovich was a contributor in his very first game, earning an assist on Riley Tufte's power-play goal in a 4-3 overtime win over rival Minnesota in the Ice Breaker Tournament, a win that ultimately led the Bulldogs to edge out Minnesota for the last spot in the NCAA tournament and start their seemingly unlikely run to the national championship. He then scored a goal the next night on a power play to the tie the game before the Bulldogs lost 4-3.
Perunovich had 10 multi-point games on the season, including three three-point nights. He was named Bauer NCHC defenseman of the week three times and rookie of the week twice, including in the first week of his college career for his play in the Ice Breaker. He was named Bauer NCHC rookie of the month for November, and was also a unanimous selection to the NCHC All—Rookie team.
Among the highlights of his rookie campaign were playing for Team USA with four of his Bulldogs teammates in the World Junior Championship, where the U.S. squad took bronze on home ice in Buffalo. Perunovich had three points, including scoring a goal that started the team's rally against Canada in a game that the U.S. eventually won in a shootout.
While he was held pointless in the Frozen Four, he did have an assist in the win against Air Force in the NCAA quarterfinals. He also scored Duluth's only goal in a loss to Denver in the NCHC Frozen Faceoff.