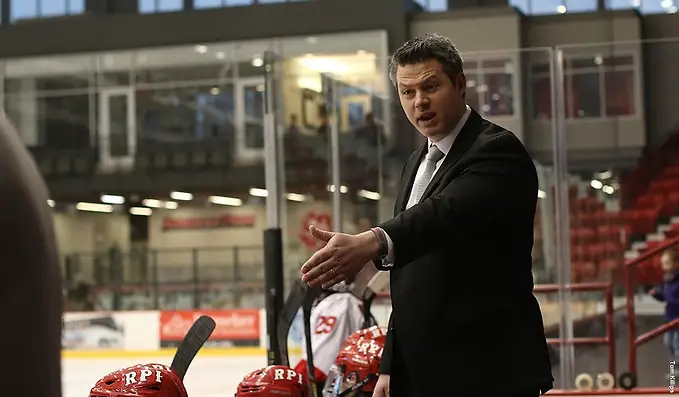 After serving as interim head coach during the 2017-18 season, Rensselaer announced Tuesday that the school has named Bryan Vines the new head women's coach.
Vines led the Engineers to 9-19-6 overall mark with a 6-11-3 ECAC Hockey conference record this past season after being named the interim head coach in June 2017.
"In a short period of time as interim head coach, Coach Vines created a culture of excellence," said RPI director of athletics Dr. Lee McElroy in a statement. "He vastly improved the competitive spirit of the team through skill development and the implementation of core values. The positive experiences encountered by our scholar-athletes will undoubtedly produce top performances for years to come."
"RPI Women's Hockey is a special program with great things on the horizon," added Vines. "It is a honor to be named the head coach, and I am grateful to our president, Dr. Jackson, and our vice president and athletic director, Dr. McElroy, for the opportunity to lead the program into the future. Everything is in place for our program to have success, and we are working hard in preparation for next season and years to come."
Prior to his first season on the women's side, Vines was an assistant on the RPI men's side for eight seasons. He helped the men's team post four winning seasons, including the program's first trip to the NCAA tournament in 16 years in 2010-11.
A four-year letter-winner on defense at Denver, he was in charge of the Engineers' defensive and penalty killing units since 2009-10. Before coaching the men's team, Vines served as assistant general manager and assistant coach with the BCHL's Alberni Valley Bulldogs.
Prior to joining the Bulldogs, he was a volunteer assistant coach with Miami, where he helped in all aspects of practice, including planning and on-ice instruction, for the national runner-up RedHawks. He worked extensively with the defensemen and forwards in skill development and video teaching sessions. He also directed community service activities and taught four courses.
Vines spent three years with the Colorado Avalanche of the NHL as a video coach. In that role he was responsible for video analysis, creating scouting reports, producing instructional videos and providing on-ice support.
As a student-athlete with the Pioneers, Vines captained the team in the 2001-02 season when they won the WCHA regular-season championship, the playoff championship and advanced to the quarterfinals of the NCAA tournament.