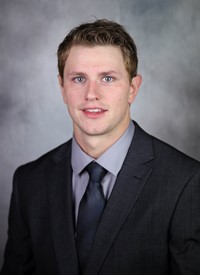 St. Cloud State has announced the hiring of Nick Oliver as an assistant coach.
A former team captain and forward for the Huskies, Oliver was as an assistant coach for the USHL's Sioux Falls Stampede the past three seasons.
"We couldn't be more excited to add Nick Oliver to our staff," first-year SCSU coach Brett Larson said in a statement. "Nick is one of the most respected captains to ever play at SCSU. He's a person of strong character and work ethic [and] his passion and enthusiasm for this program will be obvious to the current team and future recruits. He's done a great job for the Sioux Falls Stampede of the USHL and has done the right things to prepare for this opportunity."
Oliver played in 145 career games during his career at SCSU. He served as a team captain for the Huskies in 2014-15 and earned Academic All-Conference notice three times during his collegiate career. He was an NHL draft pick of the Nashville Predators in 2009.
"I am humbled and honored for the opportunity to be returning to St. Cloud State," Oliver added. "I have a deep passion for this university, Huskies hockey and all of the people surrounding the program. I am eager to learn and work with Coach Larson and Coach (Mike) Gibbons and all of our players.
"This is a special program and I am excited to be coming back to a place I consider home."