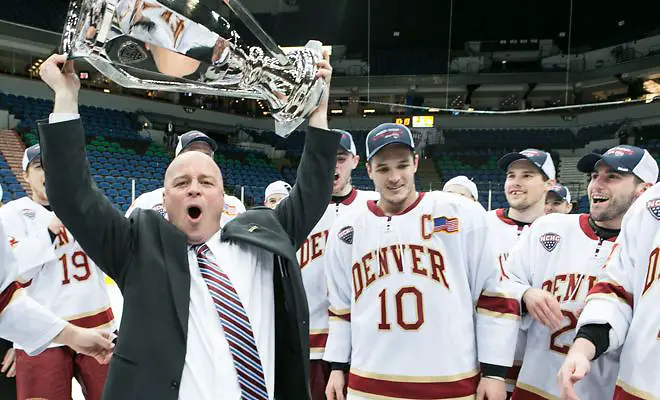 Denver coach Jim Montgomery has been named head coach of the Dallas Stars, the NHL team announced on Friday.
The Pioneers will begin a national search for a new head coach immediately.
"We are extremely happy to announce Jim as the head coach of the Dallas Stars," Stars GM Jim Nill said in a news release. "He has achieved success at every level throughout his coaching career, establishing a unique culture around every team that he has led. He has created a standard of excellence by building trust with his players, while putting systems in place that allow his teams to compete for championships season after season."
Montgomery leaves Denver following five seasons where he compiled a 125-57-26 record and led Denver to its eighth national championship in 2017. During his tenure, Montgomery led the third-most winningest program in college hockey and guided the Pioneers to back-to-back appearances in the Frozen Four as well as five straight appearances in the NCAA tournament.
After joining the Pioneers in 2013, Montgomery reached 100 wins faster than any coach in program history.
"On behalf of the University of Denver, we appreciate everything that Jim Montgomery did at DU to continue the Pioneer hockey program's rich tradition of excellence," DU vice chancellor for athletics, recreation and Ritchie Center operations Karlton Creech said in a statement. "We wish Jim all the best in this incredible opportunity for him and his family in Dallas, and thank him for his leadership in bringing the national championship trophy back to Denver a year ago.
"We will begin a search immediately for a head coach who has the ability to continue the high standards of Denver hockey set by Jim, his staff and those before him."
In the NCHC, Montgomery posted a 70-35-15-9 record to make Denver the winningest program in the five-year history of the conference. The Montreal native helped the Pioneers to an NCHC regular-season championship during the 2013-2014 season and a pair of NCHC Frozen Faceoff Championships in 2014 and 2018, making Denver the first two-time winner of the conference tournament.
Individually, Montgomery was named a finalist for the Herb Brooks Award as NCHC Coach of the Year in both 2016 and 2017 and won the Spencer Penrose Award as National Coach of the Year in 2017.
"This was an extremely hard decision for me and my family," Montgomery added. "I want to first thank Peg Bradley-Doppes, Ron Grahame and John Miller for bringing me to Denver and giving me the resources to have success. The dedication from our student-athletes, staff and administration has given me this opportunity to graduate to the NHL and I am very thankful and fortunate for the five years I was able to spend with this group. Additionally, the trust, guidance and support from Dan Ritchie, Chancellor Chopp, Chancellor Coombe, DU hockey alumni and the faithful fans of the program has been unparalleled. I have loved my time at Denver and have full confidence this program will continue its rich tradition of excellence.
"My family and I will be Pioneers forever."