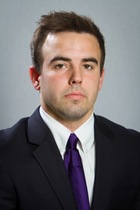 According to a report in the Providence Journal, former Curry player Ian DeLong and several teammates became ill after playing a game against Johnson and Wales at the Rhode Island Sports Arena in Feb. 2011 and later filed a lawsuit.
The state Supreme Court ruled Tuesday that the lawsuit can head to trial.
The lawsuit states DeLong, now 29, began coughing up blood and was hospitalized and a doctor later concluded that he suffered "acute hypoxic respiratory failure brought on by inhalation of toxic fumes … at the hockey rink." His discharge diagnosis was "acute lung injury" and "carbon monoxide and nitrous oxide exposure."
In a sworn statement, however, DeLong could not prove that his illness was due to fumes from the propane-fueled Zamboni.
The State Department of Health tested the rink the next day and found no carbon monoxide. Testing was not done for nitrogen dioxide, according to the report.
Former Curry coach Robert Davies, according to the report, "swore that the Zamboni was emitting a gaseous odor that worsened with time and 'released a thick blue film that permeated the air.'"
A Salve Regina coach reported that his players also fell ill after a game.
The Rhode Island Sports Center eventually replaced the Zamboni with an electric version.