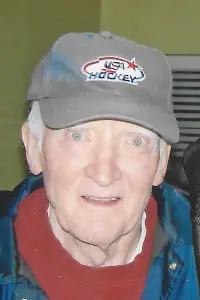 Joseph Burke, the namesake for an annual award from the American Hockey Coaches Association, passed away on May 13.
Burke's age at his time of death was not mentioned in the online obituary.
The Joe Burke Award was established in 1994 to honor those individuals who have shown great support and dedication to girls/women's hockey.
Burke, a native of the Boston area, was an avid fan of girls/women's hockey since the late 1970s, but never actually played the game himself.
According to the AHCA, he became hooked on the women's game when he attended a New Hampshire-Boston College in 1978 at McHugh Forum.
Burke was a Korean War veteran with the U.S. Navy and a retired printer for the Dedham Transcript and retired custodian for the town of Dedham, Mass.
Beloved son of the late John E. and Mary (Keaney) Burke, Burke was the brother of the late Irene Casey, Mary Anderson, Marjorie Finlay Reynolds and James Burke, uncle of the late Paul Anderson. He is also survived by many nieces and nephews.
A visitation and funeral were held May 16.