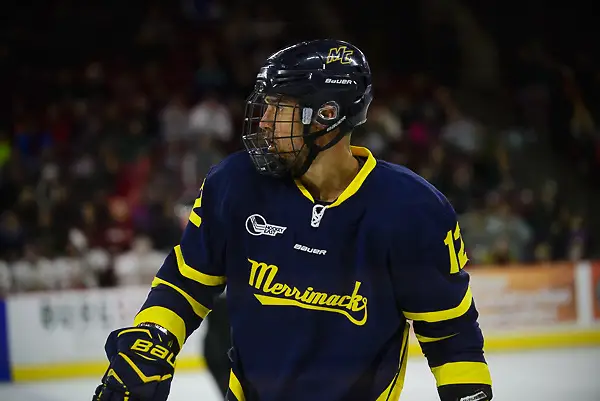 Former Merrimack players Evan Bell and Ludvig Larsson will be joining Penn State this fall as transfer students.
Bell began the 2017-18 season with Merrimack, but only saw time in five games during his first semester of play, registering a pair of assists before opting to return to the USHL where he rejoined the Fargo Force for the remainder of the season. Bell registered 11 goals and 23 assists for 34 points in 49 total games with a plus-18 rating during his time in Fargo, helping the Force capture their first-ever Clark Cup championship.
With Bell leaving Merrimack early, he will have to sit out the first semester of 2018-19, but will then have two and a half years of eligibility remaining and can take the ice once the second semester hits.
Larsson, the Nittany Lions' first Swede, is using the graduate transfer rule to enroll at Penn State and be eligible to play right away after spending the past three seasons at Merrimack.
During his time with the Warriors, Larsson appeared in 91 games, scoring 24 goals and adding 21 assists for 45 points including a career-high 13 goals and 21 points this past season. He also ranked second in Hockey East and 14th in the nation last season winning 58.3 percent of his draws.
Larsson becomes Penn State's first-ever grad transfer and will only be eligible to play during the 2018-19 season.