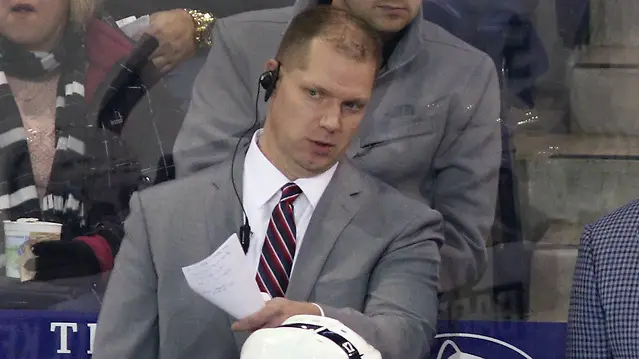 Penn State has announced that longtime men's assistant coach Keith Fisher has been promoted to associate head coach.
Fisher has served under head coach Guy Gadowksy for the past 12 seasons, including the last six with the Nittany Lions. Before his time in Happy Valley, Fisher was a member of Gadowsky's staff at Princeton for six seasons.
"I am truly appreciative of this opportunity provided to me by Penn State and Coach Gadowsky," Fisher said in a statement. "It is amazing to see what we have built here as a staff in such a short time, and I am looking forward to continuing our upward trend in the future. It is a great time to be a Nittany Lion."
Including the 2017 Big Ten championship, Fisher has been a part of four NCAA tournament teams and a pair of conference championship squads in his 12 seasons as a collegiate assistant. Fisher has 20 years of coaching experience including stops with the USHL's Omaha Lancers prior to his time at Princeton, and a pair of seasons as an undergraduate assistant at St. Cloud State, where he earned his bachelor's degree in communications in 2000.
"Coach Fisher and I have coached together for a long time and have very similar philosophies and program values," Gadowsky added. "With his great work ethic and passion for Penn State, he has been an integral part of the success of this program and is very deserving of the associate head coach position."