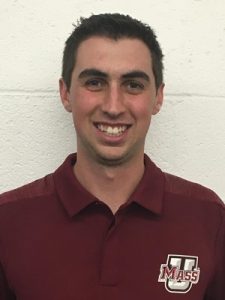 Massachusetts announced Monday that UMass alumnus Ryan Mahan has rejoined the hockey program as director of hockey operations.
Mahan, a 2018 graduate, previously spent two years on staff as a hockey operations assistant
"We are very excited to welcome Ryan Mahan as our new director of hockey operations," said UMass coach Greg Carvel in a statement. "Ryan worked closely with our staff the past two years so we are well aware of the qualities he will bring to our program and the position. He is young, ambitious and driven with a great understanding of the direction we are taking our hockey program. He will seamlessly fill the hole left by Brennen McHugh who is moving on to new opportunities and I want to thank Brennen for his friendship and loyalty to me over the past six years. Now we look forward to Ryan and the qualities he will bring to UMass hockey."
While working towards his sport management degree, Mahan helped prepare film review, pre-scouting analysis while also tracking in-game statistics for the Minutemen. He also assisted with logistics for player media events, travel coordination and game-day operations.
During the summer of 2016, Mahan served as a hockey operations intern for the Florida Panthers, which included work with the organization's assistant general managers on NHL CBA compliance and assisting the hockey analytics department in game film review as well as database construction and maintenance.