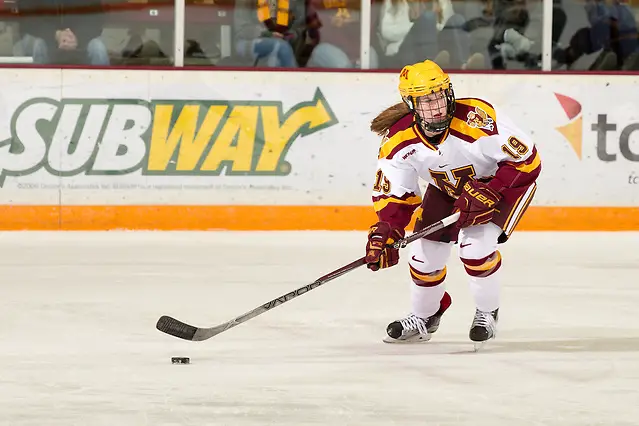 Wisconsin and Minnesota each received 33 voting points in the WCHA women's preseason coaches poll announced Tuesday.
The Badgers earned four first-place votes to the Gophers' three.
Ohio State came in third, followed by Minnesota Duluth fourth, Bemidji State fifth, St. Cloud State sixth and Minnesota State at seventh.
In addition, Minnesota Duluth redshirt junior goalie Maddie Rooney was named Preseason WCHA Player of the Year and incoming Minnesota freshman Taylor Heise has been tabbed Preseason WCHA Rookie of the Year.
The Preseason All-WCHA Team was also unveiled:
Forwards: Kelly Pannek, RS-Sr., Minnesota; Emily Clark, RS-Sr., Wisconsin; Annie Pankowski, RS-Sr., Wisconsin and Sarah Potomak, RS-Jr., Minnesota (tie)
Defensemen: Jincy Dunne, RS-Jr., Ohio State and Mikaela Gardner, Sr., Wisconsin
Goaltender: Maddie Rooney, RS-Jr., Minnesota Duluth
Others receiving votes (listed alphabetically by position): Forwards – Clair DeGeorge, So., Bemidji State; Emma Maltais, So., Ohio State; Abby Roque, Jr., Wisconsin. Defensemen – Mak Langei, So., Bemidji State; Patti Marshall, So., Minnesota; Maddie Rolfes, RS-Sr., Wisconsin. Goaltender – Kristen Campbell, RS-Jr., Wisconsin