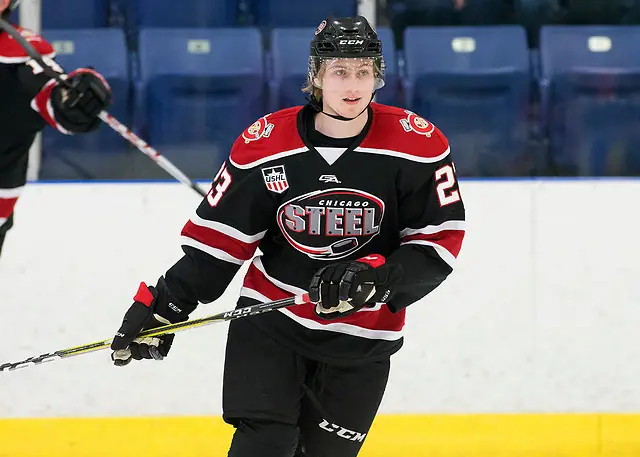 Eric Otto knew something wasn't right.
He had arrived at American International for his freshman year, and the new member of the hockey team was having trouble sleeping.
He wasn't in "hockey shape," but he felt like he lagged behind in conditioning drills. He struggled to keep up with his teammates, a rarity for a player who played in the USHL. He easily lost his breath, and his weight was down.
So AIC coach Eric Lang sat him down and asked what was going on. Lang wanted his player to be honest, and Otto told him about his labored breathing. The next day, it was more of the same, but this time Otto complained about pain on his left side.
"That's it," Lang said. "We have to get you checked out."
Otto mentally ran through the possibilities, but the doctors instead delivered a diagnosis nobody ever wants to receive: Stage IV Hodgkin's lymphoma.
"There were red flags about two weeks after I got to school," Otto said. "I had a lot of trouble laying down in bed and breathing comfortably. I would get short of breath, and if I did any walking or talking, I didn't feel any good. On top of that, in practice, I was two steps behind every day. I figured I was out of shape because I was getting into the season, but this year felt a lot different.
"I figured it was a bad case of asthma or pneumonia, and I was hoping to get something that. Instead I got the diagnosis that I got, which is definitely something you don't want to hear."
It's a diagnosis that both amplified and marginalized everything about what it is to play hockey. The confusion and emotion shook both the athlete and the head coach, but it also provided a moment of clarity.
"When we got the news, our school nurse and Eric and myself sat there and were crying," Lang said. "I kept trying to tell myself to be strong for him, but it was hard to keep it together. There's no playbook for it. But the one thing I told him was that the player we recruited is a player of integrity, character and second or third effort. What we saw in him was a player who overcomes adversity. The game of hockey prepared him to do what he now needed to do. He looked me in the eyes and gave me a head nod.
"He understands that he's in the battle of his life, but he has the perfect disposition to overcome this. That's why we're so optimistic."
The diagnosis robbed Otto of this season, but he remains a part of the program because of the two-way nature of the game. AIC recruited him out of the Des Moines Buccanneers, who drafted the Burnsville, Minn., native to play in the USHL. He played a season-plus with the program, scoring 21 points over 75 games. Oddly enough, though, he wasn't a player on AIC's radar, at least not before then-Des Moines coach Dave Allison placed a phone call.
"We weren't in the business of looking for another player," Lang recalled. "Dave Allison called me, though, and said they had a kid that needed someone to take a chance on him. He told me that we would get a huge return on investment. I asked Dave to tell me about the kid, and he talked about his character and how appreciative he was as a player. We weren't going to take another player, but I brought (Otto) on a visit. It turned out that we loved who he is and what he is about. The second he left campus, we wanted him to be a part of our culture."
"Des Moines drafted me in the 11th round, but I hadn't talked to the USHL at all," Otto said. "I was super pumped to at least show the team that I could play. Before that, I was drafted in the NAHL, so I had a second option. But I would up in Des Moines, and I spent almost two years there. There's nothing bad I can say about it. I loved it, I loved the people there and the guys I got to play with.
"Playing college hockey was always something I wanted to do," he continued. "When I first heard from AIC, I heard from (assistant coach Stephen Wiedler). I liked him a lot, and every time I talked to him, I got a good vibe. Fast forward to talking to Coach Lang, and I felt like I was home. They were coming from a big family, and the guys on the team made me feel like I could trust them. I was really happy to commit to AIC to play hockey because I was going to a good program that would have my back, no matter what. That's even now as I'm taking a season off to take care of myself."
It's a culture developing tighter bonds through his diagnosis and beyond. Otto's teammates supported and assisted him through struggles with the conditioning and weight training, even though nobody knew what was going on. The diagnosis lifted the lid and created a new element to the culture that transcends what it means to be a part of a hockey team.
"The team has been amazing with the amount of support," Lang said. "We've got an amazing group, and they're a tight group. We're going to rally behind him. There's not a lot of opportunity to honor a player or a person with your effort every day, but when you're out there and having trouble breathing or finding your wind, you can reach back and think of 'Otts' and you'll find more to give."
"I was struggling with conditioning drills, but they got right on my back and helped me in every workout," Otto said. "And that was even before we knew I was sick. It made me feel at home because I was really struggling. Then I found out I was sick, and it grew larger and larger. The coaching staff was with me for every doctor's appointment. They gave me someone to talk to. They gave me rides everywhere, and they'd miss practice to take me wherever I needed to go. I'm home in Minnesota (now) and guys text me every day to see how I'm doing. It's not even the same guy every time. Every guy texts me. I'm so incredibly happy and lucky to be with the AIC family."
So that leads to the road ahead. Otto will under 14 days worth of chemotherapy off and on for the next six months, with his second round competing this weekend. At the conclusion, if any cancer cells persist, he will undergo radiation to clear his body.
The hockey community, in its own right, is fighting alongside him and his family. The sport's universe stepped up to help cover medical bills, which are always a necessary evil in the fight against serious disease. A GoFundMe raised over $20,000 in 24 hours and continued to over $30,000 one week later.
Teams are turning out to support Otto, something that is hard to even quantify into words.
"The elite league in Minnesota did a fundraiser for me, and the Buccaneers are running fundraisers for me," Otto said. "It's incredible. I didn't even play in the elite league, but because I'm a hockey player from Minnesota, they want to help. It speaks a huge statement about the greater hockey community."
"I never go on a GoFundMe page to see who donates to things, but for some reason, I did (for this)," Lang said. "I went on and was so touched that it brought me to emotions. There were coaches from Wisconsin, parents from Holy Cross, the Army staff, writers, you name it. The hockey fraternity is the best fraternity in the world. If you ever want to get something done, hockey never says no. It still gives me the chills to speak to it, and it makes me emotional. If the world was run by the hockey community, it would be a whole lot better place."
Otto is fighting cancer, but there's still one last order of business hanging in his vision. It looks a lot like a bee, and it's stitched onto the front of a black and gold jersey. That sweater is hanging in the MassMutual Center in Springfield in a room with 20-odd sweaters that look the same. Under that sweater are two boots attached to blades of steel and a graphite stick is waiting outside the room where all that resides.
"I've stayed as active as I can," Otto said. "I've gone to the Mall of America just to walk around for 20 minutes or so just to keep some of my strength up. It's been tough, and I'm very weak these days. But getting back into shape after chemotherapy is top priority for sure."
AIC opened its season this past weekend with a 3-1 loss to Providence and opens conference play this weekend with a trip to Niagara.
To help Eric in his fight against Hodgkin's Lymphoma, donate via the GoFundMe page.