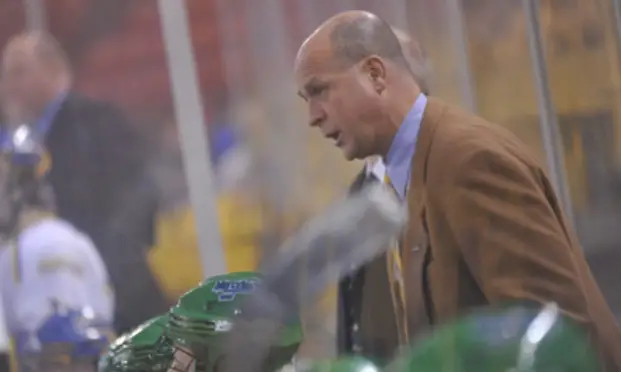 Senior Bobby Nardella scored the only goal in a shootout as No. 2 Notre Dame advanced to the finals of the Ice Breaker Tournament, winning the shootout 1-0 after skating to a wild and wooly 6-6 tie through regulation and a five-minute overtime.
Officially, the game will be recorded as a tie.
The goal capped off a wild, back-and-forth nightcap at the 2018 Ice Breaker. Mercyhurst held leads of 2-1 and 4-2 before Notre Dame stormed back to grab leads of 5-4 and 6-5, before Stephen Ipri's goal with 4:01 left in regulation forced overtime.
Cal Burke scored a hat trick for Notre Dame, with all three goals coming in the third period. Burke post a game-high 10 shots.
The Lakers were led by Taylor Best who posted two goals and two assists of his own.
Notre Dame will face No. 4 Providence in Saturday's championship game, the USCHO Game of the Week. Providence defeated Miami, 4-0, in the opening semifinal.
Here's how OT ended between @HurstMensHockey and @NDHockey #Erie #IceBreaker pic.twitter.com/vR1Par4eI2

— Victor Fernandes (@GoErieHockey) October 13, 2018
Around the Nation
Bemidji State 2, No. 13 North Dakota 1
Owen Sillinger's goal with 12:47 remaining broke a 1-1 deadlock as Bemidji State upset No. 13 North Dakota, 2-1.
In a game the Beavers never trailed, they jumped to a 1-0 lead on an Adam Brady power play goal in the first. North Dakota tied the game on Gabe Bast's goal before the midway mark of the second.
Henry Johnson stopped 28 of 29 shots he faced for the Beavers.
Wisconsin 3, No. 12 Boston College 0
Badgers netminder Jack Berry stopped all 29 shots he faced as Wisconsin upset No. 12 Boston College, 3-0, at the Kohl Center.
K'Andre Miller, Mick Messner and Tarek Baker each tallied for Wisconsin.
Couple of first goal pics tonight. One for @kandre_miller… #gwg #Badgers pic.twitter.com/yFDS4DCKAx

— Wisconsin Hockey (@BadgerMHockey) October 13, 2018
No. 11 Minnesota State 4, No. 8 Boston University 3
Dallas Gerads goal with 9:44 remaining in regulation broke a 3-3 tie and gave No. 11 Minnesota State a 4-3 win over No. 8 Boston University.
Gerads and teammate Parker Tuomie each had two goals each for the Mavericks, while Dante Fabbro, Patrick Curry and Bobo Carpenter each tallied for the visiting Terriers.
Mike Hastings comments after Mavericks down BU 4-3 https://t.co/7EOvIFbYAK

— Minn. St. Athletics (@msumavericks) October 13, 2018
No. 16 Penn State 5, No. 17 Clarkson 1
Clarkson's Grant Cooper spotted the Golden Knights an early 1-0 lead only to watch host Penn State rattle off the game's final five goals in a 5-1 rout at Pegula Ice Arena.
Five different goal scorers tallied for the Nittany Lions, while Peyton Jones made 35 save in net to earn the victory.
No. 3 Minnesota Duluth 2, No. 19 Michigan Tech 1
The Bulldogs took a 2-0 lead on goals by Kobe Roth and Parker Mackay but a late goal by Gavin Gould made for an interesting finish as Minnesota Duluth escaped with their first win of the season, 2-1, over host Michigan Tech.
Hunter Shepard made 32 save for the Bulldogs to earn the victory.
Full scoreboard | USCHO writer's picks | Game of the Week