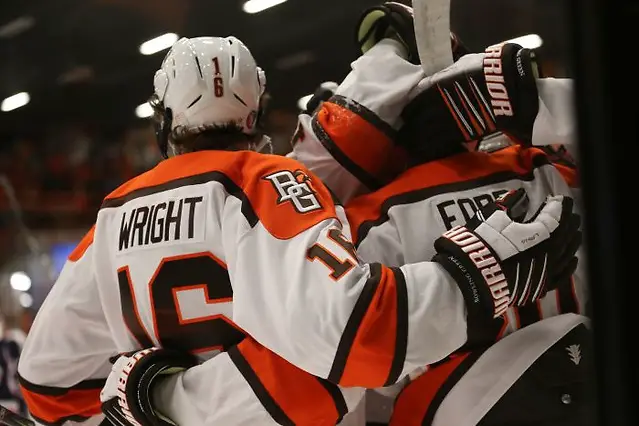 Let's get it out of the way now: Four games is an extremely small sample size.
Chris Bergeron is well aware.
So Bowling Green's head coach was understandably realistic when asked about the insane amount of goals his team has scored (22) over that span already this season.
"A four-game snapshot is just too small," Bergeron said. "But of course, we hope that this is an indication of what to come as far as guys contributing, and having a bunch of different guys doing it."
The Falcons scored eight goals in their season opener against Mercyhurst Oct. 6, then six against Western Michigan Oct. 9 and another six against Robert Morris in their home opener on Sunday — all victories. Their lone blemish was loss to Robert Morris on Friday on the road — the first game of the home-and-home series with the Colonials. RMU won 3-2.
"I think pucks are going in the net," Bergeron said of his team's first two weeks. "The three wins we have, we've got six, six and eight in terms of goals. You score that many goals, there's a good chance you're going to win those games. And the power play's been pretty good, at least to start the year. There's a little bit of chemistry. But it's not been a change of philosophy or anything like that. We've always wanted to score. But this year pucks are going into the net."
The notable thing about the power play — aside from the fact that seven of BG's 22 goals have been scored on the man-advantage — also happens to be what's notable about the Falcons' roster in general: It's filled with talented sophomores.
"We knew that sophomore class was going to be a big part of our team just based on numbers," Bergeron said.
Nine of 27 players listed on Bowling Green's roster are sophomore.
"And those guys have done a great job so far," said Bergeron. "This group will go as far as our leadership core takes us."
Four of BG's top five scorers (Max Johnson, Brandon Kruse, Connor Ford and Cameron Wright) are sophomores, as is Samuel Craggs, who has played all four games and is a regular on the team's penalty kill. Bergeron also singled out rotational defensemen Carson Musser and Justin Wells as big parts of how the Falcons play defense, along with goaltender Eric Dop, who split his time with Ryan Bednard for a good chunk of the season before Bednard took over the starting role.
The Falcons come into the season with two strong goaltenders in Dop and Bednard, a junior. And even though Bednard earned the No. 1 role near the end of last season and retains that position as Bowling Green begins 2018, Bergeron said he's glad to have two top-quality netminders.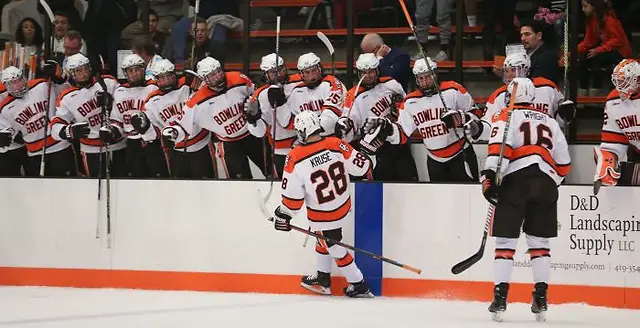 "Our philosophy as a coaching staff is, we don't have to ride one goalie. We have two guys who we believe give us a good chance to win every game, and I want them to play," he said. "That being said, Ryan has established himself as a top-level goaltender. Does that mean he's going to play three out of every four and Eric will play one? We don't know yet. We don't want to paint ourselves into that corner, we want to take it one game at a time."
So far, that's how it's played out. Bednard started three games and Dop started one — the 3-2 loss at Robert Morris.
"Ryan played well and got results," Bergeron said. "Eric played well at RMU and unfortunately the team in front of him wasn't good. He gave us a chance to win and we didn't help him out."
Obviously, having two great goaltenders is an asset — most teams in the WCHA are coming into the season without a clear-cut No. 1, much less a reliable No. 2.
And the fact that Dop os a member of that sophomore class means is huge for Bergeron.
"It's a good class," Bergeron said. "You add Eric Dop in that class (along with the forwards and the defensemen), and there's a bunch of guys that are in the lineup and contributing and that's a good thing for us.
"Those guys, just by pure numbers, when you have five guys like that in one class out of your 12 forwards, that's a pretty good number. The guys who are all over the scoresheet are the guys who are playing on the power play, which has been clicking so far. And those guys basically left off at the end of last year in a good spot. We had a presence on the all-rookie team. These guys have earned the opportunity and they're taking advantage of it."