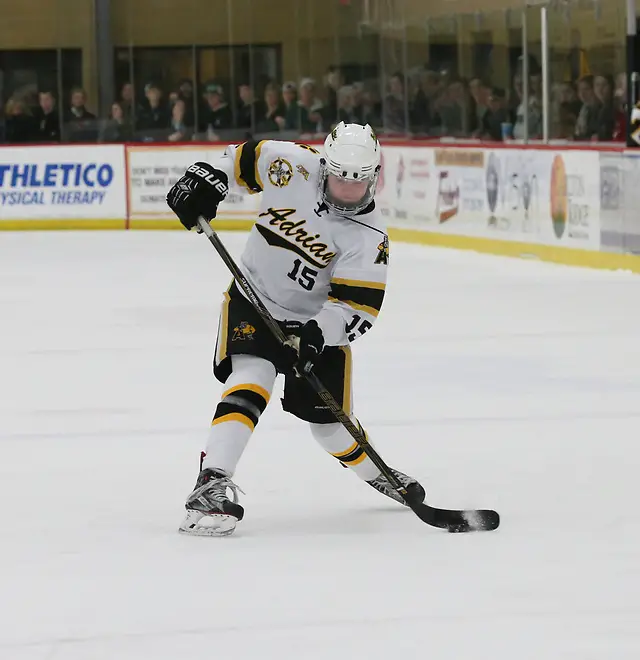 Adrian's trip to the NCAA tournament this past year wasn't as successful as their previous run in 2017. In spite of their disappointing tournament this past year, it is not expected to impact their performance this upcoming season. The Bulldogs always find a way to bounce back and fill the void from graduating seniors.
The Favorites
Adrian is the team to beat in the NCHA and has been for a long time. With returning key players in Kate Turner and Kelly O'Sullivan to lead the team's defensive game, this should give the offense the boost they need to win, not to mention O'Sullivan adds scoring herself.
Adrian's change in coaching could cause some bumps along the way as the team adjusts to new head coach Shawn Skelly and new assistant coach Kaylyn Schroka. Skelly was previously the assistant coach for the Bulldogs during the 2016-17 season, and Schroka, a two-time captain, graduated from Adrian College in 2017. The organization is counting on internal hiring to make the transition smooth and easy for the players.
Lake Forest has followed in Adrian's wake for the past four years. They are also facing a coaching change, although they have decided to hire an entirely new coaching staff with no previous ties to the college. Lake Forest has potential to be a top contender in the conference.
This year will be interesting to see how the hiring decisions between internal and external play out in the final standings.
Dark Horse
St. Scholastica is a successful program and has been for many years. Continually falling a point or two behind Adrian and Lake Forest in the conference the past couple years diminishes their actual accomplishments. Adrian and Lake Forest's adjustment period with a new coaching staff could be what St. Scholastica needs to boost them past their opponents and finish the season in first or second.
Emily Stegora and Alexia Klaas are key returning players for the Saints' offense, with Stegora averaging 1.1 points a game and Klaas netting 12 goals last year. Seniors Klaas and Stegora, along with junior goalie Lexi Thomeczek, are players to watch as they will help St. Scholastica win 16 to 20 games this season.
USCHO Predicted Order to Finish
1) Adrian
2) St. Scholastica
3) Lake Forest
4) Concordia
5) St. Norbert
6) Northland
7) Marian
8) Trine
9) Finlandia
10) Aurora
Players to Watch
Adrian: Kelly O'Sullivan — defense; Kate Turner — goalie
Lake Forest: Lexi Morgan — forward; Amy Budde — forward
St. Scholastica: Emily Stegora — forward; Alexia Klaas– forward
Marian: Lindsey Strainis — goalie