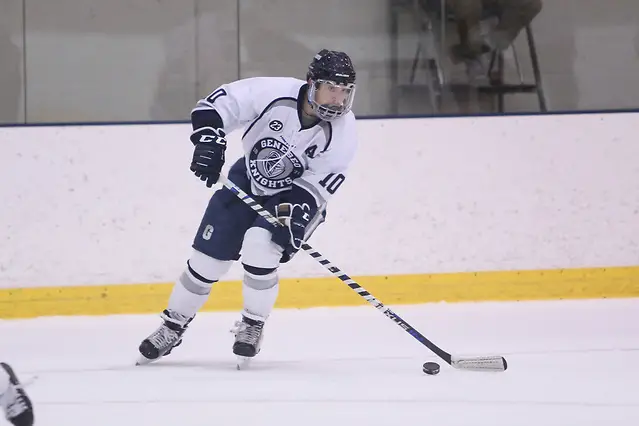 This is the week of total excitement for D-III teams, as they play teams with different color uniforms and have scores count. Coaches aren't quite sure what they have yet and how all the pieces will come together, but that is what they are about to find out with real game action at hand. Picking games this early in the season is a bit of a lucky event since I have no idea how some of the freshmen will contribute and adjust to the college game. So anyway, here we go with picks across a variety of interesting nonconference games — let the fun begin!
EAST
Friday, Oct. 26
No. 5 Geneseo at King's
The Knights are happy to be starting the season on the road and will be especially happy to be playing a team wearing a different color uniform after weeks of intra-squad scrimmages. Too much firepower for King's on opening night. Geneseo 6-1
Becker at Worcester State
The early season battle for Worcester will be a fun matchup of CCC and MASCAC rivals. The Lancers were very good at home last season, and I think that might carry over to start this year. Worcester State 4-1
Wentworth at Castleton
The Leopards and Spartans will take the ice in front of a raucous crowd in Rutland, and the support helps carry the home team over their CCC opponents. Castleton 3-2
Friday-Saturday, Oct. 26-27
No. 6 Hobart vs. Elmira (home-and-home)
Two teams with high hopes for success in their respective conferences face-off in what should be a very entertaining hockey series. This one could have a tie, but think the visitors get a special teams goal to steal a win Friday, and then earn another win at home Saturday. Hobart 4-3, 3-2
Saturday, Oct. 27
Morrisville at Stevenson
The battle of the Mustangs takes place in Maryland which means a lengthy bus ride for the visitors. I know it is early in the season, but better to be rested at home than traveling many hours to play. The home team ekes it out. Stevenson 2-1
No. 13 Norwich at Endicott
Both coaches have linkage to UMass-Lowell at the D-1 level, and their programs reflect that style of play and talent. Endicott has had success in Vermont, but this time the visitors return the favor with a late goal. Norwich 3-2
Fitchburg State at New England College
How do you stop a high-powered offense? You take away room to move on the ice, and in the small confines at Henniker the Pilgrims will do just enough to shut down the Falcons. New England College 3-2
Johnson & Wales at Plymouth State
Any Saturday night hockey game in Plymouth, New Hampshire, is a big deal, but when it's opening night there will be a lot of rowdy supporters and students rooting the Panthers on to victory against a tough Wildcats squad. Plymouth State 5-4
The beginning of the season is finally here, and while Halloween is not until next week, coaches everywhere are hoping for few surprises and some puck luck treats.
For many years now, I continue to borrow and credit the famous sign-off from the Boston Herald's great sports columnist and college hockey enthusiast, John "Jocko" Connolly — another year to kick things off. It is the opening weekend and the only way to start a hockey game — "Drop the Puck!"