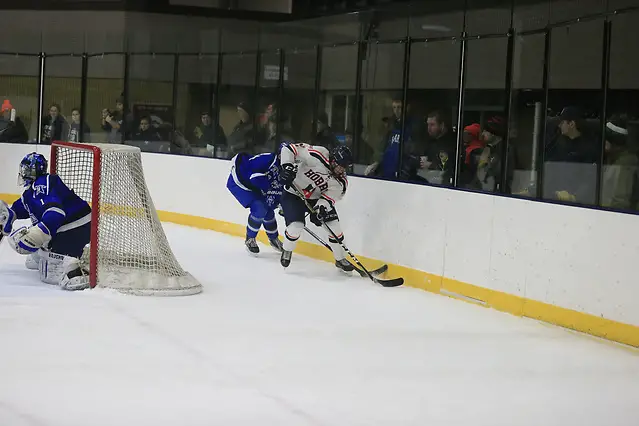 The conference is officially re-aligned as a 10-team league with the additions this season of Johnson & Wales and Suffolk, which come over from the Commonwealth Coast Conference. The other big news is the retirement of Norwich's hall of fame coach Mike McShane, who departs after 23 years behind the Cadets bench and four national championships. Former UMass-Lowell assistant Cam Ellsworth takes over in Northfield and looks to continue the program's great success.
Hobart won the NEHC in its first season in the league and did something very few teams have ever done in the process. On their way to the title, the Statesmen knocked off Norwich three times as the visiting team, including a 3-0 championship game win that earned them the title and an NCAA tournament berth.
The Favorite
It would be hard not to list coach Mark Taylor's team as a favorite going into the season based on returning talent on the roster. Alexander Connal brings experience in goal for Hobart, while Mr. Versatility, Jonas Toupal, is a threat any time he is on the ice and in any situation. Last season Toupal led the team in scoring with 32 points and recorded six power-play goals and five game-winning goals for Hobart.
The Dark Horses
The Beacons of UMass-Boston have a ton of young talent, including forwards Nolan Redler and Zack Bross, as well as defenseman Nick Albano and goaltender Bailey McBurnie. There is a lot of senior leadership on this team, and that was certainly a key element in the Beacons' run to the NCAA tournament just a couple of seasons ago.
In this league you can never count out Babson. Coach Jamie Rice's squad is a hard out at any point in the season, and they always seem to peak when it matters most in the second half. They play great team defense, have balanced scoring, and a solid netminder in Matt Pompa.
USCHO Predicted Finish
1) Hobart
2) Babson
3) UMass-Boston
4) Norwich
5) Skidmore
6) New England College
7) Castleton
8) Southern Maine
9) Johnson & Wales
10) Suffolk
Players to Watch
Babson: Matt Pompa — goaltender; Matt Brazel — forward
Castleton: Caleb Fizer — forward; Dan Fitzgerald — defenseman
Hobart: Jonas Toupal — forward; Alexander Connal — goaltender
Johnson & Wales: Mike Rockwell — goaltender; Connor Bechtal — forward
UMass-Boston: Nick Albano — defense; Nolan Redler — forward
New England College: Andreas Zollner — forward; Mike Whitehair — forward
Norwich: Cam Ellsworth — coach; Todd Jackson — forward
Skidmore: Brandon Kasel — goaltender; Brandon Borges — forward
Southern Maine: Parker Sanderson — forward; Tyler Mathieu — forward
Suffolk: Mikhail Bryan — defenseman; Sean Henry — defenseman
After some exhibition games and brief engagements out of conference to start the year off, most teams will be facing early challenges in league play starting in November. Getting off to a good start could mean a lot of good things for teams that find their game early in the fall.