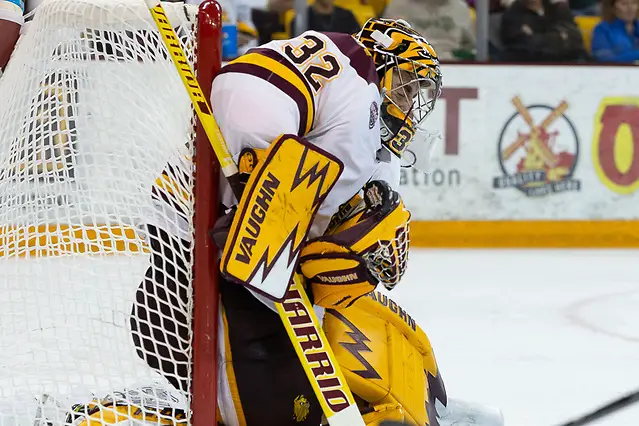 For the defending national champion Minnesota Duluth Bulldogs, the early part of the season has been solid.
Last weekend, the Bulldogs swept Maine in two very different games.
That said, UMD coach Scott Sandelin still sees areas where his team can improve.
"Friday, I don't think Maine played their best game," said Sandelin. "I thought the first period was kind of back and forth. It looked like it was going to be an 8-7 game; we were trading goals. We kind of had a really good second period again and put some separation and closed it out. It was nice to see that eight different guys scored.
"No matter what you tell guys, the next night you know that it's going to be tougher. I thought we had a good start again. I really thought their goalie played well early for them, which we knew he was a good goaltender. The game was tight even though we certainly had chances. We got a three-goal lead and I thought we kind of relaxed a little bit. Next thing you know, they get a goal and get some life and we don't score on the 5-on-3 to start the third period and then they get another goal and then the next 14-15 minutes, it's a one-goal hockey game. I thought the first 5-6 minutes after they scored to make it 3-2, we played a little tight, and then I thought we settled in and finished the game the right way, and weathered a couple of goalmouth flurries on the 6-on-5, but you know found a way to win a hockey game. It's a good lesson for our guys again."
Those are lessons that the Bulldogs started learning after their first series of the year, in which they got a tie and 7-4 loss to rival Minnesota.
"Certainly, it better have been a little bit of a wakeup call," said Sandelin of that series. "I think defensively, we still need to get better. Moving forward, I think right now we've got to tighten up back there with a lot of things. We've got a goaltender that I think can make the saves he needs to make, but I know through the first two or three games we gave up way too many odd-numbered rushes and played way too loose defensively, and [Hunter Shepard] was there most of the time to bail us out. It's an area that we do get better at, take care of the puck better, and then just tighten up defensively."
The Bulldogs are paced by defenseman Scott Perunovich, who is showing no signs of the dreaded sophomore slump. Through the Bulldogs' first six game, Perunovich has doubled his offense output of his award-winning rookie season.
"I think the numbers are good," said Sandelin. "I think obviously for him, that's important because that's the kind of player he is. Like our team, I think he's still finding his footing a little bit. Obviously, he's a catalyst for us. He's going to see a lot more attention during the year, so he's got to learn how to handle that stuff. Things aren't things aren't going to be easy, and I think that's something that he's learning. It kind of started even last year with the way teams defend him, so I think that's an area that he's doing better."
In addition to Perunovich, Sandelin has been very happy with the play of captain Parker Mackay, whose offensive numbers are more than double what they were in his junior year.
"We've been blessed with some pretty good captains, and we knew he was going to be another one," said Sandelin. "I think he's playing consistently. He's always worked hard, similar to Karson (Kuhlman). That line he's on has been really good. All three of them work really hard. They've been strong on the forecheck, which has created some offensive chances, and Parker has buried some opportunities. It's great to see him have that start. He's been a real good leader for us, a real catalyst for us, and that's what you need out of your captain. Certainly for him, it's good to see him playing with that confidence."
This weekend, Minnesota Duluth travels to face a familiar foe: new No. 1 Notre Dame, whom the Bulldogs defeated in the national championship game last year in St. Paul, Minn. The Bulldogs and Fighting Irish have faced off every season since the Bulldogs beat the Irish in the Frozen Four in St. Paul in 2011. Most of the games have been close, with the Bulldogs going 7-4-2, including 2-0 in the Frozen Four. Two-game sets during the regular season have either been a split, or two ties.
Sandelin expects a similar series this weekend.
"I think the last five or six years we've played them, every game's been a goal or a tie," said Sandelin. "They've been really tight games, good hockey games. Obviously, they have a very good team again. I thought they looked really good last weekend against Omaha. Any time you put up 13 goals against a team in our league, it really tells me a lot about their team. They're solid. They play a very disciplined game. They've got the speed. They've got some forwards, (Cal) Burke's off to a great start, (Bobby) Nardella is having another good start; he's kind of like our Perunovich. They're just solid, and you when you play them you can't beat yourself, and by that I mean turning pucks over in critical areas, taking undisciplined penalties. We have to score on our opportunities. We know (Cale) Morris is a good goaltender, so you've got to take advantage of those opportunities, and same thing with the special teams.
"Obviously, power plays are going to be big, but I think for us it's playing sound defensively, managing the puck, and trying to create scoring opportunities and capitalizing on those. Those are going to be key things against any good team, but I expect, I hope, it's going to be the same type of games, real tight. If history repeats itself, that's probably what you're going to see."