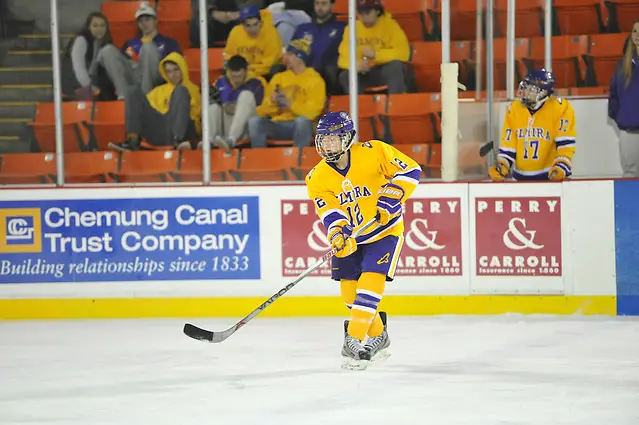 St. Scholastica vs. Augsburg: St. Scholastica 3-1, 2-2
Coach MacMillan, for St. Scholastica, tallied her 100th win for the Saints women's hockey program with the win Friday night over Augsburg. The game was closer than the final score showed, and the Saints should be thanking their goalie, Lexi Thomeczek, for the victory. Augsburg outshot St. Scholastica, 33-13, and won most of the faceoffs. The score for the second game on Saturday showed a more realistic outcome for the Auggie's efforts. Once again, St. Scholastica got outshot by a large margin, 47-14. Teams in the MIAC should not disregard Augsburg due to the loss and tie from this weekend. Once Augsburg starts to find the back of the net, look for some upsets from this team.
No.4 Hamline vs. No.9 Wisconsin-Eau Claire: Hamline 5-4
This game was as close as they come. Hamline came out with the win Saturday, but Wis.-Eau Claire could have easily taken the game. Bre Simon for Hamline and Holly Turnbull for Wis.-Eau Claire led their teams on the score sheet. Despite racking up 12 penalties and getting outshot, Hamline's Madison Kolbow got the game-winning goal in the third period. Hamline and Wis.-Eau Claire are clearly picking up where they left off last season.
No.6 Adrian vs. No.8 Wisconsin-River Falls: Adrian 4-3 OT, Wis.-River Falls 4-3
The Bulldogs needed an extra period to win their first game against Wis.-River Falls. The victory on Saturday was short-lived when the Falcons came back to win Sunday afternoon. Both teams played as anticipated for the start of the season: a little nervous and a little sloppy. Nevertheless, these two teams look to continue the speed and offensive power their programs are known for. Adrian and Wis.-River Falls could not only be the team(s) to beat in their conference, but the team(s) to beat in the West. Wis.-River Falls should rise in the rankings.
No.2 Elmira vs. No.1 Norwich: Elmira 4-2
Leaders and big-time players show up during important games. This is exactly what happened for Norwich and Elmira. Amanda Conway and Katie Granato, forwards for Norwich and Elmira respectively, started the season off strong for their teams. Amanda Conway scored both goals for the Cadets in the first period and led her team with shots on net during the contest. Katie Granato completed her first hat trick of the season by scoring once in the first period and twice in the third period, one of them the game-winning goal. Elmira's freshman goalie, Stephanie Martin, stood tall in her first collegiate game, especially in the third period. Martin stopped 11 shots in the last period to give her team the victory. Expect more exciting games from both teams and them to trade overall rankings, Elmira one and Norwich two.