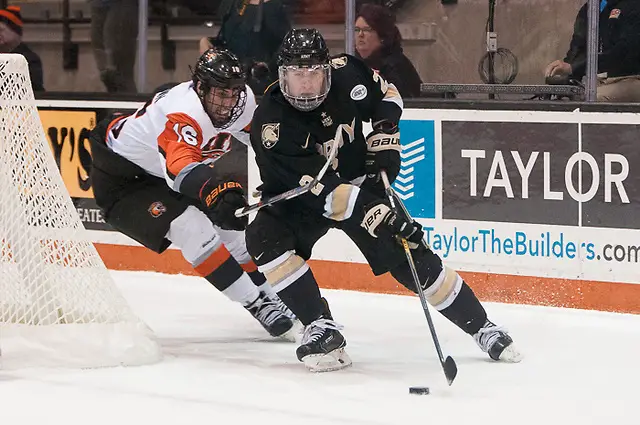 We're just 15 games into Atlantic Hockey league play, and all but two teams already have at least one loss.
Sacred Heart has zero losses in league play, but also zero wins. The Pioneers have yet to kick off the conference part of their season. They'll do so this weekend at Bentley.
The other squad undefeated in league play so far (3-0-1) is the Army West Point Black Knights.
Brian Riley's team is coming off a two week stretch that saw the Black Knights take seven of eight possible points on the road with a win and a tie at Robert Morris and a sweep at Mercyhurst, the only conference weekend sweep so far by any AHA team.
As they say, points in October count as much as points in February. So Riley is glad to have those seven points in the bank this early in the season.
"Points are hard to come by," he said. "You look at your schedule and there's no easy games. Going on the road are never easy games. Nobody can be take those points away from you."
Last Saturday's win at Mercyhurst was especially dramatic, with junior forward Michael Wilson scoring an extra-attacker goal to tie the game with just 11 seconds to play. Wilson struck again, on the power play 1:37 into overtime.
Those were the first goals of the young season for Wilson, who had 18 tallies last season.
The Black Knights are getting a boost from the blue line so far. Senior Dalton MacAfee and junior Alex Wilkinson lead the team in scoring with nine points each.
"Our team is built a little different on the blue line," said Riley. "We need a D-core that could chip in and help us offensively.
"The game is changing and having a mobile defense helps you. Guys like MacAffee, Wilkinson, who was the defensive player of the year (in 2017-18), and Matt Berkovitz, an NHL draft pick (by Anaheim in the fifth round in 2014) who had to sit out last year."
In net, sophomore Trevin Kozlowski has led the way at 4-0-1 with a 1.85 GAA and a .938 save percentage. Kozlowski didn't play a minute during his rookie season, but started the third period of a 5-2 loss to Connecticut on Oct. 12 and hasn't looked back.
"Shame on me for not getting him in a game last year," said Riley, who was quick to praise fellow sophomore goaltender Jared Dempsey, the heir apparent to the graduated Cole Bruns.
"(Dempsey) beat Colgate and New Hampshire last season," he said. "He's very good as well. At some point he'll be back in there. But Trevin has played really well."
Games against Mercyhurst over the past five years have been emotional for Riley, who faced off against son Jack for four seasons, and still sees younger brother Brandan on the Mercyhurst bench.
"It's always a thrill, but it was a little different because Jack wasn't there," said Riley. "Jack was an Army killer, and (Mercyhurst) has been a house of horrors for us. But it's just as exciting to see Brandon. I'm looking forward to seeing him again when Mercyhurst comes (to West Point on Feb. 15-16)."
There will be different emotions flowing when archrival Air Force comes to Tate rink this weekend.
Last season, Army West Point swept the Falcons in Colorado Springs in November, but Air Force had the last laugh, winning two games to one in the AHA Quarterfinals at West Point on its way to another Atlantic Hockey championship.
"I'm not going to lie — there's a different feeling after the (Air Force) games," said Riley. "Win or lose, it's special. But ultimately, it's four points. Air Force will present a new challenge, and fight hard for 60 or 65 minutes."
Win or lose, Riley says the Black Nights will move on to their next hurdle, and the one after that.
"Each week, it's a different challenge," he said. "Last week was Mercyhurst week, this week is Air Force week. There'll be a lot of excitement. (Air Force vs. Army) football is Saturday as well.
"Our goal is to take more big steps and be competitive in every game we play. Each week is kind of a season unto itself. Hopefully, we can get better and put ourselves in a position to win each game."
So far, so good.