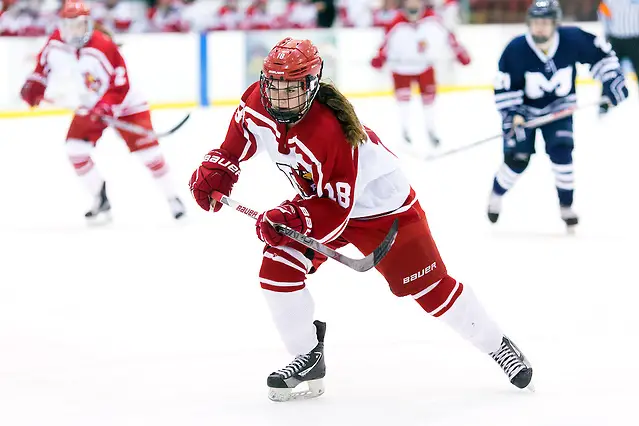 Losing in the semifinal round after a four-year victory run, coupled with graduating the Laura Hurd award winner, Melissa Sheeran, might have some teams thinking Plattsburgh's string of championships have come to an end. This program's history and coaching staff will say differently.
The women's program at Plattsburgh State has done something that no other women's D-III hockey team has: they've won six national championships. All titles were won under head coach Kevin Houle. Houle took over the program at the start of the 2003-04 season and has at least 20 wins in each of his seasons while delivering a successful program for over a decade. Houle is quick to give credit that the program was already off to a strong start when he took over.
He also believes that building a tradition of a successful winning program and getting into the NCAA tournament helps the recruiting process to rebuild each year as good players graduate. According to Houle, Plattsburgh is a hockey town with great fans and a community that supports both the men and women's team. The school's facilities are second to none, and that and the beautiful campus separate Plattsburgh from most other schools.
Two-time national champion and AHCA Second Team All-American Courtney Moriarty will be leading the offense for the Cardinals this year. Moriarty scored 30 goals last year and helped on 16 others. With help from sophomore Annie Katonka, Moriarty will look to continue Plattsburgh's 4.2 goals a game average from last year. At defense, Hannah Kiraly is an upperclassman and will be tapped to fill a bigger leadership role. As a freshman, Kiraly was a standout and became a member of the ECAC West all rookie team, and as a sophomore she earned AHC First Team All-American honors. Moriarty and Kiraly look to continue their program's tradition of success as they enter their senior and junior years, respectively. Houle acknowledged that Moriarty and Kiraly are well-known returning players, but he is also depending on the rest of his current players to step up, as they have the talent.
The Cardinals entered their new conference, the NEWHL, in the 2017-18 season and separated from long-time rival Elmira. Plattsburgh and Elmira were both in the ECAC West conference competing for not only their conference title but also the national title, as each team usually received a bid for the tournament. This rivalry strengthened and fueled both team's programs and players to a high-caliber level. Although they are not scheduled to play each other in the regular season, the playoff games between Elmira and the Cardinals will always bring a high level of play as only certain rivalries do.
"It wasn't a great spilt, but this rivalry will go on for as long as I'll be coaching," said Houle.
Elmira and Plattsburgh hope to meet in two tournaments this year during the regular season, as well as the playoffs.
A new conference always brings new challenges. Although they might not be rivals yet, the Cardinals should pay close attention to Oswego. This program is growing and starting to hold its own against high-level teams. If Oswego continues to progress as it has, these two teams could develop into a new great rivalry. Houle noted that this conference is moving in the right direction, and Oswego's growth is creating competitive games between the two teams.
Plattsburgh State's roster is primarily young, with eight sophomores and nine freshmen. Such a young team would usually be poised for success when the group gets a year or two of experience in the league. Houle agrees, and indicated that a young roster is part of the cycle in college hockey.
"One year you get a group of young women and then they mature at the collegiate level and the majority of your roster is upperclassmen; it's the nature of the game," he said.
With his team entering this cycle this year, Houle is not worried that this will impact his team's success, as he has key upperclassmen to provide the needed leadership.
Plattsburgh State's brand is winning and going far in the NCAA tournament. Coming off a year where they did not win a national championship title and losing the Laura Hurd Award winner will not have as big of an impact as their opponents would have like to see. Houle's message and goals for his team this year are the same: reach the NCAA tournament and win another national title. Under Houle, this team finds a way to continue to be successful and be the team to beat. This year will be no different for the Cardinals as they strive for the program's seventh national title.