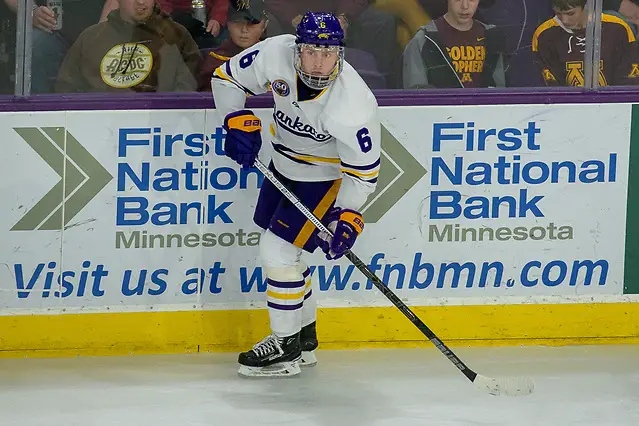 Each week during the season, we look at the big events and big games around Division I men's college hockey in Tuesday Morning Quarterback.
Jim: Paula, we might as well start with the upset of the year to date.
Arizona State went on the road to Happy Valley and pulled of a 4-3 overtime win against then-No. 6 Penn State. In fact, not only did ASU win the Saturday game, they carried a lead into the third on Friday before falling 6-5.
Truly, if you've been paying attention, this shouldn't feel like too much of an upset. Arizona State has been playing well, having swept Alaska and Omaha already this season and having lost two very close games to Ohio State when the Buckeyes were ranked No. 1. Goaltender Joey Daccord has been excellent and Johnny Walker, who scored the OT game-winner on Saturday, leads the nation in scoring with 11 goals and 17 points.
That shouldn't take anything away from what an accomplishment this win was for the Sun Devils. This is a program that started from a club team, has recruited well despite having not yet built their own arena or found a conference to play in, and gets better each year.
But, in a way, their success (not to mention the fact that they upset a Penn State team which, behind Arizona State, is the second-newest NCAA D-I team) should give some hope to other schools thinking about adding D-I hockey. Both of these programs are proof of the concept that if you're dedicated in building a top-tier program, you can be pretty competitive pretty quickly.
Paula: The point you make, Jimmy, is a very good one.
While I wouldn't say that building a top-tier program is easy by any means, once the financial obstacles are overcome, there are resources available for programs to become competitive quickly. According to USA Hockey, there were over 550,000 participants in youth hockey programs in the U.S. in the 2016-17 season, a number that appears to have increased by about 10,000 participants annually for the decade leading up to those numbers.
More young people than ever are playing hockey in the U.S., and the majority of youth hockey participants are still male. Hockey is more popular than ever across the U.S., so more little boys and girls are growing up watching and rooting for and trying to emulate local professional hockey. We also know that the NCAA is developing NHL-caliber players and coaches. The talent pool for rapid development of new top-tier D-I teams is there. I think we may have reached the if-we-build-it-they-will-come stage of NCAA hockey.
I hope so. I'd like to see NCAA D-I hockey take root in every region of the country. There is strong support for a lot of ACHA hockey throughout many current athletic conferences. If everyone could just find a fairy godfather or godmother to fund their programs, think of how exciting the expansion possibilities could be.
Back to Arizona State, though. The Sun Devils have the 10th-best offense nationally, averaging just shy of four goals per game, and the 12th-best defense nationally. And, as you said, Daccord is having a good season. There shouldn't be anything surprising about that split – and especially the way it happened, with Penn State securing that win in the third period and the insane amount of goals scored between the teams in both games, which is something that can happen in Nittany Lions games.
It was splitsville for a lot of teams last weekend. I was particularly interested in the splits within the state of Michigan, the former CCHA pairings of Michigan-Lake Superior and Ferris State-Michigan State. You cautioned me, though, that Boston University is better than its record, and BU may have proven that against Northeastern.
Jim: Yes, Boston University did find their skating legs against a Northeastern team that entered the weekend having put together quality wins the weekend prior. So that's probably a good sign for Albie O'Connell and the Terriers and it's also probably nice to get the first-win monkey off his back.
The team that caught my attention this weekend was Denver. The Pioneers found ways to win both nights against Western Michigan and were paced by a five-goal weekend by Jarid Lukosevicius, including Saturday's overtime game-winner. Denver is now the last unbeaten team in the nation and, ranked No. 5, joins the trio of Minnesota Duluth (No. 1) and St. Cloud State (No. 2) of NCHC teams currently ranked in the top five of the USCHO.com poll.
That's interesting to me considering the fact that just a few weeks ago, we were talking about the dominance of Big Ten teams. At that point, you had Ohio State ranked first, Notre Dame in the second slot and Minnesota ranked sixth.
That's changed quickly – the Buckeyes have dropped to sixth, Notre Dame to seventh and Minnesota is barely holding in the top 20, ranked 16th this week with a 1-3-1 record.
The inter-conference record for the Big Ten has also suffered dropping from a winning percentage above .700 to its current (still decent) .589 mark.
Tough skating of late for the Big Ten?
Paula: For the record, I personally didn't have the Buckeyes ranked first, so let's clarify that. They were ranked there, however, and there were four Big Ten teams in the top 10.
Talk about an awakening for B1G hockey as a whole. That Ohio State and Notre Dame split is something that probably most fans of the conference would have predicted. The other results of the past weekend are enough to cause concern for most Big Ten fans and fans of the specific teams. In addition to the three nonconference B1G splits that we mentioned, Wisconsin was swept by a North Dakota team that had two wins coming into that series and now Minnesota has lost three in a row to drop to 1-3-1.
There doesn't seem to be any consistency among some of these teams, either. We can talk all we want about how early it is, but that drop in inter-conference win percentage is something that is alarming.
Several things come to mind, though. My first impression of the WCHA is that it's improved this season and Lake Superior State at 5-1-0 has certainly had a good start to the year.
Conversely, North Dakota had a slow start but may be coming on.
Maybe the only B1G team that isn't setting off alarm bells is Michigan State. Even though the Spartans split with Ferris State on the weekend, they did put together a three-game win streak that ended with the loss to the Bulldogs Saturday night. Michigan State won three games in a row once last season; I don't think it'll be an isolated event this year.
Jim: First, I think North Dakota might be the hottest team in the nation right now.
The opening weekend was what it was: an early-season series before a team has developed much. But I like the way that North Dakota has played the last few weeks. They split with Minnesota State, a team we now know is very good. Then three straight wins against B1G opponents is a statement.
To your other point, I think the WCHA is the most improved conference. Maybe not top-to-bottom, which is reflected in the out-of-conference winning percentage of .436. But Minnesota State, Lake Superior and Bemidji State are all teams we'll likely talk about all season and I think Michigan Tech has a lot of potential.
What concerns me about the WCHA Is how bad the bottom of that league is. Alabama Huntsville is 0-10-0 and has been outscored 35-9. Alaska is 0-9-1 while being outscored 31-9. Those numbers are just so lopsided that they're difficult to explain.
Paula: Those three teams at the bottom of the WCHA — wow.
Huntsville is averaging less than a goal a game through 10 games and the Chargers were among the bottom teams in scoring in 2017-18 while averaging 2.27 goals per game, which is a full 1.37 goals per game more than they are this year. Anchorage is in that mix, too, being outscored 25-9 with a single win in six games this season. I can't imagine how frustrating those starts must be.
Then you have Atlantic Hockey, where the parity is so evident among the top seven or so teams that AHA fans may be treated to some of the most competitive, interesting hockey in the country this season. With the exception of last-place Sacred Heart, even the teams that may be near the bottom of those standings are close in goal differentials in both overall and league play. There is a real sense that once again the AHA will be right down to the proverbial wire next March.