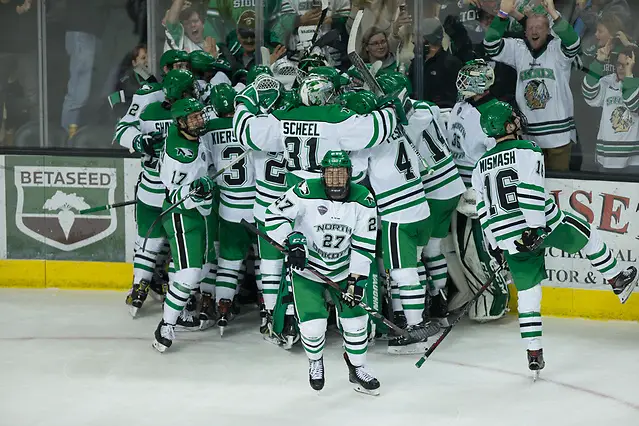 North Dakota had long ago made its name in college hockey, seven national championships in tow, before it faced Clarkson in Winnipeg back in 2012.
UND won 3-1 that night and remains undefeated in what coach Brad Berry calls "destination games."
After defeating Omaha outdoors in 2013 at the baseball stadium that hosts the NCAA's College World Series, UND downed Boston College in New York City in 2016 before beating longtime rival Minnesota 3-1 two weeks ago in Las Vegas.
The Fighting Hawks have a habit of picking up positive results in bunches after such games, but Berry feels part of that is down to the company UND keeps. The Hawks' 0-1-2 start to this season is an increasingly distant memory after four consecutive wins, including the Oct. 27 win over Minnesota and two home victories last weekend against then-No. 16 Wisconsin.
Now 11th-ranked UND (4-2-1) opened with a loss and tie in a home-and-home set against Bemidji State before dropping the front end of a home series against now third-ranked Minnesota State. The Hawks beat MSU on Oct. 20, and things have only looked up since then.
"We had a tough series against Bemidji where they played extremely hard and it was a back-and-forth series and a low-scoring series, and then we played against Mankato, which is one of the top teams in college hockey right now," Berry said. "That's a hard and heavy series, and then you get to Minnesota and Wisconsin.
"The schedule that we've had, including that Vegas game, makes you hardened and calloused to different situations, and it's tough but if you can get through them and get a good result on it, it gets momentum going for the rest of the season."
Fresh off beating Minnesota in front of a heavily partisan crowd at Las Vegas' Orleans Arena, UND was outshot 24-23 last Friday but won 5-0 against Wisconsin, another former WCHA rival. On Saturday, Hawks freshman defenseman and 2018 NHL first-round pick Jacob Bernard-Docker scored 21 seconds into overtime on a 5-on-3 power play to give UND a 3-2 win over the Badgers.
Berry felt there was much to take from the greater Mojave Desert area back to chilly Grand Forks.
"We came off of a great experience in Las Vegas from the fact that, No. 1, you're playing against a high-quality opponent in the University of Minnesota and it's one game and both teams brought their 'A' game and it was a good college hockey game," Berry said. "To see them play in front of a lot of our fans in Las Vegas, it's a great atmosphere, and a lot of our momentum came from the backing of our loyal and faithful fans.
"Coming home, coming off a big win, you want to make sure you have a good week of preparation going into your next week because sometimes you come off an emotional high of winning that big game, but I thought our guys did a good job of having a focused week of practice before playing a tough team like Wisconsin."
Don't be surprised if UND continues on a tear over the coming weeks, as that tends to happen with the Hawks after destination games. UND won five of its next seven games after going to Winnipeg in 2012, went 3-1-1 in its next five after the outdoor game in Omaha and won four of its next five after beating then-No. 3 Boston College at Madison Square Garden.
UND may travel south for its next destination game against an opponent yet to be determined.
"We try to give the student-athletes that experience but not only for the players but also our fan base to travel to destinations, and we've done it with the outdoor game, we've done it in New York, we've done it in Las Vegas and now we're working and trying to get out to Nashville in a couple of years to do the next one in 2020," Berry said.
"It's something that we look forward to not every year but every couple of years, and it makes your team a better team because you play early in the season in that playoff-type atmosphere and playoff-type environment."
As for this week, UND is preparing to visit a 7-3 Miami team that has surpassed many onlookers' early-season expectations.
"They're a good team, and they've got some players that have grown in their roles," Berry said. "You look at (forward) Josh Melnick and (defenseman Grant) Hutton, both seniors and they seem like they're the leadership of their team, and you have other players who have grown into significant roles on that team and their goaltender, Ryan Larkin, is playing extremely well. It's coming together for their group and they're getting success early in the season.
"It'll be a great college series. We've got some momentum now in finding how we have to play for 60 minutes to win games, and I think they'd feel the same way. The beauty of it is that it's our first NCHC games, and when you get into NCHC play, it's game on and it's such a hard, heavy league and it's one of those things where all eight teams are very strong and parity's at its highest in the NCHC.
"Our guys know that, and we want to make sure we make every game count."