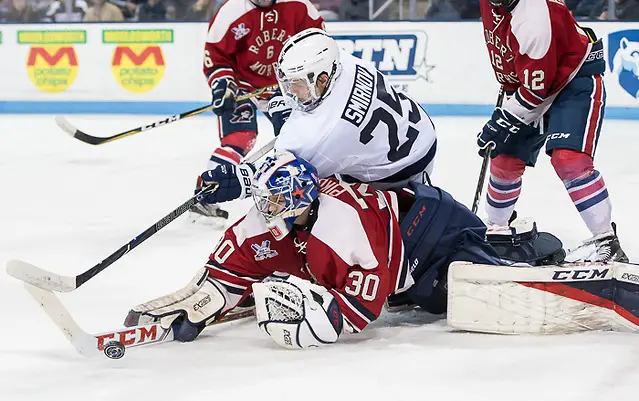 "I never met a goal scorer who didn't absolutely love scoring goals – like absolutely love scoring goals."
As the coach of a team that leads D-I hockey in goal production, this was not Guy Gadowsky merely stating the obvious.
After all, what hockey player doesn't love to score goals?
Instead, Gadowsky, was making a distinction between the guys who sniff out and hunt the net, who specialize in scoring, and those players whose primary on-ice jobs aren't to score but who also contribute offensively from time to time.
"I mean, there are degrees," said Gadowsky, now in his seventh season behind the Penn State bench. "I need to make that clear. Everyone loves scoring. Goal scorers live for it."
Gadowsky should know a thing or two about the kinds of guys who seek that scoring fix. As a coach, he's always preached the power of shots on goal, and no matter where he's coached, he's tried to establish a style of wide-open hockey coupled with good defense, the kind of play that excites a crowd and leads to a lot of scoring.
In the first season of Big Ten play, the Nittany Lions finished 53rd in the nation in scoring, averaging 2.22 goals per game. Since then, Penn State has finished every season but one among the top 10 teams in scoring, including a first-place finish in 2016-17, when the Nittany Lions averaged 4.10 goals per game. Through seven games this season, Penn State is averaging 4.86 goals per game, outscoring opponents 34-18.
Currently, Penn State plays two solid lines that are producing consistently. Juniors Nate Sucese and Brandon Biro flank senior Ludvig Larsson, and that trio is responsible for nine goals this season, including two in the Nittany Lions' home split with Arizona State.
"Biro and Sucese had shown a lot of synergy together from Day 1," said Gadowsky. "They have a built-in synergy. That was something we sort of saw. They're both extremely quick, a ton of speed, excellent vision."
Keeping Biro and Sucese together was an easy decision, said Gadowsky, who quipped, "That didn't take Scotty Bowman to figure out."
When Larsson, a transfer from Merrimack, arrived this season, the coaches saw that his touch with the puck would complement the chemistry of the junior wingers.
The other line combination garnering goals and attention for the Nittany Lions is that of sophomores Alex Limoges and Evan Barratt and junior Liam Folkes. This trio has combined for 11 goals this season and 22 goals in the last 14 games, dating back to the end of the 2017-18 season.
On left wing, Limoges leads the Nittany Lions with five goals, but against Arizona State last Saturday night, it was Barratt who made a scene with his third goal of the season when the Nittany Lions were down 3-1 at the start of the third period, lifting the puck up with the blade of his stick and carrying it up and over the left shoulder of ASU goaltender Joey Daccord.
Evan Barratt, are you kidding me?#WeAre @PennStateMHKY pic.twitter.com/wXWWWvA9jH

— NCAA Ice Hockey (@NCAAIceHockey) November 4, 2018
"I have never seen a goal like that live," said Gadowsky after the game. "I cannot tell you what it takes to be able to do that in a game at game speed. I cannot even tell you. It was just insane. Everybody on the bench could not believe that happened. That is an unbelievable play."
As natural as it was for the coaching staff to combine Sucese, Larsson and Biro, the line getting all the press wasn't such an obvious fit. In fact, Gadowsky's memory about how and when Limoges, Barratt and Folkes were first combined is a bit fuzzy.
"It happened – I don't even know how it happened," said Gadowsky. "It happened out of injuries, and it wasn't by design at all, but all of a sudden, they just took off."
They're goal scorers, said Gadowsky, and their enthusiasm for scoring is evident every time they're on the ice.
"It's so fun to watch them," Gadowsky said. "Even at practice, they want to score all the time. They never stop looking for the net."
In addition to these two set lines, the Nittany Lions have other players who have a way with the puck. Senior Chase Berger has scored 10 or more goals in each of his first three seasons and has four this year, and junior Denis Smirnov had 34 goals in his first two seasons with the Nittany Lions. He has two this year.
Gadowsky loves to watch them all score.
"I think the reason we all love goal scorers so much is because no two scorers do it alike," he said. "There's guys like Casey Bailey who just bombs away and guys like Denis Smirnov who thinks his way through it, and then guys like Barratt who scores different every time."
Bailey scored 22 goals for Penn State in his junior year (2014-15).
Sometimes the style of play that Gadowsky espouses has unintended consequences. While the Nittany Lions scored nine goals against visiting Arizona State last weekend, the Sun Devils scored nine of their own and earned a weekend split. In the two games, the Nittany Lions put up a total of 83 shots on goal, a trademark of their relentless, shoot-from-anywhere hunt for the net.
Gadowsky said that the games against ASU exposed some areas of defense that need to be addressed, but added, "I like the way we play."
After all, who doesn't love a lot of goals?
Oh, and that loss to Arizona State gave the Sun Devils their program's first win against a top-10 team. It was a 4-3 overtime win Saturday, and the player that netted that game-winning goal is quite a hunter himself, sophomore Johnny Walker, who leads the nation with 11 goals in 10 games.
Sounds like Gadowsky's kind of player.