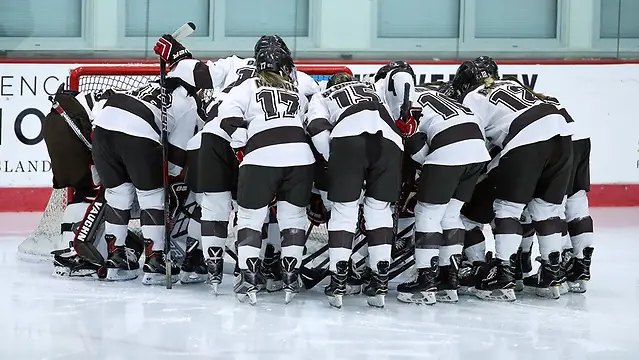 Arlan: Hello Candace! If I'm remembering correctly, you and I have shared this column at least part of the time for seven years. During that time, we've discussed the possibility of a lot of different teams emerging as the NCAA champion for that season. Often, we've talked about Wisconsin or Boston College, and there have been seasons for each where a title looked almost inevitable. We've also had years where others have been in the hunt: Cornell, Harvard, Boston University, Mercyhurst, Northeastern, St. Lawrence, Colgate, Ohio State, Minnesota Duluth. We even had years where a prime contender was a program that no longer exists. For our first seven years of asking the question, "Who will take home the big trophy in March," the correct answer has always proven to be either Clarkson or Minnesota.
So here we are again. Wisconsin sits atop all of the rankings. BC has had a few stumbles, not getting the jump the Eagles hoped opening weekend in Duluth and having the misfortune to encounter one of the few Hockey East teams in Providence that has enough punch to capitalize on the Four Nations absence of Caitrin Lonergan, Megan Keller, Cayla Barnes, and Kali Flanagan. I think that we'd both agree that by the time NCAA announces a bracket on Selection Sunday, there won't be enough blemishes on BC's ledger to keep it out of the field, and most likely, a seed into a host position. Some of those teams that I mentioned above are back to threaten again, but there's also a chance that we will see a familiar end to the story, as Clarkson and Minnesota are both already among the top four in any measurement that matters.
Before we fixate on the top of the rankings, let's look a little farther down. We've seen our share of upsets over the years, and I know that we've seen some involving more highly ranked squads, but can you remember one low-ranked team having a better weekend than Brown? You stated in your picks column with Nicole that Brown was looking better this season. I paused when I saw that, because the Bears where coming off a road trip to Quinnipiac and Princeton where the scoreboard was quite unkind to them. A four-goal loss to the Bobcats, whose games tend to be low-scoring, is quite substantial, and the Tigers unleashed a barrage of 62 shots on the Brown goalies in a 7-2 beat down.
In hindsight, should we have expected the Bears to come away with a couple of 4-3 upsets of No. 9 Colgate and No. 6 Cornell? The Big Red haven't been particularly deep in recent years, so being without key players in leading scorer Kristin O'Neill and top defensemen Micah Zandee-Hart and Jaime Bourbonnais was more challenging than it may have been for some other teams. We can probably put an asterisk next to that one, as we will need to do with BC's loss to the Friars. What should we take away from the Raiders' setback versus Brown? Colgate's Liz Auby got only her third start of the season in net, and it didn't go particularly well, as she got the hook during the second intermission after surrendering three goals on 18 shots. That allowed the Bears to pull even after falling behind 3-1 just 18 seconds into the middle frame. However, Sena Hanson's game-winning goal came at the expense of Raiders' primary netminder Julia Vandyk. Do we just tip our caps in the direction of Brown goalie Calla Isaac, who came up with 16 big saves in the final period to earn a victory for her team?
Candace: Hello again, Arlan! Great to be chatting with you again about this sport we love so much. I definitely paused when I saw that Brown had beaten Colgate on Friday. Yes, the Raiders have been inconsistent for much of this season, but I wasn't expecting that. That the Bears then followed that game up with a win over Cornell shows to me two things. First, belief can be contagious. Usually after beating a top team, a squad will fall back to Earth, but the Bears were able to match that effort the next night.
I will tip my hat to Isaac, who is putting up good numbers, This is the first time her save percentage has ever been above .900 in her career. so she's showing how she's grown into her role as an upperclassman. However, the person I really think we have to tip our cap to is coach Carisa Wahlig. In her career, Wahlig has always known how to built a winner. She did so for many years at Lake Forest, a D-III school, where the last three years the team finished with at least 20 wins each season. She only had a below .500 season twice in her 13 years at the helm of Foresters.
She seems to have turned things around. Brown has started 5-2. Yes, two of those wins were at winless Holy Cross, but the Bears did beat Connecticut. Freshmen Lizzy Gross and Shay Maloney have definitely been important, as they are second and third on the team in scoring, but point productions is up a lot. Junior Sena Hanson leads the team in scoring with nine points; that's more than half of what she notched all last season. Her points per game is double what it was last year, and sophomores Kaitijane Blumberg and Abby Nearis have also upped their point production.
So to me, the second takeaway is that perhaps we underestimate the importance of having a good coach. It looks like Wahlig has the players all focused. Let's face it, there is no way that Brown last season beats either Colgate or Cornell.
Of course, that wasn't the only upset in the ECAC this weekend. Dartmouth beat Quinnipiac in OT on Saturday. What does this tell you about the Big Green, and the conference as a whole?
Arlan: Mostly, it tells me that there is a lot that I don't know about the Big Green and the conference as a whole. More so than usual, even. Back a couple of years ago when I still wrote the conference previews that Nicole does now, that forced me to get up to speed to some extent on all of the teams. Then, I could at least confidently say where the new coaches were and a bit of backstory on each.
Now? If you gave me a pop quiz to name the coaches of the teams in each conference, I'd struggle outside of the WCHA, where everyone is in at least in his or her third season and I've interacted with all of them. I'm not too far away in the CHA, which is mostly a veteran group, with the disclaimer that it might take a few weeks before I can come up with the name Chad Davis on demand when discussing RIT. I guess I'm even okay in Hockey East, where Peter Van Buskirk is the only coach I've never talked with; new to the conference or not, you owe it to a guy to know his name if he's in his 20th season in the job.
There has been too much flux in the ECAC for me to remember who is where at some of the programs, where much of our conversation revolves around whether or not they are likely to make the league playoffs. Still, it is rather embarrassing that I don't remember that Laura Schuler already coached one season at Dartmouth. Given that ignorance, it won't come as a big shock that the only returning player for the Big Green that I remember is senior goalie Christine Honor. I am familiar with the team's current leading scorer, freshman Sara McClanahan, but that is because she played prep hockey for one of the top teams in Minnesota, and her dad, Rob, won Olympic gold with Mark Johnson and John Harrington.
So it is good that you're asking me about Dartmouth. Clearly, you and Nicole haven't done so frequently in recent years, or I had little to say when you did.
In the early days of the NCAA era, Dartmouth was one of the top teams every year, and the Big Green featured some of the best scorers in the country. So it is startling to now see a roster where senior Tess Bracken is tops in career points with 23. It was similar last year, when Hailey Noronha, another senior D, finished as the team's top scorer with 32 points in her career.
It is hard to win hockey games if your top offensive producers are skating on the blue line, and they aren't all that prolific. That's a big reason why the Big Green haven't made the playoffs or reached double-digit wins since posting 13 victories in 2014-15. The seven wins that Schuler's first squad in Hanover earned two years back was the team's best since that last playoff appearance.
On Saturday, Bracken, junior defender Bailee Brekke, and sophomore forward Jennifer Costa all netted their first goals of the season. For the Big Green to work their way back to the postseason, a lot more players are going to need to discover a scoring touch, because it will be impossible to enjoy success if the team only averages one goal a game, as it has through its first five contests.
While Dartmouth is the most extreme case, it isn't alone in the ECAC when it comes to a shortage of offense. It is a common problem near the bottom of the league standings, where we see: Harvard, seven goals in five games; Rensselaer, eight goals in nine games; Union, 13 goals in 11 games; and Yale, six goals in four games. Would you expect the Crimson to be most likely to improve on that production moving forward, or do you see potential on some other roster?
Candace: That's a tough question to answer. I don't think it will be Rensselaer or Union. Theoretically, Yale could definitely end up with a scoring bump. They play a little more wide open, and a lot of their team from last year is back. Then again, Harvard senior Lexie Laing only has a point in her first five games, which is definitely a little off for her, and the Crimson also seem to have a couple of talented freshmen in Dominique Petrie and Anne Bloomer, who currently lead the team in scoring. The Crimson are deeper, so I guess Harvard will be the one most likely.
The ECAC definitely seems to be the most volatile league right now, excluding perhaps the CHA, where any team can possibly get hot and win the league autobid as RIT did a few years ago. Hockey East is going to be either Boston College or Northeastern at the end of the year, and while the WCHA top four are quite deep, I have trouble seeing either Ohio State or Minnesota Duluth being able to knock Wisconsin or Minnesota from the top of the perch.
You talked about Clarkson last week with Nicole, and whether perhaps they were being discounted in the polls. It's an interesting ponderable, but what I want to talk about is their high-profile transfers. Coach Matt Desrosiers must have felt like he hit the lottery when Taylar Cianfarano and Kassidy Sauvé transferred to the Golden Knights in the off season. Cianfarano, at least, has blossomed at Clarkson, currently with 16 points and a 1.6 points per game average. She was never more than about .9 points a game at defense-first Quinnipiac, so it's nice to see her be able to show what she can do.
Sauvé hasn't quite had the same success factor; her save percentage is at a career-low .918, though her goals-against is line with what it usually is. What do you make of Cianfarano and Sauvé, and also Clarkson as a whole?
Arlan: I'm trying to not be a slow learner where Clarkson is concerned. I think that I was a little better in that regard last year, but the Golden Knights are fairly good at knowing where the radar is focused and flying just under it.
After Brad Frost won his first title in 2012, he said that a key takeaway was that he and his staff now had a blueprint of what would work and could lead to a title. That seems to be a key factor, as ever since the WCHA debuted in 1999-2000 and the tournament became a truly national event with the best teams from more than one league, any coach that has won a championship has won at least three. While the common thinking in sports is that it is harder to repeat as champion, at least in women's college hockey, it may be harder to win that first crown.
Once Clarkson broke through, Desrosiers has been as good as anyone at having his team peak at just the right time. For the next three months or so, I'm sure we'll be able to come up with all sorts of reasons as to why this isn't Clarkson's year. "Boy, the Golden Knights really seem to miss Savannah Harmon!" "Sauvé seems to be off her game." "Nobody scores except for the top line."
It's not going to matter. If some other team wants to pose with the trophy in March, it is going to have to take it away from Clarkson; the Golden Knights aren't just going to hand it over. I'm sure they miss Harmon a little; great players are always missed at first. The offense does trail off after the top line; Cianfarano will help in that regard. Sauvé isn't at her best? She wasn't last year either, right up until she was.
I'm voting Wisconsin No. 1 on my poll ballot, because the Badgers have earned that with their start, but based on what I've seen thus far, Clarkson is my early favorite to win the NCAA title. The Golden Knights have proven to have the best blueprint in March the last couple of years, and I have yet to see anything that convinces me that has changed. If they were relying on transfers to win the title, then I don't think I would feel that way. I think the core of the team is still much the same, and newcomers like Cianfarano and Sauvé are being asked to fit into the winning formula.
How does it look to you? Has some other team gained enough on Clarkson to wrest the title away?
Candace: I too have been voting Wisconsin for the top spot on my ballot, but if it came to it in the Frozen Four, I'd go with Clarkson. Coach Mark Johnson seems to have lost his mojo for winning the national championship; the Badgers haven't taken it since 2011. They really were the favorite in St. Louis two years ago, and they came up very short in the title game. Last March, you and I were in Ridder Arena in Minneapolis and watched the Badgers lose to Colgate in the semis, which gave me an idea I'll go over in a moment.
As far as teams that could wrest the title from Clarkson, I wouldn't count out the Gophers. Coach Brad Frost has a lot of talent on that team, and some of those players are really just learning how to play together. Some of the Gophers' big guns, like Kelly Pannek and the Potomak sisters, have been somewhat quiet from an offensive standpoint. If they start producing like expected, watch out.
Getting back to my idea, I had it while watching the Badgers last year. Wisconsin has always been a very defensive-minded team. Ann-Renée Desbiens won the Patty Kazmaier Award as a senior with ridiculous stats, becoming only the third goaltender to ever win the Kazmaier. After she graduated, North Dakota transfer Kristen Cambell stepped in and her stats improved dramatically, because the Badgers know how to play the back end.
Contrast that with a team like Boston College, which likes to score, LOTS. The Eagles have never been afraid to pinch and try to create more offense, with their defenders cycling in like forwards to try to generate more scoring chances. However, the Eagles have sometimes left their goalies out to dry on the back end, and that has cost them at times in the playoffs, no more than the national championship game against Minnesota in 2016, where the Eagles made a key defensive blunder just 13 second into the game, leaving Sara Potomak alone in the slot. That goal in my mind decided that game, as the Eagles were never able to relax.
The problem is that once you have a team that has bought into a certain style of play, it's hard to break out of that when necessary in the playoffs. It seems to me that the teams that have had success and won championships in recent years have been able to uniquely blend playing strong defense without it comprising their attacking game, and likewise attacking and creating strong scoring chances without giving up odd-man rushes.
Do you agree with that assessment? If so, what does that tell you about teams that might have success in the NCAA tournament? I still think BC could be in the mix too, because they have three Olympic defenders and very potent forwards.
Arlan: I don't know what to make of BC. I thought that the Eagles might be a repeat of their team of three years ago, when they started 40-0. I at least thought that they would be largely unchallenged until the Frozen Four, when they would run into a better opponent than they'd faced until then. Instead, BC has had difficulty really separating from teams that aren't nearly as talented.
Eventually, the Eagles' offensive numbers will wind up close to where we expected them to be all along. They had a eight-game stretch where they held the opponents to a total of six goals, so that suggests the strong defense that you mentioned. When I watch them, however, they look more frenetic than in control defensively. Like Wisconsin, they have had trouble playing their best hockey at the Frozen Four. The year where they performed the best in recent seasons may have been two years ago where less was expected of the Eagles, and they were very close to upsetting that Desbiens-led team that you mentioned above. They also played well in 2013 versus undefeated Minnesota.
Most other years, they just haven't seemed that ready for the stage. Tight? Too amped up? I can't say. Maybe they can learn something from the Harvard team that knocked BC off in 2015. The Crimson that year also featured several returning Olympians and a strong blue line, but suffered some embarrassing losses early. Maybe it is part of the plan to not peak too early this time, and instead, the Eagles will build toward the postseason.
Coach Katie Crowley has been unlucky in that her strongest teams often seem to have an underclassman in goal. The timing hasn't worked out like it has for Clarkson, where the best skating clubs have had a veteran between the pipes.
As for whether it is important to have good defense in addition to firepower, I think that is a given. All of the teams that have won have had years where they lit up the scoreboard in the NCAAs, but they didn't do so strictly by winning scoring contests. They could also defend and shut down explosive offenses if needed. Both Wisconsin in 2008 and Minnesota in 2014 reached the final with teams that would win it all in both the preceding and following season. The Badgers and Gophers both fell short in those two seasons because their defense allowed more goals than was typical, and they wound up playing from behind. That is seldom a recipe for success.
So which teams are doing the best at defending their own net thus far? To your point, BC is limiting opponents to 1.45 goals per game, which ranks fourth. Wisconsin is one slot better, holding opponents to 1.25 per game. However, the top two teams are a couple of other Hockey East squads, Northeastern, which yields only 1.20 times on average, and Merrimack, which leads the way by allowing a mere 1.10 goals per contest.
Are we overlooking the potential of Erin Hamlen's senior-laden squad, or do you think those numbers are largely a product of the Warriors not having faced a lot of firepower, outside of one game at BC?
Candace: I think it's a combination of the two. You can only beat the teams that are front of you, and Merrimack has done an impressive job at that. I think the Warriors have the potential to be a home ice team in the Hockey East tournament, a belief bolstered by their impressive 5-1 win over Maine last Friday, which I did not see coming. However, when you look at their schedule, they've played Union twice, Penn State twice, Connecticut, Holy Cross, Vermont, BC, and Boston University. They got a tie in one game with Penn State, tied BU, and lost to BC, 3-1, in a game where the Eagles outshot the Warriors 40-24.
Merrimack has been solid so far this season. They play Holy Cross in a home-and-home this weekend, which they will likely sweep, then have a home-and-home with Providence, which could tell us a little more about the Warriors right now. So far at least, Merrimack has shown signs that they may be able to keep this pace. As I pointed out a few weeks ago, last season Merrimack started by upsetting Minnesota on the road, and they did have one-off wins over ranked teams during the season, beating Maine and Providence when those teams were in the top 10, but they weren't able to keep it together over the long haul. So far, the Warriors seem to have learned from those mistakes.
This has been a very East-focused column so far, so I think we need to talk about the WCHA. This coming weekend, most of the teams are taking the weekend off, as they have players in the Four Nations tournament. Ohio State is the only top-half team playing, while St. Cloud State is also in action. I've been very impressed with Julia Tylke's play for the Huskies so far; she scored an OT game-winner against Minnesota Duluth two weeks ago. What do you think of the WCHA after the first month of play?
Arlan: Tylke has produced for SCSU throughout her career, averaging 20 points a season over her first three years. She's on a higher pace this year in part because she is getting more help. The Huskies are currently averaging over two goals a game; they didn't reach the two-goals-per-game plateau over the course of a full season in any of Eric Rud's first four seasons. Rud inherited a very limited roster offensively, and this is the deepest team I've seen over his tenure. Freshman Jenniina Nylund is second in scoring behind Tylke, and upperclassmen Hallie Theodosopoulos, Hannah Potrykus, and Kayla Friesen are all producing above their career averages. The challenges for St. Cloud State will be to maintain or improve its scoring pace through the teeth of the WCHA schedule and lower its goals allowed, which hovers around three goals per outing.
Minnesota State has also shown improvement in the early going, with a record a shade under .500. The Mavericks score as many goals as they allow, but they've achieved that balance by being stingy defensively. Freshman Abigail Levy has earned all of the minutes in goal, and her 1.48 goals-against average and .950 save percentage look to be the biggest factors in MSU's growth.
The only team that has really struggled in the early going is Bemidji State. After eight years of having either Zuzana Tomcikova or Brittni Mowat in goal over a nine-year stretch, the Beavers have really struggled in the season plus since Mowat's graduation. None of the goaltenders have been able to stop 90 percent of the shots thus far, and it is unlikely that many wins will come until they do. Kerigan Dowhy did save 25 of 27 shots on Saturday at Minnesota, so that may be something to build upon.
On the other end of the spectrum, Johnson is able to quickly plug new pieces into the Wisconsin lineup and get them to play his suffocating style, and he has many excellent pieces this year. The Badgers haven't missed a beat even without Canadian Olympian Emily Clark.
At Minnesota, Frost has his deepest team and was able to skate four lines and seven defensemen even without Pannek and Sarah Potomak versus the Beavers. No individual has really caught fire as yet, and I'm not sure if that is due to skating fewer shifts, not finding the right combinations, or just improvement by opposing defenses.
I think that the biggest series to date in the WCHA will come Nov. 16 and 17, when UMD travels to Columbus. If either team can win that series, it will have the early advantage in the battle to be a potential third WCHA tournament team. On paper, the Bulldogs would have the edge in goal, the Buckeyes have more experience on the blue line, and up front, the two appear to be very close. It should be great hockey!
Later this month, Northeastern and BC collide for the first time, and the North Country teams visit Colgate and Cornell. What are you most anticipating in the coming weeks?
Candace: I'm looking forward to Thanksgiving weekend when we have a rare WCHA-ECAC clash, as Minnesota faces St. Lawrence in the Windjammer, and Minnesota Duluth plays two against Clarkson. Harvard also travels to Madison to play two against Wisconsin, which isn't quite the titanic clash it was a few seasons ago, but could give us a better read on the Crimson. Lastly, I'm looking forward to the rematch between St. Lawrence and Clarkson on Dec. 7-8 to see if St. Lawrence can again play Clarkson tough and earn a win or tie.