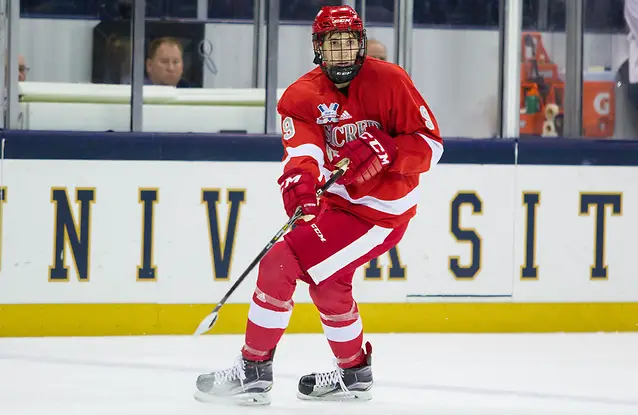 Stop me if you've heard this before.
It's October, and an Atlantic Hockey team rolls into another team's building for a conference series. That team takes at least a win or a tie but isn't swept out of the barn.
You didn't stop me.
Sometime in January or February, that same Atlantic Hockey team will sit somewhere in the standings. Some team will be within striking distance of a different team, and some other team will be a couple of points behind it.
When the season ends, one or two points will be the difference. Chris and I will inevitably look back into October and try and find the game that caused the chaos.
We'll find several. Welcome to October in Atlantic Hockey, where it's kind of like a bizarro Whose Line Is It Anyway? Everything's almost made up, but the points – the points matter a whole lot.
The league launched its first full slate of conference games this past weekend, with 10 teams battling through five series. It immediately devolved into absolute chaos with only one game decided by more than two goals (Holy Cross' nonconference game against Providence notwithstanding) and two overtime games. Only one team earned a sweep, and it came on the road.
"The parity is unbelievable," Sacred Heart coach CJ Marottolo said. "Other than Air Force, every series was a split or a win and tie. All the games are tying us into a tight, tight league. It puts points at a premium starting from the first week back in October. You need to get them (now)."
Sacred Heart knows a little something about that parity — its split with Bentley was an early-season epic against a longtime rival. On Friday, the teams combined for 23 first period shots but only one goal when Bentley's Luke Santerno scored 1:16 into the game. Sacred Heart answered in the second when a power play that was 1-for-12 scored 52 seconds into the period, followed by a go-ahead goal four minutes later.
It set up a wild third period where the Pioneers' Austin McIlmurray received a game misconduct that included a five-minute major. On the penalty kill, though, freshman Austin Magera blocked a shot and found himself on a short-handed breakaway. He scored, pulling Sacred Heart away with a 3-1 lead on his first career goal. It wound up as the game-winner as Bentley scored an extra-attacker goal with one minute on the clock.
"You play the game the right way, you get rewarded," Marottolo said. "That was Austin blocking a shot and being where he needed to be for his teammates – and he was rewarded. That really lifted our bench. Our execution level had been high all week, and that's what we're trying to beat into our guys every day in practice. It's not the team with the most talent that wins games. It's the team that works the hardest."
That was only Night 1.
The next night, it was Bentley's turn.
Sacred Heart scored twice in the first period to post a 2-0 lead despite being outshot 11-6, only to see the Falcons whittle it away with a second period goal by Dylan Pitera and a third period goal by Jake Kauppila. That sent the game to overtime, where Callin again served as a hero, scoring a wide-open shot after a bullet pass from Luke Santerno to draw Bentley even on the weekend.
"Points now are just as important as points down the stretch," Marottolo said. "I've talked a lot to our team about putting ourselves 'in a position to be in a position.' You can't let the points slip away saying you can get them back because you never get that chance. But getting two points, playing .500 on the road, is fine. We wanted more, but I thought we could really build off that weekend. Those weeks are crucial."
For Atlantic Hockey teams, these games are the true test after the proving grounds of nonconference games. Offseason optimism about winning more nonconference games is instead turning into a tough reality. As of this weekend, AHA teams are just 5-22-2 against other leagues and haven't seen an out-of-league victory since Mercyhurst and RIT beat Ferris State and Colgate, respectively, on Oct. 20.
So the games have to become a learning experience for what will ultimately become the season-long demolition derby racing for the conference semifinals in Buffalo.
Though the number is discouraging, the Pioneers have done their part by challenging Northeastern and Providence, emerging from the game against the Friars with a tie.
"We had Northeastern before Providence, and both of those teams were really good," Marottolo said. "They both had a lot of skill and pushed the pace, so it got us into a mindset. Our league is no different, but what stood out was Providence's work ethic. They really work hard on the puck and away from the puck."
Sacred Heart trailed that game 2-0 after the first period but scored a power play goal, its first of the season, halfway through the second. They tied the game late in the third and held on as Brett Magnus made 31 saves against the PC attack.
"Our preparation for that game really helped our team," Marottolo said. "Our practices are much harder than they've ever been because I want the games to become easier, so to speak. We've put a premium on conditioning to win one-on-one battles. Our guys are buying in and having fun with that grind, so it's been a good first month.
"(The first month) was fragmented. We didn't play the first weekend, then played Northeastern (twice), then played Providence and had a week off. So I didn't know how we would be in that first game (against Bentley) after having the week off. But I was pleased with our effort in chunks over that weekend. We have to shore up parts of our game, but I really liked our effort level."
You've probably heard all of this before, but this is life in Atlantic Hockey.
There are four more series this week with an additional game on Tuesday. By the time it's done, we still won't know anything more than we did this past week.