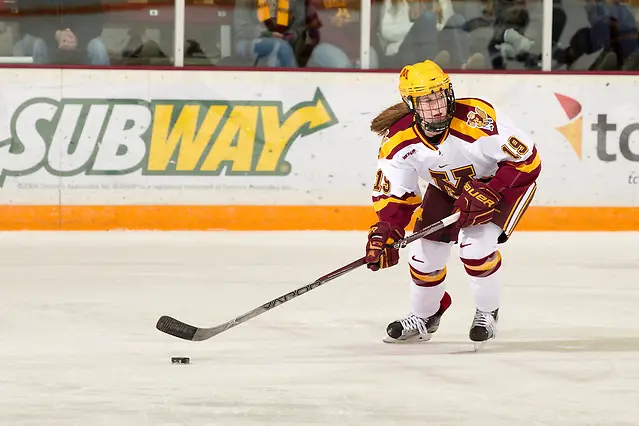 Most teams return to regularly scheduled programming this week after many teams took the opportunity to take a bye week over one of the last two weekends as players were away playing for the U.S., Canada, Finland, and Sweden in the Four Nations Cup.
Candace and I briefly touched on it in this week's Wednesday Women column, but it's worth bringing up again that it truly doesn't make much sense for this international women's tournament to take place in the middle of the college season.
Sure, another trophy is nice, but most players will tell you that the Four Nations is, at best, the third-most-important tournament they play in, behind the Olympics and World Championships. It's a minor tournament that causes a major interruption in the college hockey schedule and presents the opportunity for players to get injured.
We're at the point where, for better or worse, the NCAA is the number one development program for international players. At the Olympics, all of Team USA and all but two players from Canada were current or former NCAA players. Switzerland, Czech Republic, Finland, Russia, Sweden, and Germany all have players on their senior national teams that have or currently do play NCAA Division I hockey.
While there are plenty of moral questions to be asked about the NCAA and even whether one country's college system should be used as the main developer of international talent, it can't be denied that it's currently the case that NCAA women's college hockey is the single biggest developer of women's hockey talent in the world. Neither the NCAA nor individual programs are doing anything benevolently — both profit from the student-athletes. The development of talent that can go on to play internationally is more or less a byproduct.
While there are a limited number of days a year that can be used to hold a tournament that won't overlap with other commitments, moving Four Nations to a time that does not interfere with the college hockey season should be a conversation happening at the IIHF. At the very least, the NCAA is providing countries with the ability to grow and develop talent at no cost to the countries' federations.
The women of Team USA boycotted last year in part because USA Hockey has little-to-no infrastructure for girls youth development. It is light years behind what USAH provides for boys, and the NCAA fills a crucial role in providing top-tier coaching, fitness, and training staff to develop elite athletes. The individual country federations benefit immensely from the growth and development of their players during their time in the NCAA.
Outside of the U.S. and Canada, countries have not been investing the time, money, or other resources to grow the game at home. It's a pretty ideal situation for the student-athletes, who receive a college degree and elite level play that many of them cannot find back at home. And the federations now have players who are consistently playing and learning at a high level that then go back home better than they likely could have become without those four years of play.
With that in mind, it seems a bit ridiculous that this tournament that is fairly insignificant in the scheme of things is given preference over the college hockey season. Coaches and programs that are providing that elite training are putting their players at risk when they send them to the tournament.
There's an air of deference when it comes to college programs sending their players to Four Nations. The players and colleges are meant to be humbled by the honor, but it seems like the programs and coaches have more leverage than ever in pushing back against the current setup and schedule.
No college coach is interested in affecting their players' future with a national team, and they wouldn't ask a player to stay home or turn down the opportunity, but as a whole, maybe it's time for NCAA coaches and programs to point out the valuable service being provided to federations, the IIHF, and women's hockey as a whole and push for a change to the schedule that wouldn't effectively take away the top players in the game for two weekends every November.
Certainly a tournament like Four Nations is one that doesn't get prime attention when it comes time creating the IIHF yearly calendar, but the profile of women's hockey now is very different than what it was when this tournament first started.
There's leverage to be had on the international level about ratings, media impressions, and the overall popularity of women's international hockey on the heels of the past two Olympic gold-medal games and their respective media draws. As interest waned in the men's game in Pyeongchang, the U.S. women created one of the most memorable Olympic moments in recent history — so much so that current Minnesota Duluth junior Maddie Rooney was named 2018 Team Sportswoman of the Year by the Women's Sports Foundation.
In the scheme of things, the dates of the Four Nations tournament are low priority, but this is one more piece of status quo that everyone's sort of been OK with that doesn't have to be that way. There's a saying about doing that you have always done getting you what you've always got. Yes, it's a lesser tournament, but it's also one that was shown on TSN in Canada and streamed by the NHL this year. Women's hockey is no longer without the clout to demand better dates, and, in this instance, the collective power that NCAA programs wield in terms of the future of international hockey is not insignificant.
At the moment, it's not a very symbiotic relationship — the college programs are doing a lot of the work and also putting up with a schedule that's more than a little inconvenient for them. The season all but shuts down for two weeks, and coaches have to hope that their star players return to the ice in top shape. It's an unnecessary risk, and one the IIHF shouldn't be asking of them. You can bet that when it comes time for PairWise, teams that lost games over the past two weeks will be wondering if their fate would be different had they had had their full roster.
Aside from all the above and very valid reasons, it's rather unfair for a program's postseason fortunes to hinge on how well their team weathered losing players to the Four Nations tournament.