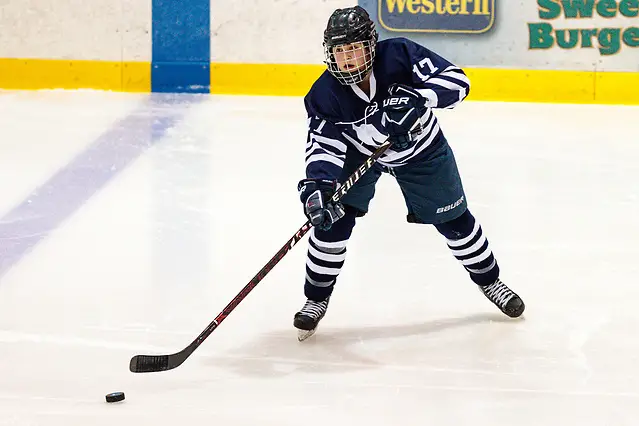 Starting three weeks later than other conferences, teams in the NESCAC are opening their season this weekend. Middlebury, a regular participant in the NCAA tournament, will look to win the NESCAC for the fourth time in a row this year with sophomore Madie Leidt leading the way. Leidt had an impressive rookie season with 15 goals and 12 assists; her efforts last year landed her rookie of the year in the NESCAC.
Leidt's individual goals this year have nothing to do with points or awards; she strives for team unity and pushing her teammates to a successful level.
"As a player, I strive to help our seven freshmen the same way last year's seniors helped me. We have a very young team, and integrating the freshmen as quickly as possible will absolutely be beneficial to us as the season begins and, more importantly, down the stretch."
Middlebury's top forwards graduated, which left them with a young team for this season. Leidt is aware that she and the team will need to put more work in to receive their desired outcome.
"This year, our team is young, relentless, and resilient. We lost some of the offensive firepower that last year's seniors offered, but we have shifted our focus this year to be grittier and more tenacious. I am excited to see what we bring to the table in our first game against Trinity. Regardless of the outcome, it will give us a foundation to build upon."
However, coach Bill Mandigo understands losing good players is part of the process and expects returning players to fill the vacant holes and Leidt to continue filling her role.
"Teams lose players each year," said Mandigo. "It is up to the returning players to take on new roles and responsibilities. Madie Leidt is a very good player, but she does not have to be any more than who she is. It is not her responsibility to compensate for Jess Young and Maddie Winslow, it is everyone who puts on a uniform."
The young team's overall goal, a national championship, has not changed, but they are focusing on taking it step by step this season, according to Leidt.
"As a team, we are most definitely looking to contend for another NESCAC championship," Leidt said. "We believe we can return to that championship game for a fourth year in a row, but it starts with Trinity, and we must take it one game at a time. In addition, our NCAA appearance last year was not what we hoped it would be. If we work hard enough and have the good fortune to make another NCAA appearance, our goal is to win a national championship".
When asked about a rival in the NESCAC, Mandigo did not list a team specifically and stuck with the step-by-step idea.
"Our biggest rival in the NESCAC is whomever we are playing that night," Mandigo said. "Anytime two NESCAC teams play, the outcome is always in question. You always need to be ready to play.
"I believe the NESCAC is a very good league. Each coach works hard to make their teams as good as they can be."
The program's long-standing tradition of winning and success are not taken for granted. Leidt says the drive and passion start with the coaching staff and is passed down to the players.
"In my first few days on this team, my teammates and coaches made it clear that focus, hard work, and dedication were essential to the success of our team. When the people around you, your teammates and coaches, are passionate about finding success, it makes it easy for the newcomers to do the same. As a returning player, I strive to inspire these team qualities among our younger players. We are stewards of this team for just four short years, and we feel a great sense of responsibility to uphold the team's long-standing tradition of success on the ice."
The success has the Panthers pinned as the team to beat in the NESCAC, and the women not only recognize it, they love it.
Leidt said, "It is important to our team that we are a force to be reckoned with; we love being the team that everyone hates to play."
Mandigo's message to his team this year, which has been the same every year, is "Let's see how good we can be." The league will get their first look at the Panthers Friday, November 16, and Saturday, November 17, against Trinity (Conn.).