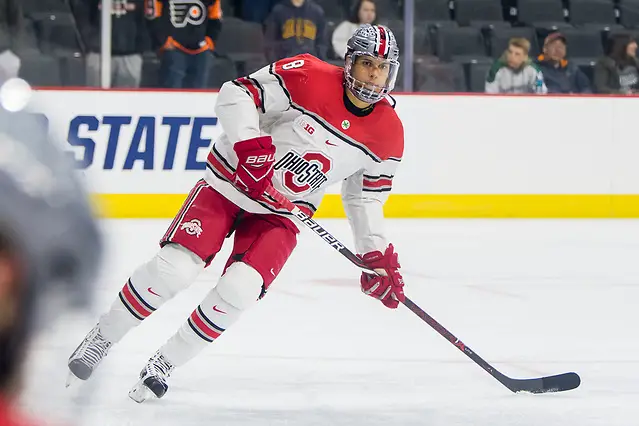 Friday, Oct. 26, 2018 probably wasn't the greatest of nights to be an Ohio State hockey fan.
The Buckeyes were shellacked by in-state rival Bowling Green on home ice. The Falcons scored the first seven goals of the contest en route to an 8-2 victory with their eighth goal coming on a five-on-three shorthanded situation.
The loss, coupled with a tie the next night at Bowling Green, gave the Buckeyes a 3-2-1 record after six games. Giving up eight goals was concerning to a team that likes to hang its hat on being a tough squad to score against.
"It was a wakeup call," OSU coach Steve Rohlik said. "We were just not very good defensively as a group, not our goaltending and not our defensemen, but as a five-man (unit) connected defensively. That's all we preached last year and we kind of got away from that."
Ohio State responded nicely.
The Buckeyes gave up three goals in their weekend split with Notre Dame the next weekend and gave up one goal over the next four games — sweeps of Colgate and Wisconsin. Last weekend, the Buckeyes gave up six goals in their split with Penn State, which, considering the high-flying Nittany Lions, could be considered a feat.
"We've gotten better," Rohlik said. "People forget that it's a new year and a new team. You've got to form your own identity and you're got to write your own book.
"You've got to work extremely hard and that's what the guys went back to, work ethic and our practice habits Monday through Thursday. We've got a long way to go right now, but we have improved and we have made strides and that's just our attention to detail and our compete in practice."
Quality of competition matters, too.
Names like Bowling Green and Massachusetts may not have jumped off the schedule at first glance during the preseason but both have been ranked in the top 10, or just outside where the Falcons currently sit, for most of the season. The four teams that Ohio State have lost to this season have a combined 36-11-3 record this season, Notre Dame's Tuesday night clash with Northern Michigan not included.
"We haven't played a bad team, and I don't think anyone in college hockey can say that (they have)," Rohlik said. "You've got to play your best to win. You hear it from every coach, but that's where our team's at and that's where college hockey's at. You've got to play your best and you've got to compete your hardest every Friday and Saturday and if you don't show up, you're going to get beat."
Rohlik likes to preach team defense. Even with many players returning from last year's Frozen Four team, that ideology has not been perfected this season, although he says strides have been made.
"Every team is different, [and] you can't just flip the switch from one year to the next and think you're going to be right where you left off," he said. "We've got freshmen and we've got a couple transfers. We've got some new kids in the lineup and sometimes that takes adjustments.
"I've got great leadership. I've got a great senior group and I need to lean on those guys and those guys have been good over the last month and I think that's a direct correlation to why our team's getting better."
The crowd rarely gets on its feet for great team defense, but when done correctly is should lead to the red light getting a workout on the other end of the ice.
"If everybody's coming back and everybody's invested and playing good defensively, the guys understand that if we do those things we're going to have more time offensively," Rohlik said. "You've got to buy into that. I think maybe we were cheating the game a little bit earlier and you're playing too good of hockey teams to cheat the game."
A five-man defense obviously requires forwards to chip in defensively.
So what makes a good two-way forward?
"To me, a great two-way forward is just willingness and obviously, everybody enjoys offense, everybody wants to score goals and everybody wants to have the puck, but to me, it's the willingness to come back to your end as hard as you go up the ice," Rohlik said. "That's hard, right? That's the hard part of hockey and everybody fights it and maybe you're not going to get a guy that does it every single night, but to me, as a culture, you've got to buy into that and if everybody's doing it on a pretty consistent basis, it's going to help you."
No matter how good the forwards and defensemen play, odds are you're still probably going to need a goaltender that's playing well to go anywhere. So far this year, Rohlik has split time between senior Sean Romeo and sophomore Tommy Nappier. Romeo has a 4-3-0 record with a 2.44 GAA and Nappier has a 5-1-1 record with a 1.37 GAA.
"I tip my cap to both of my goalies because they're both playing really well and they're both putting the team in front of themselves and that speaks volumes," Rohlik said. "Each guy could go out there and play every game. I know that, but to me at the end of the day, if you have two guys going as well as I do, it continues to make each guy better and your team better."
This weekend, Ohio State travels to a Minnesota team that has stumbled out of the gate, but as Michigan State found out last weekend, is capable of putting a crooked number on the scoreboard.
"They're loaded with talent and they're a very good hockey team," Rohlik said of the Gophers. "They can explode on you at any time. Their track record speaks for itself and it is in Minnesota, so if you're not ready, you're going to get run out of the building."