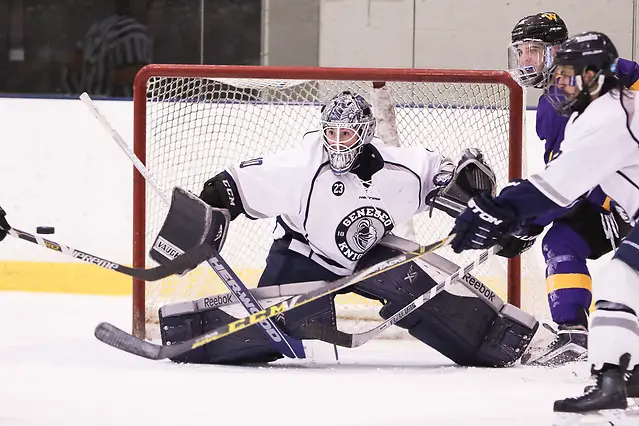 Well, December is certainly off to a flying start as we saw upsets, milestone wins, first conference wins, and so much more. Geneseo gave Chris Schultz his 200th career win in a 3-0 shutout at No. 6 Oswego. Johnson & Wales, Suffolk, and King's all earned their first conference wins of the season in exciting fashion. Amherst and Endicott downed ranked teams on the road. There were also outstanding individual performances across the conferences that continues to make selecting the Three Biscuits a challenge. Here are some highlights from the weekend.
CCC
No. 8 Salve Regina moved to the top of the conference standings by extending their winning streak to seven games with wins over Becker and Nichols. After downing the Hawks, 5-0, on Friday where they outshot Becker by a 69-5 margin, the Seahawks came back from a 2-1 deficit with power-play goals by Evan Schmidbauer and John McLean to post a 3-2 win.
Endicott took down Wentworth at home on Friday before upsetting the No. 5 University of New England on the road on Saturday. Forward Daniel Kucerovy led the Gulls with a hat trick in the 7-3 win.
The loss to Endicott followed a 4-3 loss at Nichols, giving the Nor'easters consecutive losses for the first time this season and ending a six-game win streak. The Bison saw a pair of goals from Curtis Carlson and two points from Matthew Menta.
Independents
Anna Maria played an unusual three-game weekend set against Morrisville and fellow independent, Bryn Athyn. On Friday, Morrisville reversed the Amcat script this season by rallying from a three-goal deficit in the third period for a 4-4 overtime draw. Jack Sitzman scored a pair of goals for Anna Maria, which was playing just its third home game of the season. On Saturday, goaltender Brendan Boncore made 21 saves, and four different players scored, including Sitzman short-handed in a 4-1 Amcat win at Bryn Athyn. On Sunday, the host Lions returned the favor, racing out to a 5-0 lead before downing Anna Maria, 7-1. Isaac Anderson scored twice for the hosts, who also saw Dakota Ulmer record four assists in the win to earn a split in the weekend series.
MASCAC
Plymouth State remained unbeaten with wins over Framingham State and Westfield State. Two-goal efforts from Quinn Carroll, Victor Bergstrom, and Ryan Stevens helped the Panthers to an 8-3 win over the Rams on Thursday night. On Saturday, five different players scored for PSU, and goaltender Evan Morelli made 16 saves in a 5-2 win over the Owls.
Fitchburg State has built a nice four-game win streak behind the individual offensive efforts of Sascha Figi. Figi scored hat tricks in both games last week and recorded eight total points in the 8-1 win over Westfield State and 3-2 overtime win against Worcester State. Thursday's win over the Owls saw the Falcons finish 6-for-8 with the man advantage.
NE-10
Southern New Hampshire took advantage of their momentum-building play in their Thanksgiving tournament to rout Franklin Pierce on Saturday, 8-1. Brett Strawn picked up four points for the Penmen, while teammates Chris Moquin and Andy Somervilee (two goals) each added three points in the win. Goalie Kurt Gutting (19 saves) saw his shutout bid halted by FPU's Alex Lester in the final minute of regulation.
NEHC
No. 13 Norwich survived Johnson & Wales' Tyler Ellor's 43-save night in a 1-0 win on Friday night, but could not overcome Michel Levine's 35-save shutout performance on Saturday, falling to Suffolk, 1-0. Eric Wright's goal early in the third period was all Levine would need as the Rams picked up their first NEHC win on the season.
Johnson & Wales turned Friday's difficult loss into a focused effort against Castleton on Saturday in a 3-2 overtime win. The Wildcats' first conference win saw goaltender Mike Rockwell stop 38 of 40 shots, while Connor Bechtel netted the game-winner with less than a minute remaining in the extra session.
No. 9 Massachusetts-Boston moved to the top of the standings with wins over Hobart and Skidmore. After downing the Statesmen, 4-2, on Friday night, the Beacons leveraged a hat trick from Ethan Nitkin in a 6-3 win over the Thoroughbreds to keep them unbeaten in NEHC play.
NESCAC
Following a 2-2 tie with Hamilton on Friday night, No. 10 Trinity fell from the ranks of the unbeatens as Amherst downed the Bantams, 3-2, on Saturday. Goaltender Giancarlo Ventre earned the win for the Mammoths, making 37 saves. Jack Fitzgerald scored a pair of goals, and Sean Wrenn added the game-winner for Amherst, which leveled their conference record at 1-1-1.
Last season, the Middlebury Panthers won a total of four games. This weekend's wins over Connecticut College and Tufts brings the Panthers to 4-2-0 early this season and with some momentum heading into their final conference games of the first-half at home next weekend. After downing the Camels, 4-2, on Friday, Middlebury scored five unanswered goals to rally past Tufts, 6-2. Michael Fahie (two goals), Emack Bentley, and Kamil Tkaczuk each had three-point nights as the Panthers moved to 3-1-0 in conference play.
SUNYAC
Geneseo picked up a pair of wins, including an impressive 3-0 road win at No. 6 Oswego on Saturday night. The Knights blanked Cortland, 2-0, on Friday, with Andrew Romano picking up both goals and Devin MacDonald stopping 17 shots for the shutout. Saturday saw MacDonald duplicate Friday's save total and the shutout, his nation-leading sixth on the season. Dan Bosio picked up a pair of goals for the Knights, who finished 2-4 on the night with the man advantage.
"I thought it was a good game," stated Geneseo coach Chris Schultz. "I think the difference was we capitalized on some opportunities and they didn't. They had a couple of chances; I thought the puck was going in and it never made its way across the goal line. I think our goaltender did a great job in shutting down those chances, and from a team perspective we committed to defense and blocking shots and winning the special teams battle."
UCHC
King's broke through with their first conference win of the season on Friday night, downing Neumann,2-1, behind goaltender Brendon Daigle's 46 saves. Jamie Lukas and Tommy Green tallied third-period goals to rally the Lions back from a one-goal deficit.
Wilkes picked up a pair of wins over Manhattanville and Neumann to move atop the very congested UCHC standings. On Friday night, two goals each from Tyler Barrow and Phil Erickson helped rally the Colonels to a 5-3 win over the Valiants. On Saturday, overtime was needed as Wilkes came back from a two-goal deficit in the third period to earn a 5-4 overtime win. Erickson and Tyson Araujo each scored short-handed in the third period to send the game into extra time, where Michael Gurska's first goal of the season was the game-winner.
Three Biscuits
Devin MacDonald, Geneseo: MacDonald recorded a pair of shutouts, his third such pair of the season, in wins over Cortland and Oswego this weekend. The senior goaltender stopped all 34 shots he faced this weekend and now has six shutouts on the season for the 10-1-1 Knights.
Sascha Figi, Fitchburg State: Figi picked up six goals and eight points in two games over the weekend. After a hat trick and five-point night in an 8-1 win over Westfield State, Figi was the offense for the Falcons on Saturday as his hat trick was all the scoring Fitchburg State needed in a 3-2 win over Worcester State. Figi's hat-trick goal with just one second remaining in regulation was the game-winner for the Falcons.
Daniel Kurcerovy, Endicott: Kucerovy recorded a four-point game, including a hat trick as the Gulls upset UNE on the road on Saturday, 7-3. Kucerovy scored all three of his goals in the second period, which included the eventual game-winner for Endicott.
For most, the first-half is coming to end this upcoming weekend, so there is still important hockey to play before the semester break. Things are certainly setting up for a very chaotic second-half of the season.
Thanks to Russell Jaslow for game coverage and quotes from the Geneseo versus Oswego game.