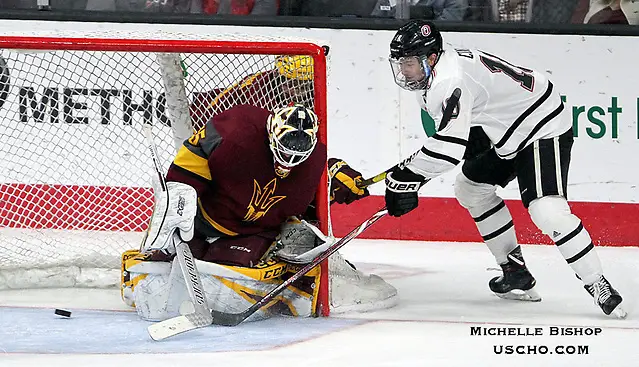 Each week during the season, we look at the big events and big games around Division I men's college hockey in Tuesday Morning Quarterback.
Paula: This week, I'm joined by USCHO Atlantic Hockey writer Dan Rubin, who is filling in for the vacationing Jimmy Connelly.
Dan, you give us a chance to start with a conference that doesn't get nearly enough national attention, in my opinion.
In recent weeks, Jim and I have been bantering about the kind of overall parity we're seeing in college hockey within conferences. The Big Ten is the perfect example of that – just a quick look at the ties from the weekend in B1G hockey is a solid argument for parity in that league – but we've been wondering if we're seeing increasingly less division in any given conference between top-tier teams and the rest of their packs.
The irony, of course, is that we may be seeing a few teams nationally pull away from everyone else in Division I hockey and the jockeying at the top of this week's USCHO poll certainly speaks to that — everyone seems to return weekly, even when there's movement among the top teams.
Within conferences, though, things are very interesting. With the exception of the Big Ten and the WCHA, in every league, more than half of the teams have .500 records or better in conference play.
What are your thoughts about this overall, and what can you say about parity in Atlantic Hockey?
Dan: You know, Atlantic Hockey is the league where everything that happens invariably comes back to help and haunt teams in February.
No team finished last year more than four points away from the next tier, meaning that 11th-place Sacred Heart, supposedly the "last-place team" in the league, was within shouting distance of a first-round home series, and eighth-place AIC, the "last team into home ice" was one weekend's work away from finishing with a first-round bye. Three teams finished tied for third, two teams finished tied for sixth, and two teams finished tied for ninth, all key spots considering the playoff format grants byes to the top five with six through eight hosting the first round.
This year, it's more of the same.
Five teams entered last weekend tied for fifth place, and no team is more than a snowball's throw away from the next tier ahead or behind. AIC, Niagara and Army West Point are all tied for second, but they're only four points ahead of Mercyhurst, Robert Morris and Canisius.
Considering Bentley and RIT are tied at the 8-9 swing spot, and Sacred Heart is only two points behind them, every game matters. So the margin for error for home ice in the playoffs could boil down to something like an overtime goal in a game in late November.
It seems innocuous, but the league is equal parts chaos and insanity.
Considering the league only normally bids one team to the national tournament, the playoffs, for lack of a better term, started in October. As someone who has lived it for the past few years, I hate thinking missed opportunities early in the season make that much of a big deal, but I've also learned that Maalox tastes exceptionally delicious in the press box at this point.
Paula: Dan, you're onto something when you talk about the playoffs beginning essentially in October, that the entire season for Atlantic Hockey can come back to something that happens early in the season.
I'm looking at the overall win percentages for the ECAC, Hockey East and the WCHA and I see three leagues with teams that are very strong in the early going, and I wonder how that will factor into the PWR and who makes the tournament in March.
Then I look at the Big Ten, and I see a whole bunch of teams that tied this past weekend and I guarantee that at least a couple of them will be looking back at November come March, wishing they could have secured another point – especially when bubbles are broken.
And then there's Arizona State, a team that played a really strong first couple of months and put itself in a good position in the PWR. The Sun Devils must be looking at their remaining schedule and thinking, "How did this happen?" They have yet to play Boston College, Boston University and Minnesota, three teams that are usually among the top teams in the country but are currently unranked and none higher than 25th in the PWR. A schedule that strong should produce some tournament hopes, especially after Arizona State had solid wins over good opponents early in the season.
Dan: This is really going to be the year we all look back on, thanks to the Sun Devils, isn't it?
I've honestly been waiting to talk about them for a while, and I'm happy you brought them up.
Arizona State has a golden placement to really revolutionize college hockey. The Devils built one of the toughest schedules in hockey because they don't have a conference affiliation. They will play Minnesota State or Minnesota Duluth in the Desert Hockey Classic, then play Boston College, Cornell and Boston University. They end the season with two games at the Gophers. If they knock it out of the desert, er, park, er, rink with that, Arizona State not only could be in the tournament, but really should. By the same token, these blueblood hockey programs are struggling and have a chance to play spoiler of a team that's doing something that, in my opinion, is on par with what the Vegas Golden Knights pulled off in the NHL, if not harder. Vegas at least had its choice of NHL-ready talent in an expansion draft. Arizona State had to build from scratch, essentially.
That, to me, is something that bears some more discussion because it provides a blueprint to any school that wants to take a look at hockey. The Sun Devils are well-funded and well-researched, and they didn't upset the structure of college hockey. I remember when the school announced a team, and people wondered which league would take them in. They remain independent, which means they could make the tournament without ever infringing on any team's traditional rivals or conference alignment. They simply went about their business and built a program with that kind of caliber. I don't know how a school thinking about hockey doesn't look at this and see a way to make it happen, as long as they can devote resources.
I always wondered what it would take to get some of the really big brand names in college to jump into hockey. Maybe 10 years or 20 years from now, we look at teams at schools like UNLV and point to this year.
Maybe I'm crazy, too. But maybe a little bit of crazy got us to this point.
Paula: The resources, of course, are the big issue for starting programs, but aside from those, there is interest in hockey all across the country now and so it's not surprising that Arizona State has made an impact immediately.
I'm astonished by how much ACHA club hockey is played and by the schools that participate. There are so many recognizable names, including four in Texas – Texas A&M, Texas State, Texas Tech and the University of Texas. These are teams that draw to their games. The Universities of Florida, Georgia, Illinois, Kentucky, Oklahoma, Southern California, plus Washington State, plus Florida State, plus UCLA – all with ACHA programs, all of which could be competitive if they could find that fairy godparent that could gift them with what they need to move to Division I.
There are so many places where I'd love to see Division I hockey blossom and grow. All of that aside, though, I do think that any team that jumps to D-I needs to be affiliated with a conference as quickly as possible, including Arizona State. History teaches us that independent D-I schools struggle for all kinds of reasons, and conference affiliation will help the Sun Devils build on their already solid foundation. How that transpires is anyone's guess, though, but I'm sure that many of us are guessing it may involve some eventual conference realignment.
Me, I think the Sun Devils are a great fit with the NCHC, but not everyone agrees.
Dan: I feel like we will always discuss Arizona State's potential landing spot until there is a conference affiliation. Personally, I'm all for them joining Atlantic Hockey. It would make vacation planning with my wife that much easier.
All joking aside, it's pretty amazing to go down the list of ACHA schools and see the national brands that exist in existing, thriving NHL markets, and to the point about Texas, there are already four teams in the South Division in the NAHL down there. So there's a custom-built pipeline for those teams if, as you mention, there's a fairy godparent willing to wave a magic wand.
But I'll take it a step further.
There are three Nebraska teams in the Western Conference of the USHL, including the Lincoln Stars. They played a recent home game against the Omaha Lancers at the end of November and drew over 3,000 people. Maybe it's too easy to draw the parallel, but it makes me wonder if you could do the same with an Omaha-Nebraska game.
I'll say this. It's fun to talk about, and it makes me hungry for the next step.
I want to see hockey grow. It's great to discuss the game's direction, especially with these nationally-branded powerhouse schools. But I always, always, always think about how to preserve and enhance what already exists. A good hockey program can give a school an identity it previously didn't have, and I watched schools like Bentley and American International compete with and defeat national brands like Boston College and Penn State. That's something that's uniquely ours, and it's something we should fight to keep – especially coming from a guy that lives and breathes his days in Atlantic Hockey. The AHA is a league that's grown from barely-lit municipal rinks to certified hockey palaces, but it takes time and fostering from within.
That said, I'm sure we'll discuss this at length at least 50 more times before the year is over, and it will continue to be ongoing until the next team announces…and the next team after that.