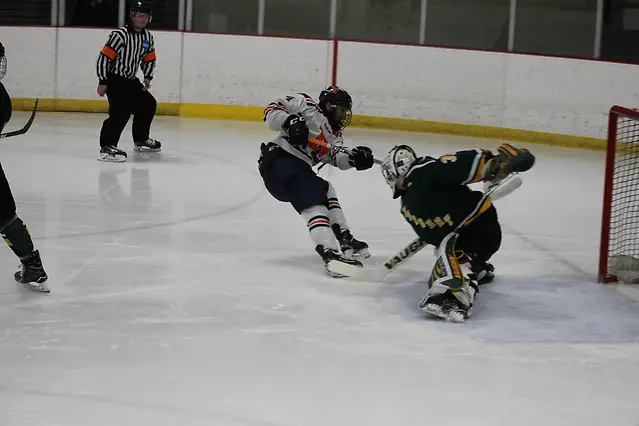 Max Glashauser has established himself as one of the better defensemen in the NCHA. If anyone questions that, consider the way he helped Northland compete last weekend against Adrian, one of the nation's best teams. The Lumberjacks played the Bulldogs to a 1-1 tie. It's the first time in program history they haven't lost to Adrian.
"That meant a lot; it shows our heart and commitment to each other," Glashauser said. "We only allowed one goal against a team scoring a lot of goals every game. We had our chances to win, but took the tie. But that's a big deal."
Glashauser came into this season ready to make it his best one yet. He has two goals and two assists already for a Lumberjacks team that sits at 4-4-2 and is on its way to topping last year's nine-win season.
"I feel like I've been playing pretty good lately, and it seems like as the team has started to do better, I've picked my game up," Glashauser said.
He put in the work in the off season to make himself a better hockey player.
"I did a lot of work with guys who are bigger and faster and competed with them to try to win battles," Glashauser said. "Winning those battles and coming out of there with the puck is a huge part of my game."
He's risen to the occasion as a leader of the defense and never hesitates to play as physical as possible. It's part of the reason he loves being on the defensive end of the ice.
"I love to quarterback the play and see the ice," Glashauser said. "A big part of my game is being physical. I love hitting people and getting the team fired up."
Glashauser knows that great defensive play is instrumental to a team's success. The Lumberjacks have held five teams to two goals or less.
"We just have to keep playing great defense, taking hits, blocking shots. If we do those things, we're going to be successful," Glashauser said.
Northland has been a team on the rise in recent years. After winning only three games during the 2014-15 season, the Lumberjacks have won at least seven games each of the last three years, including 11 games two seasons ago.
"Each year we have gotten better, and it's been great to be part of a group that has helped get the ball rolling for the program," Glashauser said. "With the way things are going for us, it's a good feeling to see us have success and compete with some of the better teams in the nation."
Northland missed the NCHA playoffs a year ago after getting there two seasons ago.
The Lumberjacks are hoping for a different outcome this time and take aim at making a run.
"We just have to take it game by game," Glashauser said. "We want to keep the ball rolling and get to the playoffs and see what happens from there."
On a roll
Augsburg is unbeaten in its last six games and sits atop the MIAC at 5-0-1. The Auggies are 8-1-1 overall.
Alex Rodriguez and Chandler Madry lead the team. Rodriguez has scored 10 goals and has dished out five assists, while Madry has come through with five goals and eight assists. The Auggies have racked up 35 goals on 59 assists.
Back on track
Wisconsin-River Falls had dropped two consecutive games before forging a 1-1 tie with Wisconsin-Eau Claire Saturday. It's a game that the Falcons hope gets them on track to finish this first half on a high.
The Falcons are 4-3-3 and have scored 28 goals while allowing 19. Eddie Matsushima has played an integral role in the team's success on offense, accounting for 11 of Wis.-River Falls' goals. He has also dished out four assists. No one else on the team has more than three goals.
Wis.-River Falls hopes to find more balance going forward. It closes the first half with two road games against Lawrence and a home game against the Milwaukee School of Engineering.
In the poll
Wisconsin-Stevens Point remains the No. 1 team in the nation. St. Norbert checks in at No. 5 this week. Three other west region teams are in the top 10 as well in No. 6 Wisconsin-Eau Claire, No. 7 Adrian and No. 9 Augsburg. St. Scholastica enters the poll this week at No. 15.