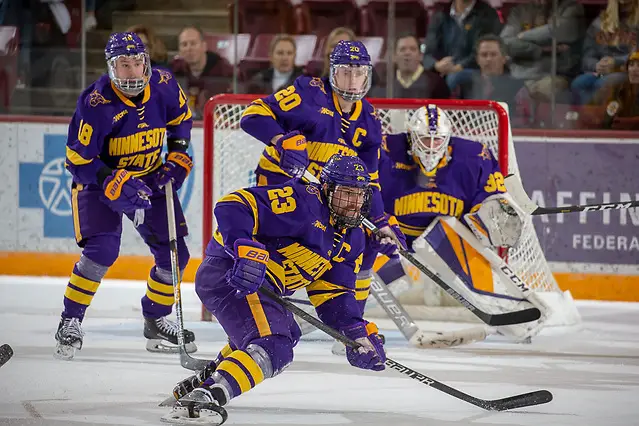 Each week, USCHO.com columnists will pick the winners of the upcoming games in their respective conferences.
Atlantic Hockey
Friday-Saturday
Sacred Heart at RIT
The Pioneers head to Rochester for the first time since last season's three-game series win over the Tigers at the Polisseni Center. That series featured two overtime games, including the triple-overtime thriller in Game 2. But this is the second time in three weeks that SHU has to go west, and Big Red hasn't won a regular-season series against RIT in 10 years, though there have been a bunch of splits. So I'm picking the Tigers here to win the series in some capacity.
Holy Cross at Robert Morris
The Crusaders kicked and banged on victory's door last week against AIC but came up short in both games, extending their winless streak to 13 games. I think Holy Cross is much better as a team than its record might indicate, and there's always going to be things to work on with a young team enduring turnover. The Crusaders are plus-4 in the first period but minus-14 in the third, and it's led them to an 0-9-1 record this year when trailing or even after two. I have a stone-cold belief that they will turn that around, turn a corner and cause some noise, especially after the break. But for now, Robert Morris sweeps this weekend.
Colgate at Niagara
There's something about this game that I just can't put my finger on. AHA teams tend to struggle in nonleague games, but there's something about Colgate that's sticking out to me in this series. It might be in special teams, where the Raiders have a penalty kill that's one of two teams under 70 percent. I think the Purps can take one this weekend, so I'm rolling with a split.
Mercyhurst at Air Force
Air Force is either sweeping weekends or getting swept, having not split a series since hosting Niagara back before Halloween. This weekend marks the academy's first weekend series at home since November 9-10, and the Falcons draw a Mercyhurst team that is starting to gain momentum with last weekend's sweep over Bentley. This should be a great weekend, but I'm taking Air Force to sweep.
— Dan Rubin
Big Ten Hockey
Friday-Saturday
Michigan State at Wisconsin
Every week is a barometer week for these two specific teams, especially, so this series should be telling as each heads into the midseason break. (Yes, I know that Michigan State plays the Under-18 team next week.) Michigan State goes to Madison with a three-game unbeaten streak, including last weekend's win and tie against Michigan. Wisconsin carries a four-game unbeaten streak into the weekend, with three ties in that mix. The teams split four games last year by splitting in each team's building. I can't imagine that it won't happen again this weekend – except that the split may be two ties with the teams exchanging extra points. Michigan State wins Friday, Wisconsin wins Saturday.
Minnesota at Michigan
Minnesota tied twice with Ohio State last weekend and split with Michigan State the weekend before. The Wolverines are winless in their last four (0-1-3), having lost to and tied the Spartans last weekend. Each of these teams is looking for consistency, and both are struggling with scoring (the Gophers seven goals in their win over Michigan State being the exception). Minnesota is 139-127-15 all-time against Michigan – which is interesting, but not as interesting as Michigan's 3-0-1 record against the Gophers last season. I really don't see any B1G team sweeping this weekend. Michigan wins Friday, Minnesota wins Saturday.
Notre Dame at Penn State
This is a meeting between a classic impenetrable defense and a nearly stereotypical explosive offense. Notre Dame is tied for first in scoring defense nationally (1.67 goals allowed per game) while Penn State has the top offense in the nation (5.13). The Irish have a six-game win streak on the line, most recently sweeping Rensselaer at home by a combined score of 8-1. The Nittany Lions are 1-2-1 in their last four, most recently tied with and lost to Wisconsin on the road, taking the extra point in the OT game and allowing eight goals in the loss. Notre Dame leads this series 8-2-3 and is 4-0-1 in the last five meetings between these teams. I think if any team has a chance to sweep this weekend, it's Notre Dame. Given the way B1G hockey is going, though, I'm not calling it. Penn State wins Friday, Notre Dame wins Saturday.
— Paula C. Weston
ECAC Hockey
Friday-Saturday
New Hampshire vs./at Dartmouth
The two Granite State teams meet for a home-and-home series with Game 1 up in Hanover on Friday and then the teams meeting in Durham on Saturday. It should an intriguing series as the Wildcats are playing decently the past two weeks and the Big Green are still trying to put two consecutive wins together. Dartmouth wins at home Friday while UNH, who has played better at home, wins on Saturday.
Colgate at Niagara
These are the games on the schedule that the Raiders need to win. That may be difficult as they have missed Jared Cockerill and Hunter Racine in the lineup. Niagara has played well at home this season and Colgate hasn't won on the road. I believe this trend continues as Niagara sweeps.
Arizona State at Princeton
The Tigers need a bounce-back and there may be no better time to face Arizona State than this weekend. The Sun Devils have lost three of their past four games after starting the season 8-3. Princeton has lost five straight. I think the key for both teams is to stop the others' top line and have an unsung hero to pick up the key goal. I believe this series will be like the series the Sun Devils played a few weeks ago against Harvard. Princeton wins Friday while Arizona State gets their legs for Saturday's game to salvage the split.
Massachusetts vs./at Quinnipiac
This should be a fun one as the Bobcats have won their past six games while UMass has won their past nine. It will be fun to watch Odeen Tufto go up against Cale Maka r. What will Rand Pecknold do in goal? He has given Andrew Shortridge and Keith Petruzzelli a start each for the past three weekends. I think it may be a difficult weekend for the goaltenders on both teams. I think UMass wins Friday while Quinnipiac wins on Saturday.
St. Lawrence vs./at Clarkson
The two North Country schools meet for their two regular ECAC contests. The teams did meet in Lake Placid a couple weeks ago for a nonconference game. The Golden Knights haven't been good away from Cheel Arena this season. The Saints have played better the past two weeks, but they still have a long way to go. Clarkson sweeps the home-and-home series.
Friday
Union at Brown
Will Brown be able to defend against Union? The Dutchmen can score with multiple lines and that will cause some trouble for the Bears. If Brown has a chance to win this game, they just can't rely on the freshmen and sophomores who have been mostly providing the offense early on. They need guys like Brent Beaudoin and Tommy Marchin, who have three points between them. Union wins.
Rensselaer at Yale
The Bulldogs have quietly been playing some good hockey lately as they are 3-0-1 after a 2-2-1 start. This is could be a trap game with Union on Saturday night and RPI could catch them by surprise. At the end of the day, Yale comes away with the victory.
Saturday
Rensselaer at Brown
This should be a defensive battle as each team looks for a win on the weekend. It was a tough weekend for the Engineers in South Bend last weekend while Brown salvaged last weekend with a tie against St. Lawrence. I think scoring depth will be the key and believe the Bears have that advantage. Brown wins.
Union at Yale
These two teams just met in the Friendship Four a couple weeks back where they battled to a 1-1 tie. I think there will be more scoring than that. Yale may come out better as the Bulldogs played last weekend while the Dutchmen had the weekend off. This could be considered a coin flip on how well the Bulldogs have been playing, but I will take the Dutchmen in this one.
Tuesday, Dec. 11
Yale at Massachusetts
The Bulldogs may be catching the Minutemen at the right time coming off their two-game series versus Quinnipiac over the weekend. I think Yale's defensive style may give UMass fits and slow down their high-powered offense. UMass can do the same with Joe Snively and his line. I think it may be closer than some expect, but UMass wins this weeknight contest.
— Nathan Fournier
Hockey East
Thursday-Friday
Boston College vs. Connecticut
The Huskies have lost their last five contests while BC is coming off a three-of-four-point weekend against Boston University. If UConn is going to salvage a split in this home-and-home, it'll need to take the home end on Friday, but I don't think that happens. BC sweeps.
Friday
Providence at Merrimack
The Warriors have to be reeling after a 9-1 drubbing at the hands of Northeastern, and they got swept by the Friars two weeks earlier (7-2 and 7-5). I don't think this one's close. Providence wins
Friday-Saturday
New Hampshire at Dartmouth
Dartmouth has gotten off to the better start, including a win over then-No. 16 Cornell last weekend, but I think the Wildcats rebound back at home on Saturday. UNH splits.
UMass Lowell vs. Boston University
The Terriers simply aren't scoring. In four of their last five games, they've either been shut out or have scored only a single goal. Meanwhile, Lowell has won three of its last four. That momentum continues. Lowell sweeps.
Massachusetts vs. Quinnipiac
Quinnipiac may be 13-2, but I believe in UMass. The percentages would argue for a split with each team winning at home, but I believe. It's tougher to stay on top of the pedestal now that UMass is No. 1 in the country, but… I believe. UMass sweeps.
Vermont at Colorado College
Both teams are better than their record. Vermont has lost a boatload of one-goal games; Colorado College's since-ended four-game losing streak came because it was playing the then-No. 1 and No. 2 teams in the country. Vermont splits.
Saturday
Northeastern at Merrimack
As noted in this week's column, Northeastern would be a much bigger story this year if not for UMass. So though Lawler Arena is a very tough place to play, the Huskies are simply better. Northeastern wins.
Tuesday, Dec. 11
Yale at Massachusetts
If 13-2-0 Quinnipiac can't topple mighty UMass in a home-and-home, then 5-2-2 Yale ain't gonna do it on the road. UMass wins.
— David H. Hendrickson
NCHC
Friday-Saturday
Omaha at St. Cloud State
Omaha has been a far better team in the last month than it was through its first eight games of the season, but they lost one and took the other in a shootout at home last weekend against a Colorado College team that was 1-5 in its previous six outings, all against tough opposition. I don't have high expectations for Omaha this weekend against St. Cloud State, which is 6-0 at home. St. Cloud State 4-1, 4-1.
Denver at North Dakota
This is always a highly-anticipated series, regardless of how well the teams are faring. Denver has started well under a first-year coach but has only played three road games, two of them losses a month ago against St. Cloud State. The Pioneers will be rested after being idle last weekend, and while UND is coming off a split at Minnesota Duluth, winning the rematch after being routed 5-0 on Friday, at 2-4 in conference play, I think the Fighting Hawks' search for consistency will continue beyond this weekend. Denver 4-2, North Dakota 4-2.
Minnesota Duluth at Western Michigan
Western Michigan has won its last four games, sweeping North Dakota and Niagara, but UMD is a different proposition. Yes, the Bulldogs are 2-2 in their last four, but splitting with UND and Denver is nothing to sniff at. I do like Western to win one of these games, but I'd be surprised if Andy Murray's group extends its winning streak to six. Western Michigan 3-1, Minnesota Duluth 3-1.
Vermont at Colorado College
I don't want to say CC is out of the woods, but after a very tough last three series against St. Cloud, UMD and Miami, the Tigers put in good showings last weekend at Omaha to start what is a relatively favorable slate through the middle of next month. Vermont has picked up better results on the road than at home, but the Catamounts' biggest win on paper was in their season opener against a Michigan team that hasn't been as good as its No. 4 ranking suggested at the time. I have a feeling this could come back to haunt me, but I'll take the Tigers to sweep. Colorado College 3-2, 3-2
— Matthew Semisch
WCHA
Friday-Saturday
Bowling Green at Ferris State
The Bulldogs are in the midst of a six-game losing skid while the Falcons have lost just once in their previous six games. Even though Ferris State is the home team, I think the Falcons are going to go for the sweep here.
Michigan Tech at/vs. Northern Michigan
A rematch of last season's WCHA title game finds these two UP rivals going in opposite directions. The Huskies have recovered from shaky early-season troubles and are undefeated in WCHA play (and in first place). The Wildcats are currently in fourth place in the standings but are 6-9-0 overall. Despite how well Tech is playing now, I think the Wildcats get the win on their home ice before the Huskies win back in Houghton on Friday.
Alabama Huntsville at Bemidji State
One of the country's more underrated rivalries has been mostly one-sided as of late, with the Beavers having a 12-3-1 record against the Chargers since they joined the WCHA. Compounded with the Chargers' 1-13-0 record so far this season, I think it might be a rougher go for them in Bemidji. The Beavers get the sweep here.
Alaska Anchorage at Minnesota State
It's the middle of a rough, grueling stretch for the Seawolves. They haven't had a home game since November (and won't until January) and are starting their second 12-day road trip, this time against the No. 3 team in the country. Add on top of it all the hardship from last week's earthquake, and you'd like to root for the Seawolves to get a win here to try and turn it around. I think that might happen here. Minnesota State is an excellent team, but the Seawolves have played well against top teams this season. I think UAA wins a close one Friday before the Mavs take it to them on Saturday.
Lake Superior State at Alaska
The Lakers have nearly matched their win total from 2017-18 already (10 wins last season against seven this season). However, they're on the road against a Nanooks team that is fresh off a sweep and playing at home. I think this one seems like a split — Lakers win Friday and Nanooks take it Saturday.
— Jack Hittinger