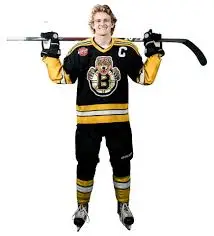 According to the USPHL, Quinnipiac has decided to accelerate Boston Jr. Bruins captain and veteran defenseman Cam Boudreau and have him join the Bobcats for the second half of the 2018-19 season.
Boudreau has appeared in all 29 games for the NCDC's Jr. Bruins team so far this season and recorded three goals among 14 points with a plus-24 rating. He joined the Jr. Bruins prior to the 2017-18 season and made his commitment to the Bobcats halfway thru last year's campaign.
"We're excited to see Cam play at the next level," said Jr. Bruins coach Mike Anderson in a news release. "He's worked hard to get himself ready and I'm proud that Quinnipiac is ranked as high as they are and feel that Cam is ready to come in and help their hockey team. Hopefully, it speaks a bit to the development opportunities that our players are getting here.
"Cam is a terrific person. His family has been wonderful to work with and we're confident that he'll have great success under Coach Pecknold and their staff. We will miss him here, of course, but this is about development first and to that end, I'm excited to see guys respond to their opportunities to come in and lead our group for this second half of the season."