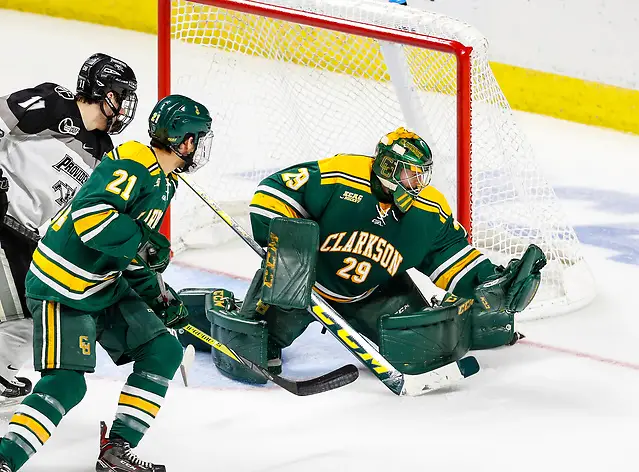 GLENDALE, Ariz. — The most cheerful holiday get-together in the nation, the third Desert Hockey Classic, has a distinctly NCAA tournament feel to it, as all four coaches pointed out prior to Friday's first puck drop.
Yet the hosts were not able to leave with a victory on day one, as the Clarkson Golden Knights stymied the Arizona State Sun Devils 3-0 behind sophomore Jake Kielly's second consecutive shoutout.
No. 19 Clarkson (10-6-0) did not just get it done on the penalty kill, which there were eight of; they converted three out of seven times on their own power plays, and Kielly only saw 15 shots on the night due to 15 more ASU attempts being blocked by his defense.
"You can't ask for anything more," said Kielly. "They had one or two good scoring chances and I think both of them might have came on the power play, so you can't ask for more from the guys that were blocking stuff from the points."
Kielly has been rock solid in each of those last two whitewashes, and in a game featuring two teams that rely heavily on their top goaltenders, he made a statement going into Saturday's tournament championship.
Kielly has started all 16 games for Clarkson through Friday, producing his NCAA-leading 14th career shutout among active goaltenders and helping the Golden Knights to a 6-2-0 record in their last eight games.
Across the ice, Sun Devils junior backstop Joey Daccord made his 21st start of the season on Friday, and his record now sits at 14-7-0. Daccord is the nation's leader in wins (14) shutouts (5).
No. 15 Arizona State (14-7) entered the holiday tournament with the most penalty minutes per game out of the four teams (16.4 min/gm), and it proved to be their undoing at the start the game. Clarkson capitalized on two Sun Devils hooking penalties early in the first for two quick goals; the first from freshman Josh Dunne crashing the crease on a five-on-three, and the second via a point shot by junior Devin Brosseau on the subsequent five-on-four with help from a great net-front screen by freshman Anthony Callin.
Dunne's goal was his fifth on the season and his eighth point in nine games. Clarkson head coach Casey Jones was happy to have him back in the lineup after an injury forced him to miss the last seven. Those five tallies put Dunne among the leading freshman goal scorers, two off of the pace of Denver center Cole Guttman and Quinnipiac winger Wyatt Bongiovanni.
"All of a sudden now, with 21 [Dunne] back, our units are good," said Jones. "On the power plays we didn't score on, we had chances. So I was really happy with our special teams tonight."
Arizona State rode a four-game winning streak into Friday's matchup, but it did not mean much to start. Clarkson was visibly better than Arizona State for at least two periods, and despite shot attempts being almost even at the end of the night (44-43 Arizona State), the Golden Knights offense had 24 high-quality looks from the slot area against the Sun Devils' 15.
It wasn't until the second period when Arizona State started to get the kind of quality chances the Golden Knights were seeing offensively. Junior center Brett Gruber had two of those, both directly in the middle of the slot, one of which rang the post – the only shot to beat the goalie for the Sun Devils. The team's leading scorers, sophomore right wing Johnny Walker and junior defenseman Brinson Pasichnuk, were limited to just three and two shots respectively.
Clarkson continued their stout penalty killing of late, including in five-on-three and four-on-three situations. The Golden Knights are now 30-of-31 when down a man in their last eight games, good for a kill rate of 96.7 percent. Senior defenseman Aaron Thow, one of the team's most important point men, emphasized how crucial that is after the game.
"Our penalty kill is something we take a lot of pride in on our team," said Thow. "We didn't start this year off like we ended last year, we were top five or ten in the nation all year [on the penalty kill]. We got off to a slow start but we've really been clicking lately and it's a big momentum booster for our team."
Even though Clarkson had three weeks off for the holidays to ASU's two, Sun Devils head coach Greg Powers knew that a good week of practice was not going to be guaranteed to translate into a good first game back.
"Our guys weren't ready. They weren't ready to play," said a disappointed Powers following the loss. "You always have a fear in college hockey of sending your guys home for an extended period of time and regaining focus."
But Powers also knew that playing uphill is not the path to victories, and the two early penalties on wingers Steen Pasichnuk and Dylan Hollman were a large factor. Signs of dejection showed all night after those early goals.
"We just didn't show up. They outworked us, they deserved to win that game," added Powers. "If the two teams tonight play that way 100 times, we're going to lose 100 times out of 100."
Clarkson will face No. 4 Minnesota-Duluth in the championship game of the tournament at 4:30 p.m. mountain time on Saturday. Arizona State will be looking to avoid a 1-11 record in games at Gila River Arena when they face No. 3 Minnesota State in the third-place game at 7:30 p.m. MT.
Minnesota Duluth 4, Minnesota State 3 (OT)
In the opening game of the Desert Hockey Classic, Nick Swaney fired a shot from the left circle that fell out of Minnesota State goaltender Dryden McKay's glove and into the net as Minnesota Duluth defeated the Mavericks, 4-3 in overtime, to advance to Saturday's final.
No. 4 Minnesota-Duluth (11-4-2) overcame a third period deficit for the victory. The Bulldogs opened the scoring as defenseman Louie Roehl's notched his first goal of the year six minutes into the contest. Sophomore center Justin Richards tacked on another less than a minute later, and it looked like No. 3 Minnesota State (14-5), the highest-scoring team offense of the four tournament participants, had their work cut out for them offensively. Sophomore left wing Dallas Gerads scored Minnesota State's only goal of the opening period.
Mavericks top line center Marc Michaelis scored his 12th goal of the season early in the second to bring the game to a tie, and center Josh French would give Minnesota State its first lead of the game. It was French's fifth goal in his last six games.
In the third, Minnesota State went on the man advantage for five minutes after a Roehl cross-check, but was unable to add to their lead. Duluth capitalized on the momentum of the kill by banging home the tying goal on a power play of their own. Kobe Roth cleaned up the rebound on a Nick Swaney shot, knotting the game at three and sending it to a five minute, five-on-five overtime period.
Around the Nation
No. 7 Ohio State 3, Mercyhurst 1
The Buckeyes jumped out to a 2-0 lead on goals by Austin Pooley and Dakota Joshua and then held on for a 3-1 win over a pesky Mercyhurst club.
Ohio State plastered the Mercyhurst net with 43 shots, but Lakers net minder Garrett Metcalf was strong, stopping 40 shots. Sean Romeo earned the win for Ohio State making 20 saves.
No. 11 Northeastern 3, Rensselaer 2 (OT)
Zach Solow's goal with 39 seconds remaining in overtime broke a 2-2 tie and game Northeastern a 3-2 victory over RPI in the annual Vermont tournament at Gutterson Fieldhouse.
Vermont was a 4-1 winner over Alabama Huntsville but you may need an abacus to determine the tournament winner as pre-determined pairings prevent Northeastern and Vermont meeting tomorrow to play for the championship.
If both, or all four, teams finish with the same record, goal differential will determine the winner. Vermont currently holds that edge after its three-goal win on Friday.
Canisius 2, No. 12 Union 2 (OT)
Canisius netminder Blake Weyrick stopped 42 of 44 shots while the visiting Griffs never trailed against No. 12 Union, the final result being a 2-2 tie.
Austin Alger and Jimmy Mazza scored the Canisius goals while Sebastian Vidmar and Brandon Estes tallied for Union. Estes goal with 9:58 remaining in regulation proved to be the equalizer.