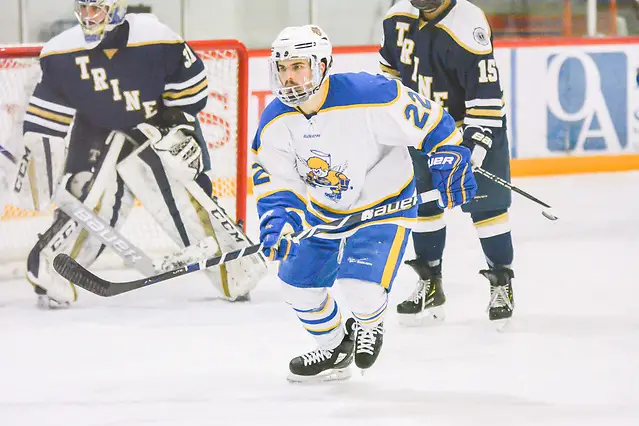 Cole Golka remembers being told by a former assistant at St. Scholastica that the program was just on the cusp of competing for a championship. The Saints appear to be in position to finally contend for one under first-year head coach Tim Madsen, who, at least early on, has taken the program to another level.
St. Scholastica is 9-3-1; the Saints won 15 games all of last season.
Senior Cole Golka has been instrumental in the turnaround, and as a senior, he couldn't ask for anything more.
"It's exciting for everyone," Golka said. "Our coach has done an excellent job of changing the face of the program."
Golka said a lot of that has to do with the team buying in.
"Everyone is buying into the systems, and we know if we do everything the right way, we are going to be successful," Golka said. "Our coach has managed the different personalities well, and we just work well together as a team."
Just as St. Scholastica has looked like a different team, Golka looks like a different player. He ranks second on the team in points (13), scoring eight goals and dishing out five assists. The senior forward has already scored more goals this year than he has in any other season in his career and is just three points shy of tying his mark for points in a season. He has 23 goals and 34 assists in his career.
So, what's been the difference?
"It's a total confidence thing. Tim has worked a lot with me and sees my potential," Golka said. "It's a big thing when your coach has confidence in you. I have had opportunities, and it's worked out for me.
"I'm playing a lot different. I'm trying things I normally wouldn't have tried in the past. I'm not scared to make mistakes, not scared to fail. It's an extremely different feeling when you are playing with confidence. You feel untouchable."
Golka said his speed has played a big role in his success as well.
"My biggest asset is my speed," Golka said. "I'm a smaller guy, but I use my speed quite a bit to drive the D-men wide. I've also seen maturity in my game. That's made a difference, too."
He's playing at a level he always believed he could reach.
"I had a good feeling that with the changes we made this year that I would have the kind of season I always knew I could have," Golka said. "I'm not done yet, but it's nice to get off to a start like this."
Golka, though, gives a great deal of credit to his teammates. He said the team's bond has been pivotal as well this season.
"We've always been really close, but when you have a coach who can manage personalities, and you have a close team, that's a recipe for success," Golka said. "Everyone is having fun, and that's the main thing."
The Saints haven't been to the NCAA tournament in a decade, but they are hopeful that changes this season. They are currently ranked 10th in the nation and are 4-1-1 in the North Division of the NCHA.
"We just have to keep doing what we've been doing," Golka said. "We have to stick to our game plan, play hard and play fast, and continue getting outstanding goaltending. If we do that, I don't see why we can't keep rolling in the right direction."
Golka is ready to help make that happen.
"We're looking pretty good, and it's great to see," Golka said. "I wish I had another two or three years to play here. We're hoping to do something special here this year, but if not, the future is bright for this program."
Five things to know about the West Region
Jordan Fralich of St. Scholastica has dished out 13 assists on the season. He leads the team in points (14).
Bryan Yim is the top goal scorer in the NCHA. The Adrian standout has scored 11 goals. He is third in the league in points (16).
Eddie Matsushima of Wisconsin-River Falls is the top goal scorer in the WIAC, scoring 12 on the season. He also has seven assists.
Noah Parker of St. Olaf leads the MIAC in saves with 339. He owns a save percentage of .929.
Concordia features two of the top five goal scorers in the MIAC. Aaron Herdt has punched in 12 goals, while Mario Bianchi has come through with 11. The two are tied in points with 21, the second-most in the league.
In the Poll
Wisconsin-Stevens Point begins 2019 as the No. 1 team in the nation. Adrian, Wisconsin-Eau Claire, and Augsburg hold down the third through fifth positions in the poll. St. Norbert is sixth, and St. Scholastica is 10th. Marian is 11th in the nation.