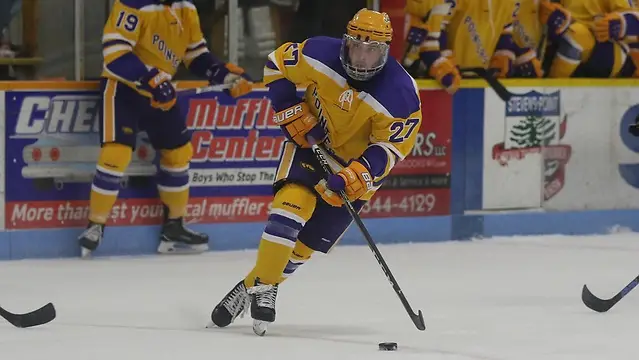 The No. 1 team in the country goes on the road to battle the Cobbers in a matchup worthy of the NCAA tournament. It's expected to be the headline matchup of the weekend in the West.
Wis.-Stevens Point has yet to lose a game and has already scored 57 goals on the season while giving up just 22. The Pointers have seven players with 10 or more points, including Carter Roo and Luke McElhenie. They have 12 points apiece. Connor Ryckman sports a 13-0 record and 1.42 goals goals-against average.
Winners of six consecutive games, the Cobbers are the top team in the MIAC and have a shot to be ranked next week with a win in this game. They feature two of the best scorers in the league in Aaron Herdt and Mario Bianchi. Herdt has come through with 12 goals, while Bianchi has tallied 11. Both players have 21 points. Concordia also has a top-notch goalie in Jacob Stephan, who has a save percentage of 95.2 percent. He has made 278 saves on the season.
This is a game that could go either way. Look for this one to be close. Wis.-Stevens Point 4-3
Friday, Jan. 4
No. 4 Wisconsin-Eau Claire at Gustavus Adolphus
Gustavus faces a key test at home against the fourth-ranked team in the country. The Gusties have scored 32 goals and given up 32, and will need to be on top of their game to pull off this upset. Caleb Anderson leads the team with four goals and six assists. Wis.-Eau Claire 4-3
Wisconsin-River Falls at St. Thomas
The Falcons have won just once in their last four outings and hit the road looking for a big out-of-conference win. Wis.-River Falls is led by Eddie Matsushima, who has come through with 12 goals and seven assists. Christian Hauslinger is a big-time playmaker, dishing out 10 assists on the year. The Tommies haven't played in nearly a month, but have lost just once in their last four outings. Luke Radetic leads the offense with eight goals and three assists. Tanner Barnes has come through with six goals and four assists. St. Thomas 3-2
Lake Forest at No. 6 St. Norbert
There is nothing easy about playing the reigning national champions on the road, but the Foresters are up for the challenge. The sixth-ranked Green Knights are looking for their first win since Dec. 1, but they are unbeaten at home this season. Lake Forest has dropped its last two. The Foresters are led by Joe Sardina, who has come up big for his team, tallying six goals to go along with eight assists. Cody Guidorzi has tallied five goals and five assists. St. Norbert is led by Kurt Black, who has come through with eight goals on the year. Dominick Sacco has tallied five goals and seven assists for a St. Norbert team that has scored 48 goals in all this season. St. Norbert 5-1
Friday-Saturday, Jan. 4-5
Hamline versus No. 5 Augsburg
Hamline comes into this home-and-home series with the fifth-ranked team in the nation looking for the upset. The Pipers have won just twice this season, and only Welland Parrish has scored more than four goals this season; he has tallied five. The Auggies are unbeaten in their last nine and are looking to keep things rolling in 2019. The favorite to win the conference, Augsburg boasts one of the best offenses in the country. Alex Rodriguez leads the attack with 13 goals. Chandler Madry has through with 10 assists. If the Pipers are going to win a game, it will probably have to be at home on Friday. They are 0-4 on the road this season. Augsburg 5-2, 6-3
Bethel versus Saint John's
The Royals are in dire need of a win, and it won't be easy to pick one up against a Johnnies team on a mission to win the MIAC. Bethel has dropped its last two and hasn't won a game since Nov. 30. Michael Piehler is having a good year for the Royals, tallying five goals and an assist. Josiah Roen has tallied three goals and six assists. Brady Heppner leads the Johnnies in goals with seven, and Mac Berglove is one of the top goalies in the MIAC with a 2.38 goals-against average and has won two games. The Johnnies are looking to end a two-game losing streak. This is a golden opportunity for them to do it. Saint John's 4-2, 3-0
St. Scholastica versus Northland
The 10th-ranked Saints hit the road to battle the Lumberjacks, with the home-and-home series starting Friday on the road. Jordan Fralich paces St. Scholastica with a goal and 13 assists and looks to continue his success into the second half of the season. Cole Golka has come up big as well for the Saints, punching in eight goals to go along with five assists. Northland is looking to make a statement in the NCHA. The Lumberjacks look to end a two-game losing streak. Lucas DeBenedet leads the way with five goals and six assists. Kalib Ford has tallied four goals and seven assists. Northland 4-3, St. Scholastica 5-2