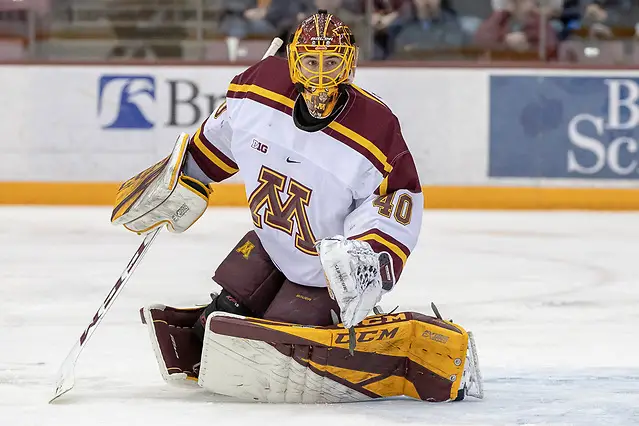 For Bob Motzko, the magic number is three.
Or four.
Anything more than two, really.
The Golden Gophers scored no more than two goals in nine of their 15 first-half games. Five of those nine games were losses and four were ties – three ties and no extra points in Big Ten conference play – and nothing about a two-goal total was sitting well with Motzko, his coaching staff or his team.
After a 4-3 road win over Michigan Dec. 8, Motzko said, "This has been a crazy, high-high, low-low first half."
It was so crazy, said Motzko, that the Gophers hadn't yet come to realize that their team was on an upward swing.
"I was just reminded before the game that we'd only lost one game in the last seven," said Motzko. "I had no idea of that. I told the team that. The players didn't know that either."
Minnesota ended the first half of the season with an overall record of 5-6-3, but in their last eight games – including that win in Ann Arbor – the Gophers had gone 3-2-3, with one of those losses coming in overtime against St. Lawrence to kick off that stretch. In their last eight games of the first half, the Gophers averaged 3.12 goals per game, including a 7-2 win over Michigan State Nov. 24. In the first seven games of the season, Minnesota averaged 2.14 goals per game, and that includes a 7-4 win over Minnesota-Duluth Oct. 7.
Last Friday at home against Penn State, the Gophers once again found themselves on the wrong end of a score in which two factored prominently. The Nittany Lions beat the Golden Gophers 4-2, but this time the equation felt a little different. Trailing by two goals in the third period, Minnesota's Jack Ramsey scored to bring the Gophers to within one and Minnesota outshot Penn State 14-6 in the third. It wasn't until Alex Limoges scored the empty-net goal in the final minute that the game was out of reach for Minnesota.
"Early in the year, we weren't getting a lot of chances and now we're getting chances. We're playing better hockey," said Motzko after the loss. "We're having better depth throughout our lineup. Our power play, we had good looks tonight on it. We need to stick with that right now and we can't get frustrated because we are a better hockey team.
"Why be frustrated right now? We've got to continue to push on and play better hockey and we've got to find ways to get to three and four. We have a few times. That's the same story on an outcome, but we looked better at it tonight."
The Gophers looked even better at it the following night when they beat the Nittany Lions 4-1, shutting down the top offense in the nation after Penn State scored first. In fact, after Chase Berger scored to give Penn State the lead at 12:36 in the first period, Minnesota's Tyler Nanne answered at 15:55 and the Gophers never looked back.
"That was our best game from start to finish, with our entire lineup playing just a real solid hockey game tonight," said Motzko. "I like what we did last night. It was a good weekend for us to hopefully continue to grow up."
Growing pains are common when a program experiences a coaching change.
Motzko came in this year as the Gophers' head coach when Don Lucia stepped down after 19 seasons behind the Minnesota bench. Motzko, who was the head coach at St. Cloud State for 13 years before returning to Minneapolis, was Lucia's assistant from 2001 to 2005.
As a native of Austin, Minn., Motzko grew up steeped in the lore of the "state of hockey" and was a natural choice for the Gophers' job after his successful run in St. Cloud. Regardless, there was an adjustment period and that, said Motzko, may have finally run its course.
"The best way I can explain it from my standpoint is I felt early, it was two groups staring at each other," said Motzko. "But as we've gotten to know our leadership group, our core group – it's a really strong group of character. Great kids. Great young men. They want to do things the right way. They want to get better."
That leadership core includes co-captains Brent Gates, Jr. and Tyler Sheehy and assistant captains Jack Ramsey and Darian Romanko, all seniors. Gates and Sheehy are among the scoring leaders of the team, and both are on track to have career seasons. Gates has scored a goal in each of his last five games.
"We're not staring at each other any more," said Motzko. "We're communicating with each other. I hope that they know we're on their side and vice-versa. There's a comfort level there. I really like that group of leaders. Then last weekend, Ramsey gets two, Gates gets hot, Sheehy's been good – that's seniors playing pretty well for us."
Ramsey, who had a career-best four goals in 38 games last season, netted one in each contest against Penn State for his first two of this campaign.
"He scores in practice a lot," said Motzko. "We told him he's got a green light during the game. He finally listened to us, so good for him. I told all of them they've got a greenlight to score and by God they're finally listening to us."
There is a sense that things are coming together for the Gophers, but Motzko doesn't want to jinx it.
"We're playing a whole lot better, that's for sure," said Motzko. "We've started to sort some things out and some players have gotten much more comfortable. Goaltending has solidified." Senior Eric Schierhorn has played in seven fewer games than junior Mat Robson, but Schierhorn has posted his career-best save percentage and goals-against average.
"Both guys have played well when we've had them in there. Gates is on a run right now. Our power play has stayed consistent, our penalty kill except for one weekend – things like that, I'm just referencing, have solidified themselves for us. We're playing better hockey.
"I've been reluctant to say, 'Turn the corner,' to find the term outside of we've been playing better hockey for a little over month, a month-and-a-half, and we're showing improvement and building some confidence. You're always reluctant to say it because—wham! – something might happen, but you can't hide from the fact that we're quietly moving forward."
Motzko said that looking back on the first half, aside from the natural adjustment period, he sees the team lacking in confidence rather than lacking in consistency. That, too, is changing.
"The one thing that when you ask about November and before, it was offense," said Motzko. "We were getting to two, and it's still kind of been there, but we're quietly getting over three. Guys are starting to feel a little more confident with the puck. You talk about Gates. You go on a five-game stretch there. That has to happen because we weren't getting to three. We were only getting to two."
Heading to South Bend for a crucial Big Ten series against No. 9 Notre Dame, Motzko is all about the magic that a number greater than two can deliver – like the way four goals against Penn State last Saturday helped manifest a win.
"In our sport," said Motzko, "I believe you've got to get to three and get there quick. You build momentum off of that. Hopefully next week, we'll talk about it again."