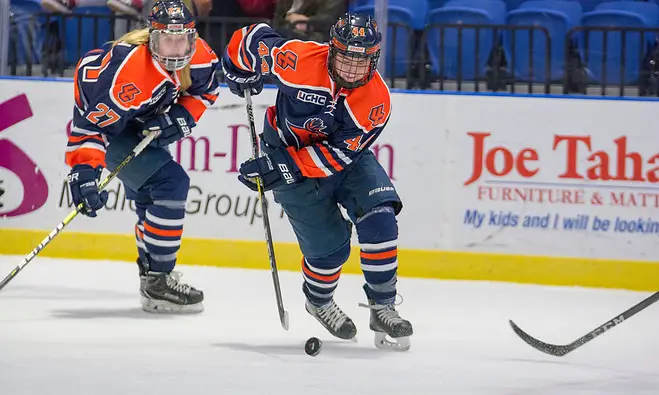 Friday, Jan. 18Suffolk versus Castleton
Norwich has a firm grip on the NEHC regular season title. However, the second-place spot is still up for grabs. Currently, that spot is being occupied by Suffolk, with Castleton right behind them by two points. This matchup will be key for both teams to get ahead in the standings. Looking at both team's records and results from past games, this game could be a toss-up.
Suffolk 3-2Friday-Saturday, Jan. 18-19Augsburg versus No. 9 Gustavus Adolphus
This will be another close MIAC matchup. On paper, Augsburg may not seem to be as strong of a team, as their record is 7-6-2. However, this team has been able to hold many strong opponents in their conference to close scoring games. The MIAC is extremely unpredictable, and as such I can see Augsburg keeping the number nine ranked team to a tie.
Gustavus Adolphus 4-2, Tie 2-2Aurora versus Concordia (Wis.)
These next few games are important for Aurora as they seek to get into the NCHA playoff picture for their first time. For right now, Concordia (Wis.) sits in a good spot in the rankings, with St. Norbert and Marian very close behind them. Aurora has been able to upset and tie some good teams this year. They could most certainly do it again this weekend, so I am picking them to take one of the games.
Concordia (Wis.) 4-1, Aurora 2-1No. 10 Williams versus Connecticut College
Williams is in the middle of a three-way battle to take the lead in the NESCAC standings. Connecticut College has the potential to upset Williams, which was recently ranked 10th. The Camels tied Middlebury earlier in the season, so pulling off an upset against Williams is not a far-fetched idea.
Williams 3-1, Connecticut College 2-0Potsdam versus Buffalo State
Both of these teams are tied for second in the NEWHL standings. Potsdam's program has grown tremendously, and many games this year played against top programs resulted in some pretty close scores. This series will be important to see how the NEWHL shakes out at the end of the year.
Potsdam 1-0, Buffalo State 3-2Nazareth versus Utica
Nazareth has been a powerhouse offensively this year, averaging 5.53 goals per game. Utica currently sits in second place in the UCHC standings, and defeating Nazareth is a hurdle they will need to overcome to stay in that position. I'm predicting they will do just that.
Utica 4-2, 5-2No. 6 Wisconsin-River Falls versus Wisconsin-Stevens Point
Wisconsin-River Falls is a scoring machine this year in the WIAC. The Falcons are averaging 4.53 goals per game. Forward Callie Hoff has been a great player for them this year, leading Wisconsin-River Falls' offensive push.
Wisconsin-River Falls 5-1, 3-2