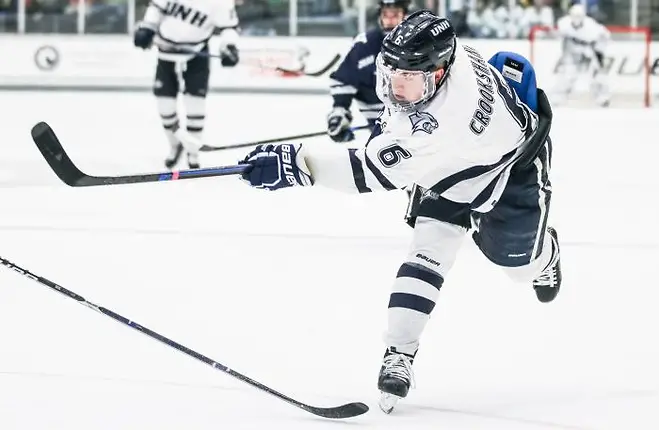 New Hampshire coach Michael Souza, who grew up in Wakefield, Mass., is unapologetically a New England Patriots fan.
He admits to quoting legendary Patriots head coach Bill Belichick a little too often.
"I think the guys are a little tired of hearing me talk about the Patriots," said Souza. "Especially for the non-New England guys."
Souza's latest Belichick-ism might be one of the most important: Be playing your best come playoff time.
Though still a few weeks short of the postseason, Souza knows that his Wildcats seem to be headed in a good direction. After beginning the year 1-6-4, New Hampshire is 8-2-3 in its last 13, including a mark of 6-1-1 in its last eight home games.
That record at home is important to Souza, a UNH alum who remembers the day when it was a constant sellout at the Whittemore Center, something that was lost in recent years due to the team's struggles, particularly at home.
"I'm biased and I think this is the best home ice," said Souza. "But when it's jumping, there's no better place to see a college hockey game."
A lot of the team's development has been centered around improving as a unit. Watching this team play in October to today, the team looks faster. Souza is clear that isn't because of any sudden power skating drills, but rather just playing better on the ice as a five-man unit and the ability to move the puck cohesively.
"I don't think we're working any harder or doing anything differently than we were early in the year systematically," said Souza. "The execution has been better. When the passes are on the tape and you're playing smart, it appears you're playing faster and you probably are."
Souza's club has found a nice mix of offense from both the experienced upperclassmen as well as some of his team's freshmen.
Junior Liam Blackburn has been dominant offensively, leading the team in goals and points. He potted 18 points as a rookie and 21 as a sophomore but already has 24 just past the midway point of his junior campaign.
Second in scoring, though, is a rookie in Angus Crookshank. A native of North Vancouver, B.C., Crookshank has assimilated well to the college game and has put together a string of 15 games in which he has scored points in 13.
"[Angus] is a guy with a really high motor," said Souza. "He just never stops. He's good as a skater and strong on his edges. He's got a really high-end work ethic and he loves the game.
"He is at the rink all the time. He loves hockey, loves to play. He loves to score goals. We're really pleased where he's at right now."
A big part of bringing freshmen like Crookshank and others into the UNH system has been led by Souza's captain and leaders, something for which the coach is very proud.
"[Our upperclassmen] have done a great job and for us it dates back to being here this past summer," said Souza. "That's been fun to watch them grow as a team. You're only as good as your senior class and your leadership group and we've got great leadership from [our upperclassmen]."
This weekend, New Hampshire will host its rival, Maine, for two games. Souza remembers the days when those two teams were perennial powers in Hockey East and he personally battled in some of the best of the games these teams played, including the 1999 NCAA championship game, which was won by Maine, 3-2 in overtime.
Though neither of the teams has been a national title contender in the most recent years (Maine's last NCAA appearance was 2012; UNH's was in 2013), Souza is clear that there is plenty of rivalry left between these two teams and, with Hockey East reverting back to a playoff format where teams are eliminated after the regular season (this year, the top eight teams make the postseason, meaning the bottom three teams won't), this series carries even more weight.
Currently, New Hampshire stands in seventh place with 15 points and 15 league games played. Maine has played just 14 games and is two points behind the Wildcats.
Thus, if one team can sweep this series, the other will be sitting right on that playoff bubble in Hockey East.
"It's a huge weekend with Maine, a really good team and a physical team," said Souza. "It's a tough weekend ahead of us here.
"The stakes get higher towards the end of the year. And I'm excited to play a Maine team that needs the wins just as much as we do."
Souza's also clear that playing its rival Maine isn't just another weekend in Hockey East.
"UNH and Maine, in our world, our college hockey world, that's as exciting as it gets," he said. "We're fortunate to be part of the rivalry. I know our guys are excited and Maine's excited. It should be a great weekend of hockey."