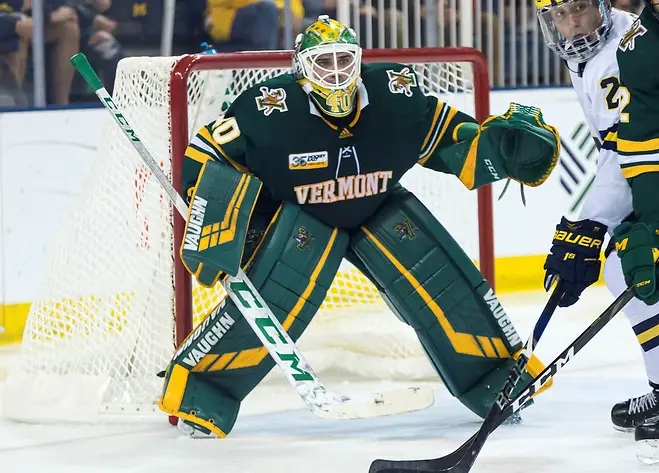 The Hockey East playoffs won't start for about another month, but don't tell that to Vermont coach Kevin Sneddon.
Since suffering four straight losses, two each against Massachusetts and UMass Lowell, Sneddon and his Catamounts have been in playoff mode, trying to play catchup.
With Hockey East's new playoff format, only the top eight of 11 teams make the postseason. And after those four losses in mid-January, it seemed Vermont was nowhere near the eighth and final playoff spot.
That all changed in recent weeks after Vermont swept Merrimack and then, against probable odds, went on the road and took three of four points from nationally-ranked Providence.
Suddenly just five points out of eighth, the Catamounts are firmly planted in a four-week make-it-or-break-it hunt for a postseason bid.
Still, getting to that point may take baby steps.
"We talk about getting points [in the standings]," said Sneddon. "What do we have to do to get points? We don't talk about moving up [in the standings]. Some of it is in our control, some is not. We just focus on what we can do."
The good news is that the last two weekends have proven that things are beginning to come together. The offense, which at times this year has struggled to score goals, is beginning to click. Some of that is simply having key personnel back in the lineup after battling injuries.
Throughout this season, all of Vermont's top four scorers – Max Kaufman, Liam Coughlin, Alex Esposito and Derek Lodermeier – all have missed some time with injuries. And though there are still plenty of bumps and bruises and man games lost, particularly on the back end, having healthy forwards to help the Catamounts offense at this critical junction in the season.
The other key component is the player who likely is the team MVP, even with a month left, and that's Stefanos Lekkas. The junior netminder, who this week was named a semifinalist for the Walter Brown Award, the oldest nationally-recognized college hockey award given to the top American player in New England, tends to be the best player on the ice night in and night out.
"He's probably been our most improved player, which is pretty scary seeing that he was pretty darn good as a freshman and sophomore," said Sneddon of Lekkas. "Looking at his career, his freshman year was outstanding in the first half and he kind of fatigued in the second half. That's not unusual for a freshman.
"He worked that summer to understand what he has to do to go coast-to-coast and he was much more consistent last year.
"This year, his whole approach has changed a little bit. He's much more calm in the net. He doesn't get rattled. Now, he's just mellowed in the net and it's helped him focus.
"He's clearly been our MVP, hands down."
This weekend presents one of the best opportunities for the Catamounts as they host New Hampshire. The Wildcats are currently in seventh place, just seven points ahead of Vermont. Maine is in eighth place five points ahead.
A four-point weekend against the Wildcats at home this week could go a long way for the Catamounts, particularly given that they still have a game-in-hand on UNH. But as Sneddon made clear, all of that is too much thinking for both him and his players right now.
"I hate to sound like a coach, but we're just worried about the first period against UNH on Friday night, the chance to win that first period and what we need to do to be successful against them," said Sneddon. "If we try to bite of more than we can chew right now, we're not focused."