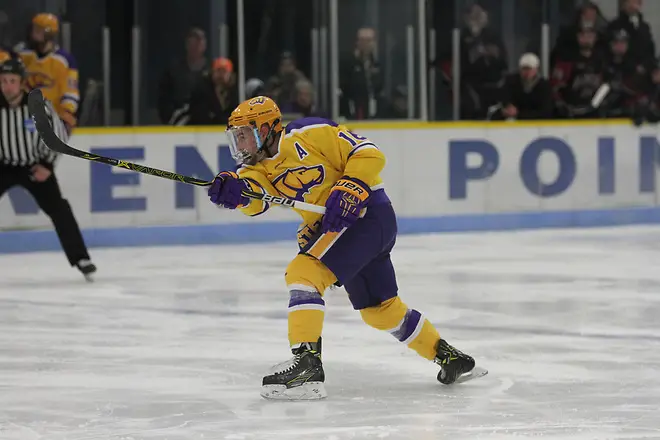 Saint John's and St. Thomas play the final game of their rivalry series Friday night. Don't expect anything less than a tightly contested showdown between two of the best teams in the MIAC.
The Johnnies are fourth in the standings. The Tommies are in second. The two teams played Thursday night, skating to a 2-2 tie.
Defense likely decides this game, as it features two of the top goalies in the MIAC. St. Thomas' Cam Buggrabe leads the league in goals-against average (1.91) and save percentage (.931). Saint John's Andrew Lindgren is third in GAA (2.09) and fifth in save percentage (.926). St. Thomas 3-2
One of the other prime-time matchups of the weekend is the WIAC showdown between Wisconsin-Stevens Point and Wisconsin-Eau Claire.
The Pointers are looking to complete an unbeaten regular season. The Blugolds are hoping for the upset in this rivalry battle. This game pits the top two offenses in the league against the best two defensive teams in the league.
Lucas Kohls of the Blugolds and Tanner Karty of the Pointers both have nine goals and 13 assists on the season.
The Pointers' Connor Ryckman has won 19 games and owns a 1.39 GAA. Zach Dyment of the Blugolds has 18 wins and a 1.65 GAA. Both goalies have more than 300 saves. This is one of those games that should go down to the wire. Wis.-Stevens Point 3-2
Friday, Feb. 8
St. Scholastica at Marian
The Saints need to win out the weekend to make the playoffs, and that starts with a road game against Marian. St. Scholastica has the conference points leader in Cole Golka, who has tallied 25 on the year, including 13 off goals. The Sabres counter with one of the better defenses in the conference, anchored by goalie Hunter Vorva, who sports a .938 save percentage. The Sabres are already in the playoffs. Marian already beat St. Scholastica once this season, winning 2-1 on Jan. 26. Expect another close one this time around. St. Scholastica 4-3
Trine at Milwaukee School of Engineering
The Thunder are in a must-win situation against the Raiders. MSOE, meanwhile, could finish as high as the third seed on the South Division side of the NCHA tournament. Michael Meisenbacher had played a key role for the Thunder, coming through with six goals and four assists. Alex Johanson has tallied four goals and eight assists. MSOE only needs a tie with the Thunder to secure a playoff berth. The Raiders have thrived in part off the play of Michael Romund and Garrett Gintoli. Both players have eight goals and seven assists on the season. The Raiders lost, 4-1, to Trine the last time these two teams met. MSOE is at home this time. Milwaukee School of Engineering 4-2
Friday-Saturday, Feb. 8-9
Hamline versus Saint Mary's
The Pipers come in just two points out of the sixth and final spot in the conference tournament. They are just four points behind the fifth-place Cardinals, meaning a lot is riding on this home-and-home series. Hamline has scored 36 goals this season and allowed 79. Bailey Martin has been one of the Pipers' better players, tallying five goals and dishing out six assists. The Cardinals have just one road win. but they have the potential to explode offensively on any given night. They have come up with 54 goals on the year while giving up 68. Tommy Stang leads the way with nine goals and eight assists. Saint Mary's 4-2, Hamline 3-2
Bethel versus St. Olaf
Bethel needs a series sweep to keep its conference tourney hopes alive. The Oles are in last place in the standings, but just four points out of sixth place. The Royals are just a point out of sixth in the standings. The Royals are winless on the road, which is where this series begins, but they will have to change that trend to keep their playoff hopes alive. Jay Paul could be a difference-maker. He has dished out seven assists on the year. The Oles have lost their last four games and are all but playing for pride at this point, though a strong finish coupled with help from teams above them could change their fate. Mitch Dolter has been a bright spot, scoring five goals on the year. Bethel 4-3, St. Olaf 3-2