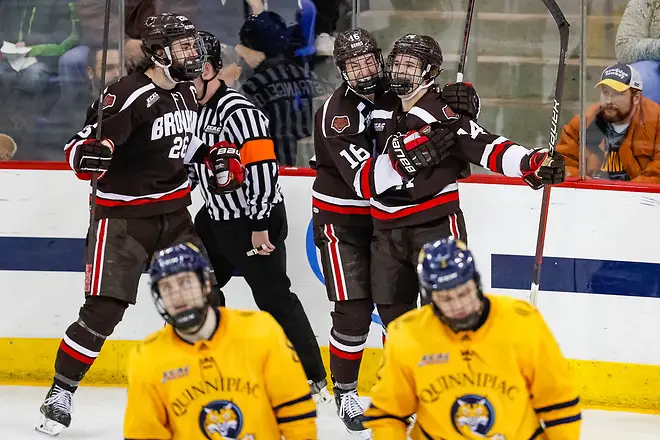 HAMDEN, Conn. — For all its recent success, there was one glaring hole in Brown's game: its power play.
That changed Saturday against No. 4 Quinnipiac, as the Bears scored the first goal of the game on a power play early in the second, and then scored three-even strength goals in the opening minutes of the third period to beat the Bobcats 4-1.
Four different players scored for Brown, while Luke Kania had career-high 47 saves to help the Bears (10-10-3, 7-6-3) complete a four-point weekend on the road.
Brown is 8-3 since the holiday break, including a 5-2 mark in ECAC Hockey. That stretch has pushed the Bears into sixth place in the league, three points behind fourth-place Harvard. With three weeks left in the season, the Bears are in position to host a playoff series for the first time since 2013.
"They have really good skill," Brown coach Brendan Whittet said of Quinnipiac. "They can get flying and you can get easily discouraged here. I thought we played a pretty good first and then you look up at the shots (14-7 in favor of QU) and if you're not mentally tough and not in the moment sometimes you look and say 'Geez, did we play that well?'"
Brent Beaudoin's power-play goal made it 1-0 Brown 3:39 into the second period. Justin Jallen's shot attempt from the right circle deflected to Beaudoin in the opposite circle, who then ripped the puck past Andrew Shortridge (25 saves).
"We've been really trying to string something like this along for a while," Beaudoin said of Brown's play of late. "That is huge for us because we wanted to prove that we can play against hot teams like Quinnipiac."
It was the second power-play goal of the weekend for the Bears, who also scored on the man advantage against Princeton Friday. Brown entered the weekend 6-for-66 on the power play this season.
"We mixed up some things with some personnel changes and some different sets," Whittet said of the Brown power play.
The Bears controlled play following the goal, as the Bobcats struggled to get much going despite finishing with 48 shots.
"We couldn't score, couldn't score and it just created a lot of frustration," Quinnipiac coach Rand Pecknold said. "I don't think our players handled it well. We struggled defending … mentally we lacked emotion, we lacked passion we didn't have that fire that makes us good."
Brown scored twice in fifteen seconds to open the third period. Alex Brink whacked a rebound between Shortridge's pads to make it 2-0 fifty second into the period, and then a Quinnipiac turnover along the boards resulted in Chris Berger's goal at 1:05 to make it 3-0.
Brogan Rafferty's power-play goal made it 3-1 Brown at 2:07 in the period, but the Bears restored their three-goal lead a minute later when Jack Gessert put home his own rebound to make it 4-1.
"We've had some trouble in the past with that," Beaudoin said of regrouping after the other team scores. "I think we've taken a step in the right direction. As a team, we've gotten more mature and made sure that when we get scored on we reset and we'll be okay."
A contact to the head penalty against Brown defenseman Max Gottlieb sent the Bobcats on the power play with 4:37 left in the third. Pecknold pulled Shortridge for the extra skater, but Kania made eight saves with the Bears shorthanded, including a point-blank stop of Wyatt Bongiovanni's shot from the left post.
The Bears also blocked several Quinnipiac shots during the penalty kill to holddd the Bobcats scoreless.
"It means everything for us," Kania said of his teammates blocking shots. "There are a lot of shots that I don't end up seeing. I really appreciate it. I know they're not wearing the same gear I am. They're warriors out there."
It was the second strong outing in a row for the Bears sophomore, who made 32 saves Friday against Princeton. Kania started his third straight game Saturday in place of junior Gavin Nieto, who is out with an injury.
"He was very calm tonight," Whittet said of Kania. "We have a lot of faith in Luke. He was the starter the majority of last year and came into this year as the starter early"
Nieto's injury is not expected to be long term. But either way, the Bears are in a good position entering the stretch run of the season.
"I couldn't be happier for the guys for how they're playing and the effort that they are putting in," Whittet said. "It's good to see them rewarded."
Around the Nation
No. 14 UMass Lowell 2, No. 2 Massachusetts 0
For the second straight night, UMass Lowell pitched a shutout, this time against Hockey East's top team, No. 2 Massachusetts. And what might be a surprise to many, it was a different goaltender doing the honor for the River Hawks.
On Friday, Tyler Wall earned his seventh career shutout with a 3-0 blanking of Boston College. A night later, Chris Hernberg stopped all 31 shots he faced to upset the Minutemen.
Chris Schutz and Anthony Baxter each scored in the opening period. From there, the River Hawks defense and goaltending shutdown one of the nation's top offenses to climb within two point of UMass for first place in Hockey East.
#TheMothership is at cruising altitude 😏🛫 The unbeaten streak continues off ANOTHER shutout from our studs in net and a goal each from Chris Schutz and Anthony Baxter. We'll see ya next week Providence 😉

Check out the highlights from the W: pic.twitter.com/2yVDGpTRLF

— UMass Lowell Hockey (@RiverHawkHockey) February 10, 2019
Lowell is now 9-0-1 in its last 10 games.
No. 1 St. Cloud State 5, Colorado College 4 (OT)
For the second straight night, host St. Cloud State needed to score twice in the final period, Saturday's two goals each coming in the game's final five minutes.
Saturday, though, the winning goal came in 5-on-5 overtime giving the Huskies the outright victory after earning a tie and 3-on-3 overtime decision (earning them an extra point in the NCHC standings) on Friday.
Patrick Newell figured in four of the five St. Cloud State goal and scored both the tying and winning goals.
Here's a look at Patrick Newell's GWG to complete SCSU's comeback victory over CC!#scsuhky pic.twitter.com/S6IUf0HyZg

— SCSU Men's Hockey (@SCSUHUSKIES_MH) February 10, 2019
The Huskies improve to 13-0-1 at home this season.