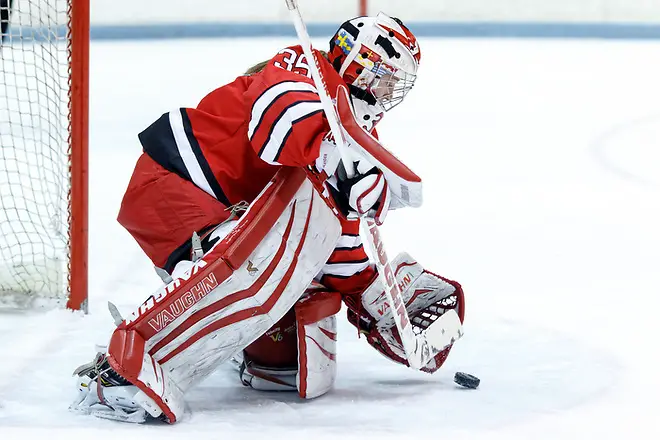 Arlan: We got some more clarity in all of the conference races this weekend. Wisconsin has held a virtual lead in the WCHA race almost all season, and with Minnesota being idle this weekend, the number of games played by the top two finally evened out. The Badgers' sweep of Minnesota State lifted them to a two-point lead with four games remaining.
Northeastern shook off the disappointment of the shootout loss in the Beanpot semifinal and jumped out to a 4-0 lead versus Merrimack. The Huskies' 6-3 victory clinched at least a share of the Hockey East title, as Boston College trails by six points with only three games left.
Mercyhurst likely saw its chance at a CHA title slip away when Syracuse swept the Lakers on their home ice. Brooke Avery scored in the final minute to give the Orange a 6-5 triumph in a high-scoring affair on Friday where neither team had much success in holding a lead. Special teams failed Mercyhurst on Saturday, as Syracuse scored its first three goals with someone in the penalty box: a power-play goal, a short-handed goal, and finally a tally during a five-on-three power play. Robert Morris took three points at Penn State to open up a two-game lead with six games remaining.
In ECAC Hockey, Princeton's lead grew to three points over both Clarkson and Cornell as the Tigers swept Brown and Yale. Meanwhile, Clarkson fell at home to Colgate, 4-3, a day after jumping on Cornell with four goals in the first 17:01, including the opening goal by Loren Gabel that pushed her career points total to an even 200; congratulations to her. The Big Red were only able to salvage a single point on the weekend, rallying for a 1-1 tie at St. Lawrence on Jaime Bourbonnais' third-period goal. In my mind, the ECAC results were the most significant, with Princeton opening up some daylight in what is largely a three-team race.
As for the most surprising result, I'd go with Syracuse paying back the road sweep it suffered at the hands of Mercyhurst four months ago. I'm not sure what to make of the Orange, a team that went on a 10-game losing streak a day after tying Princeton in November before finally ending the skid with an overtime win over Robert Morris last month. If they could win their remaining six games, including sweeping RMU on the final weekend, it's conceivable that they could win the league if Mercyhurst and Robert Morris were to split their head-to-head series down the middle in the penultimate weekend. Is there any chance that we see Syracuse winning an unlikely title, or did it just do some heavy lifting to aid the Colonials?
Candace: The latter, for sure. Robert Morris has a five-point lead on Syracuse, and honestly, I don't think Syracuse sweeping both Lindenwood and RIT the next weekends is a given. RIT already beat the Orange twice earlier this season, and Lindenwood took the Orange to overtime. Robert Morris likely will sweep Lindenwood, and I just don't think the Orange are consistent enough to sweep the Colonials, even in the unlikely even that the Orange only trail by three points entering that series. The Colonials are the only team in the conference above .500 for the year, and while Mercyhurst has a slightly higher strength of schedule, I think the difference is negligible. I think that conference race is set.
While Syracuse sweeping Mercyhurst was unlikely, to me the biggest surprises were in the WCHA, as Bemidji State beat Ohio State, the second time in the last few weeks the Beavers have beaten a ranked opponent, and then St. Cloud State beat Minnesota Duluth. I think if you had asked either of us back in November who would advance to face Minnesota and Wisconsin in the WCHA tournament, we'd have both said OSU and UMD, but given the way Bemidji has come on, and that both St. Cloud State and Minnesota State have played well this season, I'm not as sold on that at the moment. It seems that UMD playing Bemidji is a certainty at this point, while OSU's opponent remains to be seen. Are you thinking we could see one or more upsets in the WCHA tournament?
Arlan: I've watched Bemidji State one weekend this season, and that was at the start of November. At the time, I thought it was the best 0-9-1 team I'd seen. The Beavers swept the Buckeyes the next weekend, bottomed out at 2-12-1, and have gone 9-5-1 since then. It isn't an easy move up the WCHA standings, because those at the bottom of the standings can put up a good battle. St. Cloud State only has a .333 winning percentage, but it has 10 wins. Minnesota State, with a higher overall winning percentage, has nine. All of the other leagues have one or more teams below that. A third of the ECAC has seven overall wins or fewer. St. Cloud State managed to split the season series with UMD, but it was done in by going 0-13-0 versus three ranked teams: Minnesota, Wisconsin, and Ohio State.
Will we see postseason upsets? It is likely that Bemidji State will finish fifth. I assume that neither UMD or OSU wants to finish fourth and get a first-round date with the Beavers. The Bulldogs and the Beavers have played a quarterfinal series in three of the last four years. The road team advanced each time. If Bemidji State instead travels to Columbus, the Buckeyes lost the first three meetings before breaking through on Saturday. Maybe that 5-1 win has them feeling confident again, but that confidence can disappear quickly if the Beavers grab a postseason lead. Bemidji State struggled to hold leads early in the year. They lost after leading 3-0 at Providence and dropped a game in Minneapolis after scoring the first two goals. Neither UMD nor Ohio State wishes to try to duplicate those rallies in the playoffs now that Lauren Bench has stabilized the goaltending position and backstopped some big upsets.
I'm not believing that either Minnesota State or St. Cloud State is poised to pull a similar upset, but if one can force a third game, then who knows what can happen.
While the Buckeyes scramble to avoid Bemidji State in the WCHA playoffs, they're also trying to remain in the at-large hunt for the NCAA tournament. They aren't alone. I mentioned Princeton opening up a lead on the Golden Knights and Big Red in conference, but it trails Clarkson in the PairWise and is just ahead of Cornell. Do you think we could see the Tigers win the ECAC season title and still get left out of the national tourney?
Candace: Wouldn't that be an interesting development? However, at the moment I think Princeton is likely going to make it, because for them to not qualify, I think you'd have to see Colgate or St. Lawrence or someone random win the ECAC tournament. Even at sixth, Princeton is still above the bubble for a likely "upset" winner in the Hockey East tournament, and I don't see anybody but Wisconsin or Minnesota winning the WCHA, so I think as long as Clarkson, Cornell, and Princeton remain at some order of 4-5-6 in the PairWise, all three teams will make it.
Ohio State is likely not going to qualify unless the Buckeyes can sweep Wisconsin in two weeks. I just think that at nine currently in the PairWise, the Buckeyes don't have enough of a ceiling to move into a safe position. It's a shame, because Ohio State is a very good team, but they have been too inconsistent this season to follow up on last season's success. The loss to Bemidji this weekend killed them.
A more interesting proposition is whether there is any way that both Boston College and Boston University can qualify as at-large, or if one can make it if the other wins Hockey East. For that to happen, either would probably have to move to sixth in the PairWise, barring some collapse by Cornell, Clarkson, or Princeton. BC looked like its old dominant self in a win over New Hampshire this weekend, which makes me wonder how BC lost to UNH in January. BC is 13-1 at home, but has a losing record on the road. There still is something wrong I think with the Eagles, but with their talent level, I also think they could be an NCAA threat if they can get there. The 4-1 loss to Harvard in the Beanpot was back to BC piling on shots and not scoring. What do you think of BC's chances at making the NCAA tournament, especially in light of last night's results in the Beanpot?
Arlan: There is still time for the Eagles to play more like the team that we all expected, such as they did in the Beanpot consolation game, but do they look like a team that can win three straight against top competition, including a quarterfinal on the road? It would be different if they were consistently playing well, but could not get pucks to go into the net — think Wisconsin in any recent year — and just needed a bounce or two. However, the level of play that we've seen over the last three months from BC isn't reminiscent of any past championship team. The UMD team from nine years ago had eight losses, but only one of those came in its last 22 games. The best weekend we've seen from the Eagles until now was likely a pair of 4-2 wins over Providence, which I'd categorize as more good than great. They showed flashes against Northeastern of being the team we expected to see from week one. Now the next test will come when they face a more defensively oriented opponent. The Eagles can't get impatient and throw caution to the wind. The game is played at both ends of the rink.
To be fair, it isn't only the Eagles who have been less than we expected. They're just the most glaring example. If you'd told me before the season that the quartet of Clarkson, Wisconsin, Minnesota, and BC would each have at least four losses and have combined for 24 defeats to this point, I wouldn't have believed it. I thought that with the veteran players these teams were adding to already strong casts, they would separate from the field. Now it looks like those four teams will combine to win one regular season title. We should take it as a sign of just how much the average team in women's hockey has improved, and so we wind up with two underdogs in the final of the Beanpot.
One unusual factor right now in the women's game is the North Dakota effect. Or rather, the absence of North Dakota. Players who would have been part of the Fighting Hawks are instead sprinkled on rosters around the country. Here are some examples: Wisconsin, Kristen Campbell; Minnesota Duluth, Ryleigh Houston, Ashton Bell, and Gabbie Hughes; Ohio State, Charly Dahlquist and Sara Sakkinen; St. Cloud State, Hallie Theodosopoulos, Abby Thiessen, and Taylor Wemple; Mercyhurst, Emma Nuutinen, Vilma Tanskenen, and Kennedy Blair; BU, Abby Stanley; Colgate, Malia Schneider; and Cornell, Willow Slobodzian. There are a few more on other rosters as well, and it's interesting to note that only Campbell went to one of the four teams that I expected to be the top foursome. So it may be that those UND reinforcements helped level the playing field to some extent across the country.
So to answer your question after some lengthy digressions, no, I don't think it's likely for both BC and BU to wind up in the tournament this year, given that they will probably meet in the league semifinals. If I assume that Wisconsin, Minnesota, and Northeastern are in, that the top three from the ECAC are in, and somebody makes it from the CHA, then BU and BC are fighting for the same spot. It can happen if both the Eagles and Terriers stay on a roll, but they'll need things to break right in the ECAC, and for the Badgers and Gophers to block the rest of the WCHA. Now if Cornell doesn't play better than it did in the first period on Friday, then that changes the complexion of the race immensely.
Lately, teams that have depended on a strong goalie in net for most of the season have seen her play decline. Most recently, it was Marlene Boissonnault for the Big Red, and freshmen goalies like Abigail Levy at Minnesota State and Andrea Brändli for Ohio State have not been as sharp as they were in the first half. Do you think goaltenders hit a bit of a wall at this time of year? If so, does that make the career of Rensselaer's Lovisa Selander, who set an NCAA career saves record with 52 stops versus Harvard, more remarkable?
Candace: Yes, and yes. I think playing a goalie in every game, especially the younger ones, will tire them out over the course of a year, unless it's a team like 40-1 Boston College or 41-0 Minnesota, where the goalies were often standing around most of the game twiddling their thumbs. It's not just goalies though; I think first-year players especially have a period of adjustment to the seven-month grind of the college game, and learning how to keep your focus and intensity up for that entire time can take a while.
Selander is remarkable in many ways. One thing that stands out to me is not just her number of saves, but her percentage, which this season is at .944, second in the country to Harvard's Lindsay Reed, who has played seven less games than Selander. It's fair to say the native of Sweden gives Rensselaer a chance in every game. If RPI had any consistent scoring, the Engineers would be a favorite to have gotten home ice for the ECAC playoffs every year that Selander has been there.
I don't know if she'll get any recognition, but if I were a voter Selander would be my goalie pick in the Patty Kazmaier Award top 10. I'd also pick her for the All-American. In her record-setting game, she broke the record with her 11th save of the game. She went on to make 43 more in a 2-1 loss to the Crimson. If the season ended today, the Engineers would face the Big Red in the first round of the ECAC tournament, and given Cornell's inconsistent scoring, I could actually see RPI possibly pulling the upset. It'd be incredible if RPI could advance to the ECAC semifinals as a cap to Selander's remarkable career.
You mentioned the big four in college hockey of the last six years or so being a surprise with the number of losses they've suffered. Have there been any teams that have been pleasant surprises this season that you want to throw a little love to, perhaps a team that we don't usually talk about?
Arlan: Because it all averages out to a .500 record, for every head-scratching loss, there is a team that picked up an unexpected win. We've talked a great deal about a couple of those squads that bettered expectations: Northeastern and Princeton. BU has impressed me, and it's been a few years since I thought that of the Terriers. Rensselaer's 12 wins are the program's most since earning 16 back in 2009-10. And props to Merrimack for reaching 15 wins in its fourth season, four more than its previous high-water mark.
If I can't go with Princeton or Northeastern, because we've talked about those Tigers and Huskies too much, then I'll point to the other Tigers. RIT only won four games in Scott McDonald's final season, one in which it was outscored by more than three to one, including being outscored 95-19, or a five to one ratio, in conference action. The team's 10th win at Lindenwood on Saturday broke a four-game losing streak, and all of those losses were essentially by a single goal, discounting the empty-net tallies yielded late. In conference play, the Tigers have only yielded four more goals than they've scored.
I think that is pretty remarkable progress for coach Chad Davis, who wasn't even announced as the new boss until Aug. 22. You could tell that he and his team were still trying to get in synch early in the schedule, at least through the first weekend of November, but they've produced a 9-8-1 record since that time.
No matter what happens over the final three weekends of the regular season, RIT will enter the CHA tournament with a chance to win. The Tigers reached the semifinal round two years ago, but they've gone out via four-goal losses to Syracuse in each of the last two campaigns. I get the sense the they'll be a much tougher out this time. Captain Kendall Cornine has been pretty steady throughout her four years in Rochester, but I get the sense that other seniors like Kathryn Kennedy and Mallory Rushton are playing with more freedom and won't want their careers to end. Terra Lanteigne is as good as any goalie in the CHA, so I could see RIT being a dangerous team come March.
Which overlooked player or team gets your journalistic love this week of Valentines Day?
Candace: In terms of teams we haven't talked about much, I do want to give a little love to Harvard. The Crimson took Wisconsin to OT twice, lost to Colgate and Cornell by a goal, tied Princeton, and played Clarkson tough the first game. Lindsay Reed has been outstanding in goal, and while they aren't getting a lot of scoring consistently, Lexie Laing and Becca Gilmore have led the team well. Most of Harvard's losses have been by a goal, so the team is right there in most games. Perhaps they will get a little momentum from their Beanpot battles. Reed was outstanding in last night's OT loss, making 51 saves and forcing the Terriers to rally from 2-1 down to claim their first Beanpot since 1981. Harvard is getting better with each week, but they will need Reed to be her best this weekend because they host Clarkson, as well as St. Lawrence.
I think Providence deserves a little love too. At one point, the Friars were ranked in the polls, but a poor January cost them momentum. They seem to have righted the ship of late, though they have a tough task with a home-and-home with Northeastern this weekend. Given how mercurial the Huskies have been, with few dominating wins of late, Northeastern can't afford to take Providence lightly or they could be upset. Maureen Murphy has turned into a bona fide offensive star as a sophomore, and Madison Myers has been playing very well in net. Providence is also getting solid offensive contributions from Sara Hjalmarsson, a rookie who has 20 points.
Lastly, I think Penn State deserves some recognition. The Nittany Lions fly under the radar in our CHA conversations, but they are only a couple of games under .500 overall and have had some impressive wins, including defeating Colgate and Boston University. Jeff Kampersal seems to have Penn State trending in the right direction in his second year as coach, and it's all the more impressive when you look at Penn State's lack of scoring prowess. They only have one player averaging over half a point a game, which shows you just how well goalie Jenna Brenneman is playing. Last year, Penn State was 10-15-11 overall, so you have to think the Nittany Lions are going to improve their win total, at the very least. They could be a dangerous team in the CHA tournament as well.
Let's end with the Patty Kazmaier Award. The top 10 list will come out next week. Who do you think are locks, and who else do you think might make it?
Arlan: I'd say that half of the finalists are locks: Elizabeth Giguère, who is my personal frontrunner; Gabel; Sarah Fillier; Jesse Compher; and Megan Keller. I agree with you on Selander in goal. I don't anticipate any other defensemen joining Keller. Other forwards, if we looked purely at production, would be Michaela Pejzlová, Jaycee Gebhard, Alina Mueller, and either Sammy Daivs or Jessie Eldgridge.
The conspicuous absence from that list would be a WCHA presence. Most years, somebody from the WCHA makes the top three. Nobody did last year, when for the first time the league wasn't represented in the title game. Some of that was a function of it being an Olympic year and several players being centralized. Now those players are back, the WCHA has had the top two teams for a couple of months, and a couple of others are either ranked or receive votes. However, there still isn't much in the way of individual success. No WCHA players are near the top of the scoring stats, or in the top three for points per game by a defenseman or points per game by a rookie. In the WCHODR rankings, St. Cloud State is the lowest ranked WCHA team defensively at No. 24 out of 34. The others are in the top 20, including the top two. The bottom four are Eastern teams: Dartmouth, Brown, Union, and Holy Cross. It can be a chicken-and-egg question. Are there no great scorers in the WCHA because teams play better defense, or does the defense look better because there aren't any great scorers?
Maybe we'll find out come the NCAA tournament, but I expect that some WCHA player is named to the top 10. Campbell is far and away the leader in goals
-against average, but her save percentage isn't what the Kazmaier Award usually requires of a goalie. Look for the WCHA voters to rally behind some forward as the league's standard bearer; I'd guess that would be Annie Pankowski.
What direction would you take in the Kazmaier voting in a year where the sorting out of the bottom of the list is very open to interpretation?
Candace: I agree on your locks, although I think Gabel is more likely than Giguère as the winner. Gabel is averaging more points per game than Giguère, and she's a senior and was a top three finalist last year.
Beyond the top five that you listed, I am hoping that Selander gets recognition, which leaves four spots. To me, the WCHA rep is obvious: Nicole Schammel, who has 39 points as a senior. That's just outside the top 10, and only three points behind Sammy Davis. Given that Compher is a lock to get a nod, I think Schammel displaces Davis, and then the other three are likely Gebhard, Eldridge, and Mueller.
I do look forward to debating the nominees when they come out, and then trying to figure out the winners. It's funny to me, because it seems very recent that you, myself, and Nicole Haase were sitting in a bar near the University of Minnesota campus after watching Clarkson's OT win over Colgate in the national championship game last season. That time of year is coming up soon, and what storylines will be written this time?